The Mahindra Scorpio is one of the most popular entry level SUVs in the country today. With a total of seven variants on sale at present it also gives prospective buyers a lot of choice as far as variants and features are concerned.
Here we've put together a list of 10 features that make the Mahindra Scorpio a great car for its gadgetry. The Scorpio has a 2,179 cc, 4-cylinder engine that makes 120 bhp of power at 4,000 rpm and 290 Nm of torque at 1800-2800 rpm. The Scoprio EX is the only variant that makes only 75 Bhp of power using the same engine. The Scorpio starts at Rs. 7.59 lakh for the base EX variant and goes up to Rs. 12.22 lakh for the top-trim VLX AT 4WD.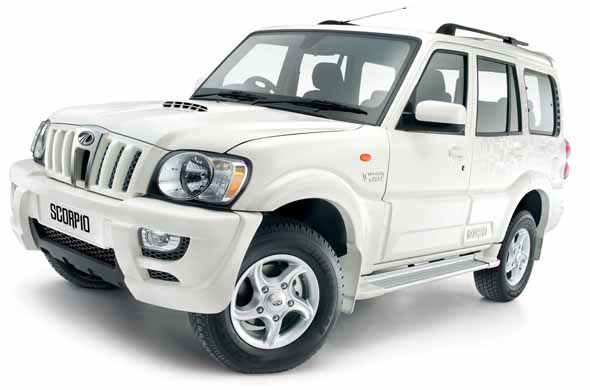 Looks: The Scorpio is a mean and muscular looking SUV, with traditional SUV like lines that give it an aggressive stance. The redesigned headlamps, bonnet scoop, bumpers and side claddings all come together to give it a solid appearance.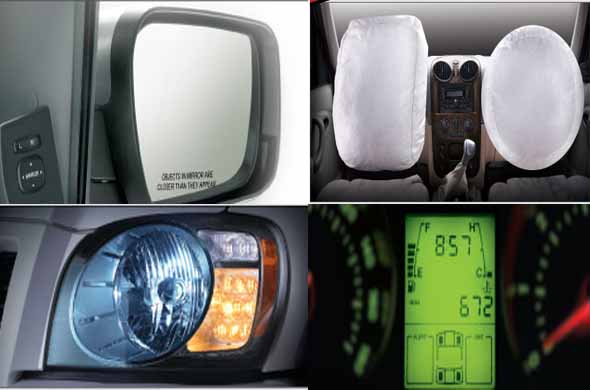 Adjustable Mirrors: The Scorpio has large electrically adjustable side view mirrors to give the driver a clear view of what's happening behind him.
Dual Airbags: It also sports dual airbags to ensure that the passengers are safe and unscathed in case there is an accident.
Automatic headlamps: The Scorpio gets blue vision headlamps that not only light up the road ahead but also turn on automatically when it's dark.
Tyretronics: A useful feature on the Scorpio is 'tyretronics'. From the user's point of view it is essentially a digital meter which displays the air pressure and temperature of each tyre individually. It even tells you the pressure in the spare tyre in the boot.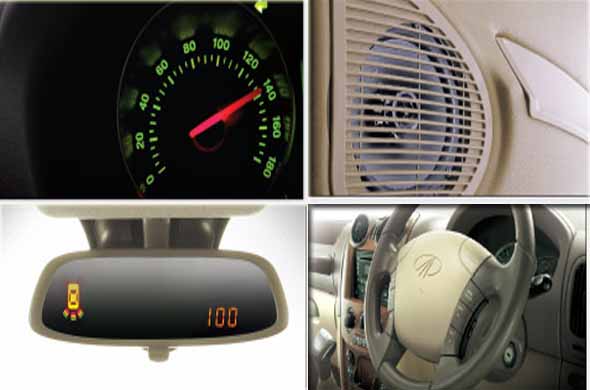 Speed limit exceeded alarm: Another useful feature on the Scorpio is the speed alarm. You can set a speed limit for yourself and if you exceed the limit the car warns you by creating a beeping sound.
Rear parking sensors: Bumper mounted parking sensors let you know how far an obstacle is from your car through a display integrated into your rear view mirror.
Steering mounted audio controls and cruise control: The Scorpio's steering is equipped with controls for the music system to allow you to adjust volume and surf through channels as well. The steering also has a button for cruise control for effortless driving while out on open highways.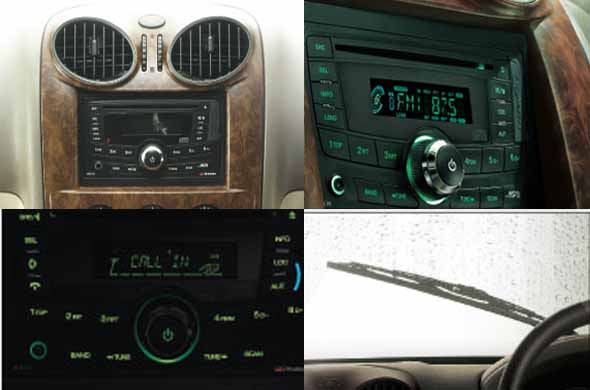 Audio system: The Scorpio's 2-DIN audio system is not only equipped with aux-in and USB but also has Bluetooth connectivity, which lets you stream music wirelessly from you Bluetooth enabled music players and cell phones.
Rain sensing wipers: Another premium feature which you will find very useful is the rain sensing wipers. The wipers start automatically when the cars computer senses rainfall on the windshield.