German premium car manufacturer Audi has launched the latest version of the Audi Q7 luxury SUV in India, on September 7, 2009, with restyled exterior and interior features.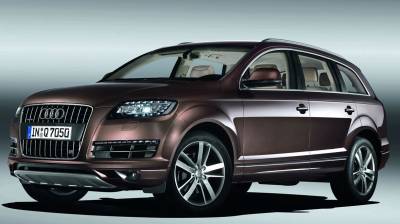 The 2010 Audi Q7 sporty SUV will be available in three engine options, the 3.0 TDI Quattro, 3.6 FSI Quattro, and 4.2 FSI Quattro, from September 3, 2009, at all
Audi dealerships in the country.
"The launch of the 2010 Audi Q7 comes close on the heels of Audi's Centennial Celebration and spells exciting times for Audi India. The Audi Q7 was launched in
India in 2006 and has since established itself as the numero uno luxury SUV in the country," said Mr. Benoit Tiers, Managing Director, Audi India.
Audi has said that the SUV will be available at the following prices, ex-showroom Mumbai:
The Audi Q7 3.0 TDI quattro: Rs 53.4 lakh
The Audi Q7 3.6 FSI quattro: Rs 55.2 lakh
The Audi Q7 4.2 FSI quattro (non homologated): Rs 29.9 lakh
The sporty SUV will come in four new colours, Ibis White, Teak Brown, Orca Black and Graphite Grey, apart from the existing colours, Deep Black, Bahia Beige, Cobalt Blue, Condor Grey, Ice Silver, Garnet Red and Lava Grey.
The 2010 Audi Q7 SUV sports new external features like a new single-frame radiator grille in glossy black with vertical chrome bars, new Xenon headlights, LED daytime running lights, smaller exterior mirrors, and restyled bumpers.
Other redesigned features include a ribbed designed integrated underbody guard in the center section of the bumper and a restyled tailgate. The bumper comes with a contrasting paint finish.
As far as the interiors go, the 2010 Audi Q7 SUV has a cargo volume of up to 2,035 litres, the company claims.
The 2010 Audi Q7 luxury SUV is 5,089 mm long and has a 3,002 mm wheelbase.
The 2010 Audi Q7 SUV comes with interior enhancements, such as interior lights in the door linings, an inlay on the passenger side, and new colors as well as materials.
Customers can choose between interiors with six or seven seats, while ordering the new 2010 Audi Q7 SUV.
The SUV comes with an updated 3G MMI (Multi Media Interface) system that enables voice-based input and joystick control.
Other features include a hard disk drive and a single DVD player.
Customers can opt for a Bluetooth telephone, an advanced radio tuner, Rear Seat Entertainment Preparation, and the Advanced Sound System from Bang & Olufsen, the company has said.
The new 2010 Audi Q7 is driven by direct-injection engines in a 3.0 TDI 176 kW (240 hp), 550 Nm torque option, a 3.6 FSI 206 kW (280 hp), 360 Nm torque option, and a 4.2 FSI 257 kW (350 hp), 440 Nm torque option.
Standard features include a six-speed tiptronic that powers the Quattro permanent all-wheel drive system, 18-inch wheels, and adaptive air suspension that enhances the new Audi 7's driving dynamics.
Currently, Audi's line-up in India consists of  the Audi Q5, new Audi A6, Audi A8, Audi A4, the Audi TT and the super sports car Audi R8.
Audi India's dealerships are located in Delhi, Gurgaon, Chandigarh, Ludhiana, Mumbai, Pune, Ahmedabad, Bangalore, Hyderabad, Chennai, Kolkata and Kochi.