The 2012 Fiat Linea is a better and slightly more expensive version of the previous Linea. While there are no major changes externally, Fiat has added a few more features to the car and increased its ground clearance.
So much so, the car now handles bad roads better and has a longer list of features, even on the mid-variant Dynamic. We drove a 1.4-litre Fiat Linea Dynamic petrol to see just how different this car is over its predecessor and if it's worth spending that extra cash for. The car is priced at Rs. 7.80 lakh ex-showroom Delhi.
Looks, fit and finish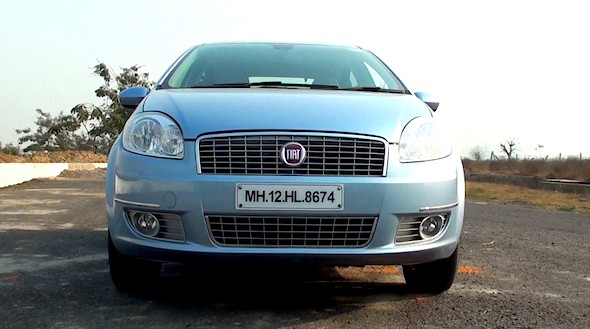 Exterior
The Fiat Linea has always been a good-looking car. The 2012 Linea, well, it has almost nothing changed externally. You still get the same beautiful flowing lines, smart looking curves and overall a very proportionate and luxurious looking car. The only noticeable change is in the ground clearance – this car now rides about 20 millimeters higher than its predecessor, and that's a good thing. Also read: 2013 Fiat Linea: Official Images out!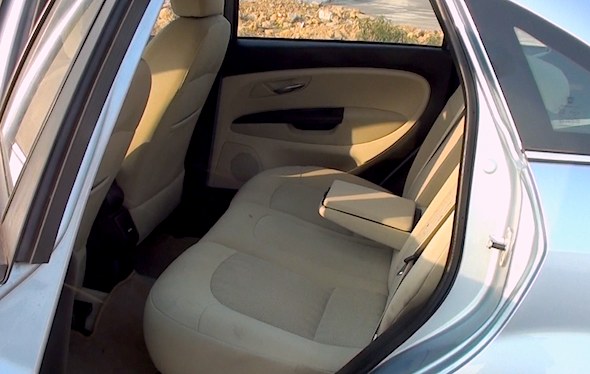 Interior
The interiors of the Linea have a luxurious feel to it. You get things like a rear sun blind and beige and grey interiors that give it a classy touch. Small chrome bits on the door handles and a sporty looking instrument cluster give it some added appeal. The plastics feel soft to the touch and the car has good fit and finish. The car has a very spacious boot at 500 litres, that can swallow a fair bit of luggage. The boot can be opened using the remote as well.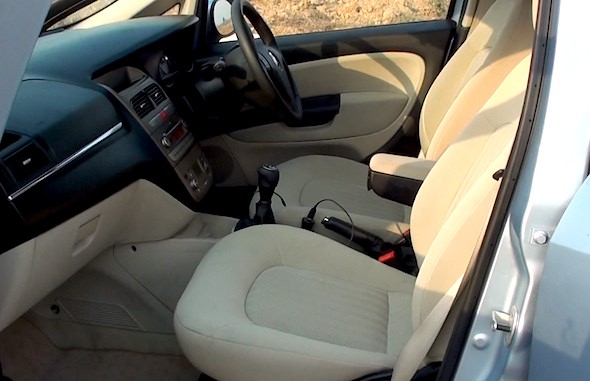 Comfort and features
Fiat has included plenty more features in the new Linea. However, some things like a foldable seat back which was present in the earlier Linea are not there in the current versions.
New features include automatic headlamps, with a follow-me home function and rain-sensing wipers that adjust the speed of the wipers to the rain intensity. The driver gets tilt adjustable steering and height adjustable seat. Mirrors are power adjustable, but manually foldable. The rear also gets a sun blind on the rear window and rear AC vents as well as drop down armrest with cup holders. Also see: 2012 Fiat Linea 1.4 Dynamic petrol video review!
Other features include steering mounted audio controls and voice activated commands. It also has a comprehensive multi-information display that shows you range, average fuel consumption, instant consumption and trip meters. Using the menu function on the dash, allows you to toggle through various in-car settings such as speed warnings, button sounds and sensor settings.  It also features a very useful Bluetooth phone system that can pair up to five mobile phones, allowing different users to hook up with the car system.
The Dynamic variant also now gets alloy wheels, and an upgraded safety package that includes dual airbags and ABS.
Performance and handling
The Linea is powered by a 1368 cc MPFI petrol engine that puts out 89 bhp of power and 115 Nm of torque. This is paired with a manual 5-speed transmission that is precise and smooth. The Linea is not really a car for an enthusiastic driver. Yes, the gearshifts are easy and the steering feels precise. The car handles very well and you can drive it around confidently. But when it comes to overtaking, you've really got to plan your moves with this 89 bhp petrol variant.
Pick up is very linear and you need to rev it to nearly 4000 rpm to actually feel it move. That said, the car can cruise in quite a relaxed manner at city speeds. Excellent sound dampening means that you hardly hear the engine inside the car, except at high revs.
Mileage
The petrol engine is only reasonably fuel efficient, although Fiat claims it has improved mileage over the earlier Linea. Claimed mileage is 14.6 kmpl. The Linea gave us a mileage of 11.4 kmpl during our road test.
What we think
Overall, the 2012 Linea is slightly better than its predecessor with upgraded interior materials and a better ride over bad roads. It feels solidly built and is decently loaded with features. But is it worth the price? If you're looking for a luxurious mid-size car to travel in, especially if you're going to be carrying luggage on long trips – and if you are a fan of curvaceous Italian styling, yes, the Linea is a decent choice.