The Indian automotive giant Tata Motors recently unveiled its EV roadmap, confirming the launch of four electric SUVs by early next year. This highly anticipated lineup includes the revamped Nexon EV, the Punch EV, the Harrier EV, and the futuristic Curvv EV. The excitement begins with the upcoming Nexon EV facelift, anticipated to hit the market by late September, followed closely by the Harrier EV. The momentum continues with the Punch EV's arrival, paving the way for the groundbreaking Curvv EV, slated for release in the first quarter of the forthcoming year.
In an address to shareholders, N Chandrasekaran, Chairman of Tata Sons, emphasized the company's commitment to electric mobility, with extensive plans to propel Tata Motors India and Jaguar Land Rover (JLR) into a greener future. With an eye on sustainability, Chandrasekaran announced that by 2030, 50 percent of Tata Motors' passenger vehicles and 65 percent of JLR vehicles will harness green technology. The road ahead for Tata Motors and JLR is undoubtedly electrifying, with these EV SUVs leading the charge toward a more eco-conscious automotive landscape.
Also read: 10 DC Design cars & how they look in the REAL world: Maruti Swift to Mahindra XUV500
If you are one of those individuals who are awaiting the launches of these forthcoming EVs, then here are some of the details of the four EV SUVs listed above.
Nexon EV Facelift
The Nexon EV, a favorite in the sub-4 meter SUV segment, is about to receive a much-anticipated facelift. Recently spotted test mules of the 2024 Nexon EV facelift have ignited excitement among enthusiasts. Distinguishing the EV version was the absence of a tailpipe and the clear visibility of the battery pack tucked beneath the vehicle's floor.
Following the footsteps of its ICE counterpart, the test mule's rear end showcased a redesigned LED tail lamp design. With its battery-powered heart, the Nexon EV Facelift is poised to offer an improved and cleaner driving experience. It is expected to boast a design that aligns with the ICE variant, coupled with interior upgrades like a 10-inch infotainment system, a new steering wheel, and regenerative braking paddle shifters.
Tata Nexon EV is currently offered in two models, Prime and Max, each offering different batteries. A 30.2 kWh battery pack powers the Prime version, giving it a 312 km range on a single charge. The Max model, in comparison, has a 40.5 kWh battery pack and offers a longer range of 453 km. It is believed that the company will most likely not alter these drivetrain options in the forthcoming Nexon EV facelift.
Punch EV
The Tata Punch, known for its popularity in the micro-SUV segment, is gearing up for its electric transformation, aptly named the Punch EV. Renderings of the forthcoming model depict a retained exterior design while incorporating subtle EV-specific changes to differentiate it from the internal combustion engine (ICE) Punch.  Expected to be powered by Tata's advanced Ziptron technology, the Punch EV is anticipated to offer multiple battery pack options for varying ranges. With potential drive modes and regeneration levels, this EV micro SUV could also come equipped with telematics through Z-Connect.
Currently, a 24 kWh battery pack that delivers an MIDC-certified range of 315 km is featured in the newly launched Tiago EV and the same could be offered with the Punch EV as well. Additionally, there could be a smaller 19.2 kWh battery pack available as well, which could provide a MIDC-certified range of 250 km. Promising features include leatherette seats, automatic climate control, and more, making the Punch EV a compelling choice in the growing EV market.
Harrier EV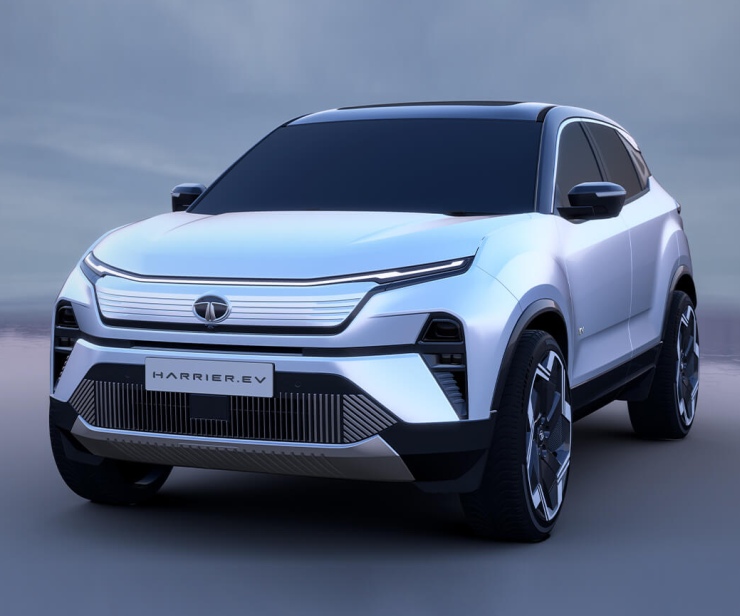 Tata's electric division, Tata Passenger Electric Mobility, is also gearing up to welcome the upcoming Harrier EV which is the electrified iteration of its highly popular mid-size SUV Harrier. Showcasing a bold and captivating design at the 2023 Auto Expo, this SUV boasted a dual electric motor setup, enabling an all-wheel drive configuration for enhanced performance and stability across terrains.
The Harrier EV's design is highlighted by a split headlamp design with a full-width LED bar and an enclosed grille. While specific powertrain and battery details are yet to be unveiled, experts speculate a real-world range of 400-500 km with a 60 kWh battery pack. One standout feature that this new EV SUV will boast is that it will be offered with vehicle-to-load (V2L) and vehicle-to-vehicle (V2V) charging capabilities which at the moment no other EV SUV offers in the country.
Curvv EV
The Curvv EV Concept has made a remarkable entry into Tata's EV lineup. Expected to enter production soon, this SUV Coupe combines innovative design elements like a coupe-like roof line along with electric propulsion. Recent renderings of the production-spec Curvv SUV showcase LED Daytime Running Lamp strips, closed-off grilles, and other EV-specific design details.
Based on Tata's Gen-2 architecture and using a modified Nexon X1 platform, the Curvv EV has been promised to deliver a driving range of around 400 km. This vehicle will also share the spotlight with its internal combustion engine counterparts, further diversifying Tata's offerings as per the reports. Apart from these the details on the Curvv EV are pretty scarce.
Also read: Upcoming 2022 Maruti Suzuki Vitara Brezza rendered