Choosing a new car is a never an easy task. You have to take into account various factors such as fuel economy, interior space, performance and features. Often, you may tend to miss an important factor: Resale value. Here is how you can assess which new car will have best resale value.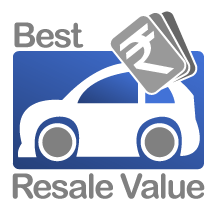 To assess the resale value of cars, you need to understand what factors affect the resale value of a car. Assess each of your shortlisted new car options against each of these parameters. This should give you one valuable input when you finally decide which car to buy.
Brand reputation
Car brands play a major role in the resale value of your car. Popular and highly reputed brands increase the resale value while the unpopular and not-so-widespread brands decrease the resale value of the car.
Popularity of the model
Cars that are selling in large numbers, have a great demand in the used car market too, simply because, the car has already won the competition in the new car market and that shows the model's reliability, 'value for money' and low maintenance costs as against its rivals.
Car makers stop the production of certain models if their sales are too low or due to other factors such as the company's market strategy. If you happen to own such a discontinued model, the resale value will be almost 70-80% less than your purchase price over a period of time.
Fuel economy, mileage & number of owners
Buyers prefer cars that have consistent fuel economy, that are driven less (less wear & tear) and that have less number of previous owners (preferably one). Hence resale value of these cars is generally, higher.
Car service history
Cars that are serviced periodically as mentioned by the manufacturer will eventually have a clear service history and thus fetch better resale value. Cars that are serviced irregularly, having many replaced parts and major accidents are factors that will pull down the resale value.
Maintenance costs of the car
Cars that are cheaper to maintain attract higher resale value. Cars that have high maintenance costs due to costly spare parts and high labor costs will bring down the resale value.
Starting today, we will be sharing with you analysis of best resale value among new cars in all the segments – small cars, premium hatchbacks, compact sedans, mid-size sedans, premium sedans, SUVs and MUVs.
Watch out for our first report on small cars which have the best resale value soon! Share your inputs about any other factors you think go into assessing the resale value of a car.