Electric vehicles are the future of mobility, and we have mentioned this fact several times on our website in the past. Manufacturers such as Tata and MG produce electric cars, and numerous two-wheeler manufacturers have also entered this market. Additionally, we have observed numerous online videos in which people present their ideas for constructing electric vehicles and miniature models of original cars. In this context, we have discovered a video featuring a 67-year-old man from Kerala who built an electric car for his daily commute.
The video has been uploaded by Village Vartha on their YouTube channel, featuring the story of Antony John, a 67-year-old man from Kerala's Kollam district who constructed an electric car for himself. Antony John, a career consultant with an office located approximately 30 km from his residence, previously utilized an electric scooter for his daily commute. However, as he aged, he sought a more comfortable and weather-resistant mode of transportation. Although he desired an electric vehicle, no viable options were available on the market at the time.
Also read: 10 DC Design cars & how they look in the REAL world: Maruti Swift to Mahindra XUV500
In 2018, Antony John began contemplating building an electric car on his own. He conducted thorough research on the car's design and electrical components. To construct the car's body, he contacted a garage with experience in building bus bodies. Antony provided them with a design he discovered online, and the garage constructed the body to his specifications. The resulting car is petite, with a capacity of two adults, and only children can comfortably sit in the rear seat. Antony reveals that while he had the car's body constructed at a workshop, he personally completed all of the electrical work.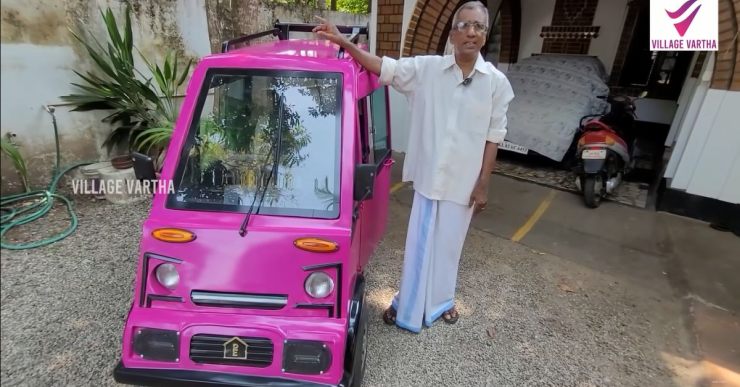 Antony sourced the batteries, motor, and wiring from a vendor in Delhi. He commenced work on the car in 2018, but due to the pandemic, progress was delayed. Lacking experience in constructing an electric vehicle, Antony made mistakes, requiring him to spend additional time finishing the project. Initially, he miscalculated the battery power, resulting in inadequate driving range. Once the lockdowns and restrictions were lifted, he reconnected with the vendor, who recommended a higher-capacity battery for the car.
Is it Legal to drive on the road?
This is a low-powered EV with a maximum speed of less than 25 kmph. In India, electric vehicles with such specifications do not require registration plates, but the driver must possess a valid driving license.
Antony invested approximately 4.5 lakh rupees in this project and is presently developing another electric vehicle. After installing the new battery, the electric car offered a maximum driving range of 60 km. Antony is proud of his creation and uses it every day to commute to his office. He mentions that he only uses the electric car for himself and has a Maruti Alto for family travel. The exterior design is basic, and the interior includes bench seats, a steering wheel, accelerator and brake pedals. Dimensions of the car are very small and this means the car can be easily navigated through narrow streets and busy streets will be easy. Finding a parking spot is also going to be easy for Antony with his electric car.
Also read: Upcoming 2022 Maruti Suzuki Vitara Brezza rendered