With the BMW starting production in India now, India's No.1 luxury car brand, BMW (Bayerische Motoren Werke AG) is now aiming to reach out to the premium car buyers in the country.
Offering some of the most spectacular cars that money can buy, BMW's performance-oriented luxury cars have surpassed chief rivals, Mercedes-Benz and Audi in sales in the last couple of years.
For those who aspire to own BMW sports utility vehicles (SUVs), this CarToq report will be a useful reference point to evaluate their options in BMW's X1, X5 and X6 range.
This list, arranged in increasing order of price and features, will help buyers decide which model will best suit their specific needs and budget.
BMW X1
The BMW X1 is the least expensive BMW to own in India and was launched in December 2010. Built on the BMW 3-series sedans platform, the X1 is more like a crossover than an outright SUV.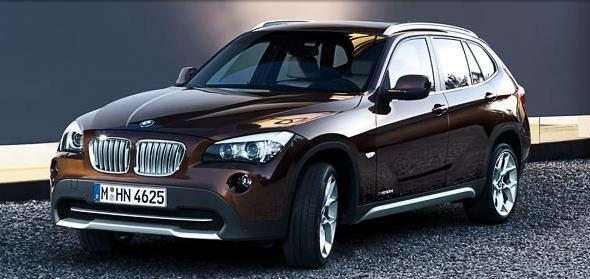 Further, the X1 lacks a four-wheel drive system which means it isn't for those who want an SUV. It is more for those who will drive in the urban jungle.
The X1 has given life to the dreams of buyers who have been longing to buy a BMW and is an irresistible package if bragging rights is all your want. There are two variants of the BMW X1 in India, namely the sDrive18i and sDrive20d. Let's take a closer look at both these variants.
BMW X1 sDrive18i (petrol)
The sDrive18i (petrol) is priced at Rs. 22 lakh. The least expensive BMW, the X1 sDrive 1.8i, is powered by a 1995cc four-cylinder engine that produces 147.5 bhp of maximum power and 200 Nm of maximum torque. The petrol motor can accelerate from 0–100 km/hr in 9.7 seconds and achieve a top speed of 200 km/hr.
But this model, although the least expensive, is only for those who cannot shell out any more (and don't like the diesel's grunt!)
BMW X1 sDrive 20d (diesel)
The X1 sDrive 20d is powered by a 1995cc four-cylinder diesel engine which belts out close to 174bhp of power and an impressive 350 Nm of max torque. The diesel motor helps the car accelerate from 0–100 km/hr in 8.1 seconds. The diesel X1 can achieve a top speed of 218 km/hr.
The sDrive 20d (diesel) is priced at Rs. 23.9 lakh, which is still quite economical since we are talking about BMWs here!! (There is also an sDrive20d Exclusive model which is priced at Rs. 29.9 lakh.)
Mileage
As a prospective buyer of this vehicle in particular you may be bothered about mileage, but it won't be a strain on your pockets as the petrol variant returns a mileage of 11.25 km/litre while the diesel variant returns a mileage of 15.24 km/litre which is as good as it gets!
However only the top-of-the line X1 variant, the sDrive20d Exclusive that costs around Rs. 30 lakh gets iDrive with an 8.8" display, a USB audio interface, a communication package that includes 6 CD changer and music player navigation via voice control.
It also comes with a range of upholstery options such as leather 'Nevada' Beige/Beige, Leather 'Nevada' Red Brown/Black and Leather 'Nevada' Black/Black.
The base variants are not loaded with as many features as the top-end variant which is a full Rs 7 lakh dearer but will get the job done. Further, the X1 is a strict 5-seater and hence buyers with a large family may find the X1's seating capacity low (The 7-seater Toyota Fortuner would be a better buy for such families).
Competition
Toyota Fortuner: Rs. 20.14 lakh
Honda CR-V: Rs. 24 lakh
Hyundai Santa Fe: Rs. 21 lakh
Chevrolet Captiva: Rs. 19 lakh
BMW X5
With the X5, you move up to the top of the price ladder among BMW SUVs. The X5 will set you back by Rs. 68.20 lakh and Rs. 85.50 lakh for the xDrive30d diesel and the xDrive50i petrol respectively. BMW launched the face-lifted version of the X5 in September 2010. Briefly, the X5 has short overhangs, a long wheelbase and muscular contours that will grab attention instantly.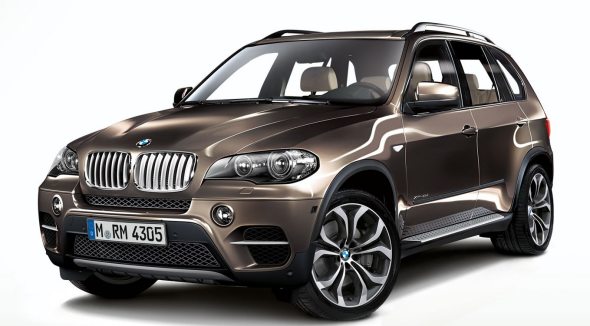 BMW X5 xDrive50i
The X5 xDrive50i petrol is powered by a powerful 5-litre, V8 engine that generates a peak power of 407 bhp and a peak torque of 600 Nm, so if you're looking for an outrageously powerful SUV, this variant is a safe bet.
In fact that amount of power and torque is enough to haul the bulky X5 from 0-100 kmph in just 5.5 seconds. What's more, it can achieve a top speed of 240 km/hr, according to BMW and that's more than what you will ever be able to explore given Indian road conditions.
BMW X5 xDrive30d
The X5 xDrive30d is powered by a 3-litre, six-cylinder engine that produces a peak power of 245 hp and a maximum torque of 540 Nm. The diesel does the 0-100 kmph sprint in 7.6 seconds and can achieve a top speed of 210 km/hr.
Mileage
The fuel economy of the xDrive50i is 8 km/litre which is depressingly low but we cannot complain considering all that the vehicle is capable of doing.
If you're looking for fuel economy, then the xDrive30d is your car. It returns mileage of 13.51 km/litre which is extremely frugal for a vehicle this large.
Competition
Audi Q7: Rs. 55.35 lakh to Rs. 66.56 lakh
Mercedes Benz GL Class: Rs. 67.19 lakh to Rs. 80.90 lakh
The BMW X5 is less of an SUV and more of a sports car in its behavior, and serious off-road enthusiasts tend to favour the Mercedes-Benz GL Class.
Based on sales performance, the Audi Q7 appears to be a favorable pick among buyers in this segment. The Q7 diesel variant is frugal despite its large dimensions and reasonably comfortable for long drives and occasional off-road trips.
BMW X6
The BMW X6 is actually a Sports Activity Coupe that has a unique body unlike conventional SUVs or crossover designs.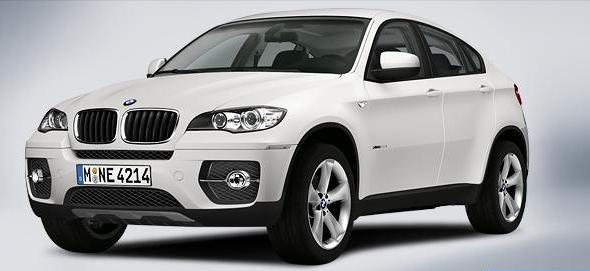 At best it could be termed as fusion of a Coupe and a SUV but honestly an X6 is just an X6 nothing more, nothing less. BMW offers the X6 in two variants, the xDrived50i and the xDrive30d priced at Rs. 85.50 lakh and Rs. 68.70 lakh respectively.
BMW X6 xDrive50i
The X6 xDrive50i is powered by 4,395 cc, 8-cylinder engine that produces 407 Bhp of maximum power and 600 Nm of maximum torque. Acceleration from 0 to 100 km/hr in 5.4 seconds and achieves a top speed of 240 km/hr.
BMW X6 xDrive30d
The X6 xDrive30d is powered by a 3-litre, six-cylinder engine that produces a peak power of 235 Bhp and a maximum torque of 520 Nm. The diesel does the 0-100 kmph sprint in 8 seconds and can achieve a top speed of 210 km/hr.
Mileage
The 50i will give you a mileage of 9.17 km/litre while the fuel economy of the xDrive30d is 12.19 km/litre. Once again the diesel is more frugal (the only time a BMW will be called frugal is when its pit against another).
X6 is a new breed of SUV, with its distinctive coupe-like styling, performance equivalent to that of the X5 and distinctive funky road presence. However, on the downside, X6 being a 5-seater is bit pricey.
Competition
The X6 competes with the performance variants of the Porsche Cayenne hard-top SUV in India with prices ranging from Rs. 59.22 lakh to Rs. 1.13 crore.
There is a BMW for everyone (everyone who can afford one!) and the above list sums it all up.