Bollywood actors and their expensive cars have been a topic of discussion on our website several times. There are actors who are enthusiasts, and there are others who opt for comfortable and luxurious cars. Most of the popular actors from the industry have a decent collection of expensive cars. One such actor who is actually an auto enthusiast is Jackie Shroff. The veteran actor has a good collection of cars and bikes, and not many people know about it. Here we have a video where Jackie Shroff is seen arriving at an event in a Jaguar XKR 2-door coupe.
In this article, we are sharing two videos of the actor Jackie Shroff. In the first one, the actor is seen driving away in his Jaguar XKR from a hotel in Mumbai. In the other video, he is seen arriving for an event in his XKR.
The car seen here is finished in British Racing Green color, and it looks extremely beautiful with the golden-colored alloy wheels. Unlike other actors, Jackie Shroff did not buy this as a brand new car. It is a used car, which means the actor would have saved a lot when compared to a new one.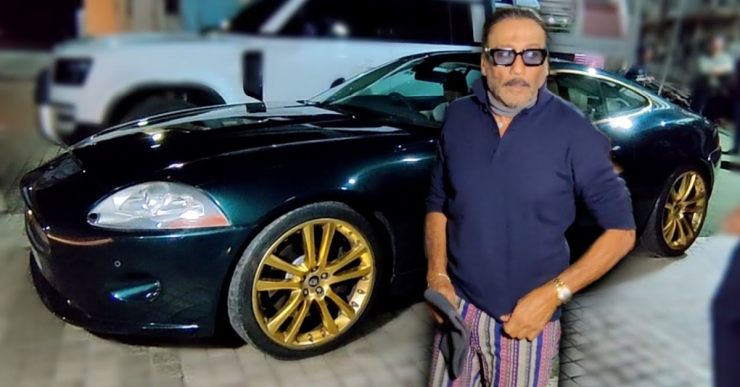 Also read: 10 DC Design cars & how they look in the REAL world: Maruti Swift to Mahindra XUV500
Jaguar officially discontinued the XKR from the market in 2014. The one that Jackie Shroff is driving is a 2008 model. The actor gets out of the car, poses for pictures and videos, and simply walks into the building. It is a 5-month-old video, and it looks like the actor came for the launch or premiere of a movie. XKR coupes were not very common among celebrities in India. Other than Jackie Shroff, Shahid Kapoor also used to own an XKR in a Red shade. There were, however, other celebrities who owned cars from the British brand. Bollywood personalities like Ranveer Singh, Parineeti Chopra, Karan Johar, Mammooty, Prabhas, and Jayaram have owned a Jaguar XJ at one point in time or another.
Jaguar officially sold the XKR Coupe in the Indian car market with a 5.0-liter supercharged V8 petrol engine. Available with a 6-speed automatic gearbox as standard, this supercharged V8 petrol engine in the XKR Coupe claimed 510 PS of maximum power and 625 Nm of maximum torque. These figures made the XKR Coupe the most powerful car from Jaguar back then. Jaguar discontinued the car in 2014-15 and later replaced it with the F-Type with the same supercharged V8 but in a more powerful state of tune. When the Jaguar XKR Coupe was available in the market, it had a price tag of Rs 1.03 crore, which made it a potent alternative to cars like the Porsche 911 Carrera and Maserati GranTurismo.
As mentioned above, Jackie Shroff is an auto enthusiast and has other cars in his garage too. He owns cars like the BMW M5, a vintage Jaguar SS100, and another classic car in his garage: a Pontiac Firebird that he restored himself. Other vehicles in his collection include a Bentley Continental GT, a fully restored 1968 model Fiat 1100 sedan, Toyota Fortuner, Toyota Innova, Royal Enfield Continental GT 650, and a custom-made Royal Enfield motorcycle inspired by Ghost Rider's bike.
Also read: Upcoming 2022 Maruti Suzuki Vitara Brezza rendered