The Ambanis have a large collection of expensive and exotic cars, many of which have been seen on video several times. It is said that in Antilia, two floors are dedicated solely for car parking, providing enough space to accommodate more than 200 vehicles. While some of these vehicles are often seen on the road, others are seen less frequently. The Ambani family is known to have a Lamborghini Urus SSUV in their garage, which belongs to Akash Ambani and has been seen by the public on several occasions. In a recent video uploaded by the YouTube channel Cars For You, Akash is seen leaving a restaurant in his Lamborghini Urus.
This YouTube channel is known for showcasing celebrities and their expensive cars, and we have seen several celebrity videos featuring their cars on this channel in the past. However, this video is unique in many ways, as it shows Akash Ambani interacting with paparazzi in a public place. The video shows several celebrities and sports personalities visiting a restaurant in Worli, Mumbai, with a range of expensive SUVs and sedans parked outside. One of the cars among them was Akash Ambani's Lamborghini Urus.
As soon as Akash walked outside, photographers and paparazzi began asking him to stop and pose for pictures and videos. Normally, Ambani family members simply walk away, ignoring the photographers, but in this case, Akash not only stopped but also posed for pictures and spoke to the waiting photographers. He even posed with former Indian cricketer Zaheer Khan before walking towards his Urus. In typical Ambani fashion, he was surrounded by security personnel who asked the photographers to maintain their distance.
Also read: 10 DC Design cars & how they look in the REAL world: Maruti Swift to Mahindra XUV500
The Lamborghini Urus is not a new addition to the Ambani garage. The family bought this SUV when Lamborghini officially introduced it to the Indian market, and they were among the first to get the Urus in the country. The SUV is finished in a dark blue shade, but details about the interior customizations are not currently known.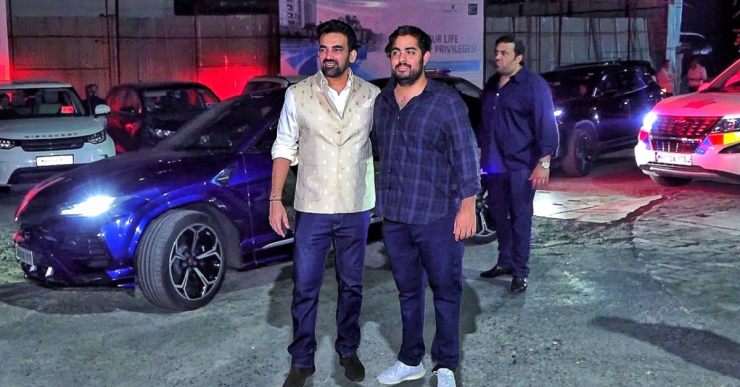 The Lamborghini Urus was launched in 2018 and quickly became popular among buyers around the world, including many celebrities and wealthy businessmen in India. The Italian sports car manufacturer calls it a "Super SUV" because of its aggressive styling and performance. The Urus is powered by a 4.0-liter V8 twin-turbocharged petrol engine that generates 650 PS and 850 Nm of peak torque. It is mated to an 8-speed automatic transmission, and power is sent to all four wheels. The starting price for a brand new Lamborghini Urus is Rs 3.55 crore, ex-showroom, with the price increasing further depending on the customizations chosen.
Other than Lamborghini, Ambani family has a large collection of expensive cars like Bentley Bentayga, Rolls Royce Cullinan, Rolls Royce Phantom VIII, Ferrari 488 Pista, Ferrari SF90 Stradale, Rolls Royce Ghost, Current generation Range Rover, Mercedes S600 Guard, Mercedes G63 AMG and many more SUVs and sedans. The Mercedes Benz S600 Guard is used by Mukesh Ambani and is a bulletproof vehicle. The vehicle costs over Rs 10 crore and it comes with VR10-level protection, this makes it the first civilian vehicle in the world to get this certification.
Also read: Upcoming 2022 Maruti Suzuki Vitara Brezza rendered