Over the last 6 years or so, the Maruti Suzuki Brezza compact SUV has found over 7.5 lakh happy homes in India. The 2nd generation model is finally here, and looks all set to build upon the stupendous success of its predecessor. The All New Hot and Techy Brezza – launched just about a month ago – has already amassed over 1 lakh bookings. So, why is India so much in love with the All New Brezza? Sure, it's a Maruti Suzuki that comes with a deep rooted legacy of great after sales, affordable service, exceptional quality, reliability and terrific resale but is there something more that really drives the All New Brezza to greater heights. Oh yes! Allow us to explain why India is going gaga over Maruti Suzuki's latest SUV.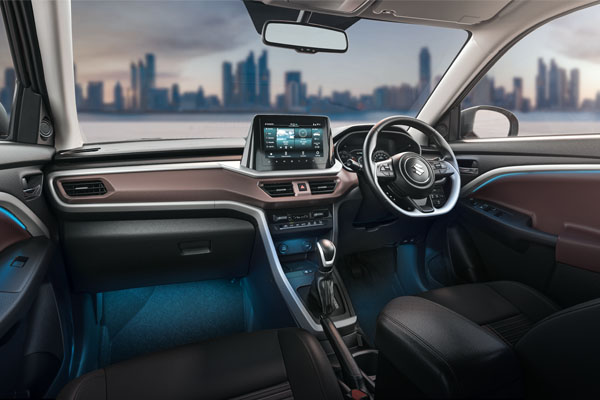 Commanding SUV stance, from every angle
The All New Hot and Techy Brezza is an unabashed SUV from every angle and full credit to the great design that Maruti Suzuki's designers have pulled off. The bold front end with geometric fenders, dual LED projector headlamps, LED and imposing grille give the new Brezza a muscular appearance that every SUV fan will love. The strong looks are carried over to the sides through new alloy wheels, and roof rails with the finishing touch at the rear being wraparound LED tail lamps.
Packed with the latest technology
Brezza buyers are a discerning lot, and technology is what drives them. The All New Brezza has more than what it takes to impress the most tech-savvy buyer out there.
Electric Sunroof: Check. Head Up Display: Check. 360 view camera: Check. And there's more. From the latest 9-inch SmartPlay Pro+ touchscreen infotainment display with Surround Sense powered by ARKAMYS to the Next Gen Suzuki Connect with Smartwatch connectivity and Alexa Skill connectivity. ,the All New Brezza even has a wireless charging dock to give buyers a tech-immersive experience.
No-compromise safety
SUVs like the All New Brezza signify safety and there are over 20 active and passive features baked into this SUV. Built on the Suzuki TECT platform, the All New Brezza packs 6 airbags, ESP, hill hold assist, ABS with EBD, reverse parking sensors, speed alert and many more safety features to make every drive a secure experience across all kinds of road and weather conditions. No-compromise safety, that's what the All New Brezza is all about.
Modern, spacious cabin
A dual tone cabin makes sure that the interior of the All New Hot and Techy Brezza manage to keep up with the bold styling on the outside. Black and brown colour elements add a touch of premium-ness while silver accents lend sportiness to the new Brezza's cabin. And there's plenty of room, both at the front and the rear. The seats are now wider and there's extra space to stretch your legs out. The rear AC vents will ensure that every inch of the cabin is comfortable at all times while the 328 litre boot capacity means that there's ample room for your road trips and airport runs.
BIG on convenience
When it comes to convenience, the All New Brezza takes things to the next level. From the sporty, flat-bottomed steering wheel that gets both telescopic and tilt adjustments to paddle shifters that make shifting through the gears a breezy experience, Maruti Suzuki's latest SUV is big on convenience. Young buyers form a large chunk of new Brezza buyers and Maruti Suzuki has kept them in mind while offering important features such as Type A and C rear charging ports, a cooled glove box and a brand new instrument cluster that now packs a 4.2 inch multi information display.
Fast yet frugal
The All New Brezza is powered by a 1.5 litre Advanced K-Series DualJet, Dual VVT engine with ISG. The petrol engine gets Dualjet (two injectors per cylinder) technology along with variable valve timing. These advanced technological features maximize performance when the driver needs it while returning exceptional fuel efficiency (19.8 Kmpl for the automatic trims and 20.15 Kmpl for the manual trims). when the car is driven gently. The four cylinder engine produces 102 hp-137 Nm, and is the largest in its segment. The engine is also equipped with Maruti Suzuki's Smart Hybrid technology.
Smart Hybrid Technology
This is best-in-class stuff, for the All New Brezza is the only SUV in its segment to offer mild hybrid technology across all variants. Called Smart Hybrid, this technology combines idle-stop, brake energy regeneration, and torque assist to make the SUV very fuel efficient indeed. While the manual variants of the All New Brezza deliver 20.1 Kmpl, the automatic variants do just as well, at 19.8 Kmpl.
Stress-free
That's right, and it's all thanks to the brand new 6 speed automatic gearbox that's offered as an option on the All New Brezza. A torque converter unit, the 6 speed automatic is the smoothest automatic gearbox in its class. Equipped with paddle shifters, the automatic gearbox makes every drive in the All New Brezza a stress-free experience. The best part about this torque converter automatic gearbox is that it's a supremely reliable and smooth unit. Traffic or no traffic, the All New Brezza Automatic is the place to be in.
So, there you have it – 8 compelling things that make the All New Maruti Suzuki Brezza such an exciting new SUV.