Cricket is without any doubt the most celebrated sports in India. Other than test matches, One Days, and T20s, we have Indian Premier League or IPL where 10 teams compete against each other for the trophy every year. Mumbai Indians is one of the most successful teams in the Indian Premier League and the team is owned by none other than Mukesh Ambani, the richest person of India. The members of the team often get a chance to visit Antilia for discussions and meetings. As we already now, Ambani family also has the largest collection of cars in their garage and they keep on adding new vehicles to the collection every now and then. We have seen some of these cars on road however, we rarely seen a video where these cars are parked.
The clip was used in a Netflix web series named Cricket Fever. The footage used in the video was taken few years ago. The players from Mumbai Indians team can be seen in the video and they are doing a treasure hunt inside the Antilia. Specifically in the garage where Ambanis have parked their cars. As this is an old video, many of the new models that Ambanis have recently added to their collection is not seen here in the video.
Also read: 10 DC Design cars & how they look in the REAL world: Maruti Swift to Mahindra XUV500
All the cars that are seen in this video are expensive and some of them have never been seen on the road as well. As of now there is no exact number on how many cars do Ambanis own. Some reports suggest that it can be more than 200. The short video that is now available online shows a glimpse of cars like Bentley Bentayga, Mercedes-Benz E-Class, Mercedes-AMG G63, a never-seen-before white coloured Bentley Mulsanne, a Land Rover Range Rover, a Rolls Royce Phantom Drophead Coupe, Porsche Cayenne, another Range Rover and many more expensive sedans and SUVs.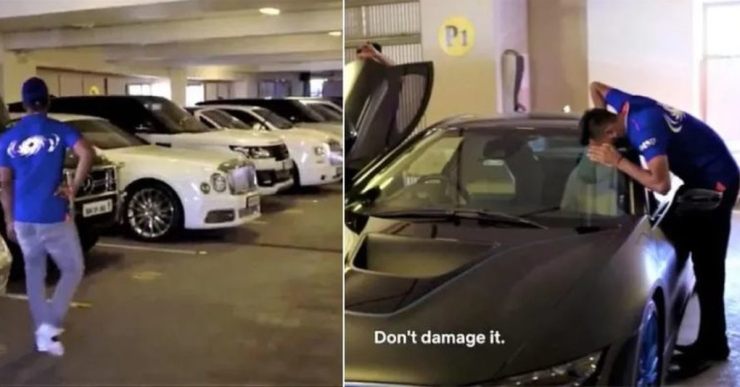 The video also shows a BMW i8 hybrid sports car in an interesting looking wrap. The video as we mentioned is couple of years old and since then, Ambanis have added cars like Bentley Bentayga W12. They also owns the V8 version of the SUV. Not One or two but, four Rolls Royce Cullinan SUV and Lamborghini Urus as well. They also have a Tesla Model S 100D.  They also have current generation Mercedes-Benz G63 AMG SUVs and four of these SUVs are used by their security team. Rolls Royce Phantom Series VIII, which is one of the most expensive Rolls Royce has also found a spot in Jio Garage.
They also have a Ferrari SF90 Stradale supercar and it has been spotted on the road couple of times. Due to security reasons, Mukesh Ambani always travels in bullet proof vehicles. He gets Z+ category security and because of this he always travels in his Mercedes-Benz S600 Guard. The car is worth Rs 12 crore and comes with VR10-level protection, which makes it the first civilian vehicle in the world to get this certification. The car can withstand steel core bullets fired directly at the car and even 15 kg of TNT blast from a distance of 2 metres! It comes with a long list of features including a reinforced base structure and a special underbody armour with polycarbonate-coated windows.
Also read: Upcoming 2022 Maruti Suzuki Vitara Brezza rendered