Audi India is now planning to launch their A3 sports sedan in India and has already begun a study to assess the market potential for the A3 in the country.
"We are looking at adding the A3 to our portfolio and are conducting a market study to assess the feedback among consumers here," Michael Pershcke, Head of Audi India was quoted as saying by BSMotoring.
However, Perschke did not mention when the A3 would be launched. He added that the company has certain products in mind which it wants to introduce to gain leadership in the Indian market.
Perschke said that Audi India has a top-down approach and want to establish its brand here, ensuring its customers understand the positioning and the values that Audi stands for, before bringing in and focusing on selling compact cars in the country.
Audi's desires of launching the A3 sedan isn't new and CarToq had earlier reported in March 2011 that the A3 sedan could be launched in India by 2014 at an expected price of Rs. 20 lakh. Related: Audi A3 concept may enter production; sold in India at Rs 20 lakh!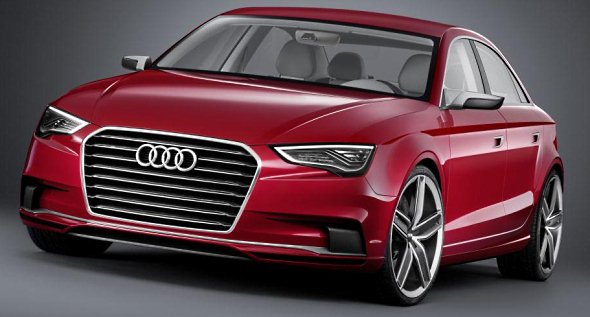 Audi showcased the A3 concept at the 2011 Geneva Motor Show and will launch the production version of A3 based on the concept car.
The A3 concept measures 4.44 m in length, 1.84 m in width and 1.39 m in height. The concept has a single large front grille made of carbon-fibre-reinforced plastic (CFRP) and its unique horizontal lines give a 3D visual effect.
The sharp-looking headlamps have LED lights following Audi's tradition. The side profiles of the A3 concept have a one-third glass and two-third sheet metal layout, again a typical Audi design. The rear of the A3 concept has attractive, sharp-edged tail lamps and twin tail pipes on the raised bumper.
The concept's interior are spacious as the 2.63 m wide wheelbase offers adequate knee room. The car has a generous boot space of 410 litres. The luxury sedan is loaded with MMI (Multimedia Information) multimedia system, iPad holders at the backrests of the front seats for rear passenger's access. Also read: Audi India sets a sales target of 5,000 units for 2011
It is powered by a 2.5 litre, FSI, turbocharged engine that produces 403 hp of maximum power and 50.8 kgm of maximum torque. The engine is mated to 7-speed S-Tronic transmission and Quattro permanent all-wheel-drive system. Audi claims a mileage of 12 km/litre for the A3 concept that accelerates from 0 -100 km/hr in just 4.1 seconds. It can reach a top speed of 250 km/hr.
How much of the concept cars design and feature list trickles down to the production model is yet to be seen but the car will likely help Audi further establish itself in India.
Source: BSMotoring