Audi India is planning to launch its super luxury sedan A8 on January 10, 2011. Audi A8 petrol will be priced at Rs. 91 lakhs and A8 diesel will be priced at Rs. 76 lakhs. The company is planning to launch the petrol variant first.
For the Indian market, Audi will offer A8 powered by 4.2 litre FSI V8 engine that belts out 367 bhp of maximum power and 445 Nm of maximum torque. The diesel variant will be powered by 3.0 litre TDI V6 diesel engine that produces 247 bhp of maximum power and 550 Nm of maximum torque.
 Update 03/02/2011: Audi has announced the A8L will be launched Friday, February 4, 2011.
Update 04/02/2011: Audi today unveiled the A8L at at its Delhi outlet, the largest luxury car showroom in India. The new Audi A8 L 4.2 FSI will be priced from Rs 89 lakh (ex-showroom, Delhi) onwards.
It is expected that Audi will thrill the power seekers by offering A8 powered by 6.3 litre W12 engine that produces 493 bhp of maximum power and 625 Nm of maximum torque variant. However, the launch of this variant will happen only during the second quarter of 2011. 
To promote the upcoming model, Audi India has launched a teaser website. Fans need to register on this website and log in with a new "Personalized Access Code" each time to access the site.
In terms of styling, the new A8 will not be radically different from the outgoing model though it'd be bigger. It would come with several revolutionary features that are an industry first. Built using the brand's aluminum space frame technology, the new A8's chassis will be 40% lighter than a comparable steel frame.
The Audi A8 will have full LED headlights—another segment first—which will employ light-emitting diodes instead of tubular light modules used in cars today. Optional extras ion the A8 include heated rear seats, massaging, powered footrests, Bang & Olufsen audio system and a personalized entertainment system. There's also an in-car Wi-Fi hotspot for executives who want to access Internet on the go.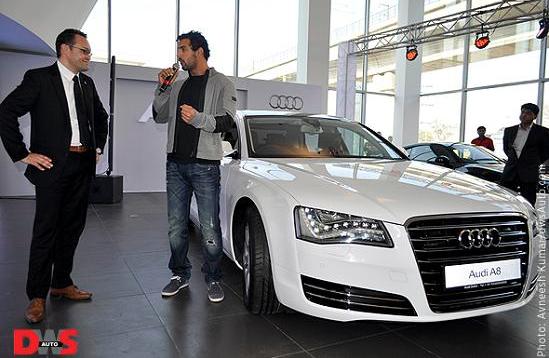 Audi may make slight modifications to the A8 to suit Indian conditions. Speculations suggest the wheelbase could be increased by 5 inches to offer increased room for rear seat occupants.
In India, the A8 will compete against the BMW 7-Series and Mercedes-Benz S-Class. Audi is aiming to increase its market share from 18% to 30%. The latest launch from the company in India is the Audi Q7 luxury SUV, priced Rs. 59.29 lakhs. Audi's stable in India currently also includes the A4, A6 and the Q5 SUV.
Audi is battling Mercedes-Benz and BMW to achieve its aim of becoming India's No.1 luxury car brand. Audi India has sold 2803 cars during the Jan – Nov 2010 as against 1645 cars sold in Jan – Nov 2009. Audi thus achieved a 70% sales growth this year.