The race between BMW and Audi for the top spot among luxury carmakers has just shifted into top-gear, with Audi launching a new variant of the Q3 SUV, powered by a 2-litre turbo-petrol engine and priced at Rs. 27.37 lakh in Maharashtra. This launch comes a day ahead of the refreshed BMW X1 launch scheduled for February 14. 
There are no big differences in exterior styling with this new Q3 variant apart from the 2.0 TFSI badging on the tail-gate and a different design for the alloy wheels. This variant of the Audi Q3 is priced slightly above the entry-level diesel Q3 (which incidentally has been seeing delayed deliveries to customers, as only the top-end was available till now). Also read: Audi Q3 diesel launch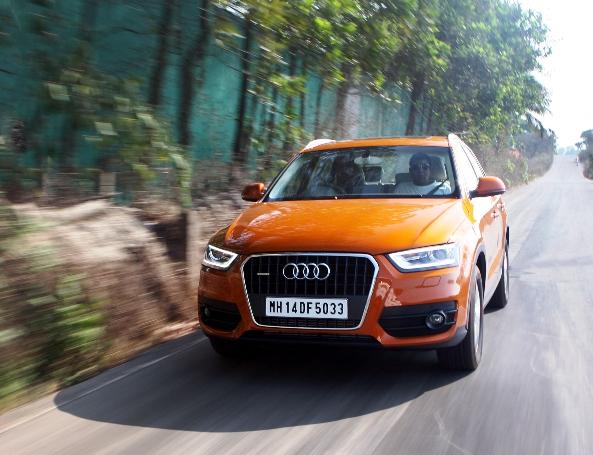 Performance-packed petrol engine
This petrol-engined Audi Q3 comes with a 2-litre petrol engine that features direct-injection and a turbocharger, which give it much higher power output. The engine puts out 208 bhp of power at 5000 rpm and 300 Nm of torque at 1800 rpm. This is mated to seven-speed, dual-clutch automatic transmission. It features a full-time Quattro all-wheel drive system, which give this Q3 crossover pretty decent off-road abilities as well.  The Q3 can apparently accelerate from 0-100 kmph in 6.9 seconds. The Q3 is decently fuel efficient, with fuel efficiency figures of 11.72 kmpl claimed. The engine features a start-stop system as well to boost fuel efficiency. Also read: Audi Q3 vs BMW X1
The Audi Q3 is now being assembled in India at Audi's plant in Aurangabad, while the first few batches of 500 odd units were imported directly, leading to waiting periods extending to months for customers.
Is it worth it?
The Audi Q3 is best suited for a country like India, if you are in the market for a luxury car. Instead of the A4, the Q3 would be a better choice especially if you have bad roads around the area you live in, as it can take much more of a beating than a sedan can. Being priced close to the A4 and with similar features, the Audi Q3 is a pretty good choice in the luxury market. It only has the BMW X1 to worry about right now, but it's better than the X1 as it has all-wheel drive capability, while the X1 is a two wheel drive only right now. Also read: Audi Q5 first drive impression