Audi India launches Q3 5-seater SUV priced at Rs. 26.21 lakh for the base variant and Rs. 31.49 lakh for the top-end variant. All prices are ex-showroom, Maharashtra. Only 500 units of Q3 are available for booking at all 19 Audi dealerships in India. The Q3 is a premium compact SUV and features all-wheel drive.
The Audi Q3 has coupe-like styling and essentially has an urban character. The Q3 is immediately recognizable as an Audi Q type member. The striking headlights and flat-set rear window gives the Q3, a sporty appeal.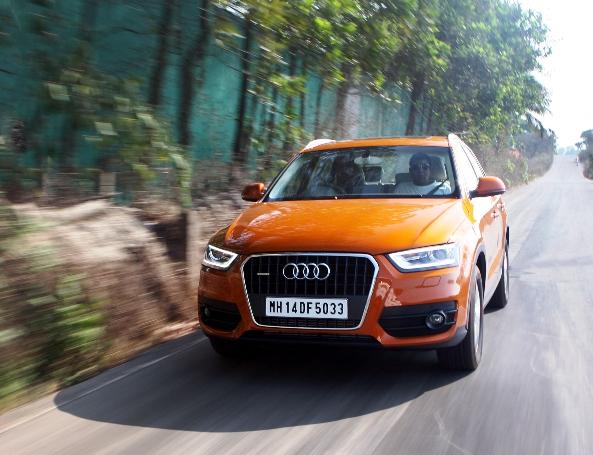 When compared to the BMW X1, the Q3 looks more SUV-like than a crossover, which may attract buyers looking for an SUV with a strong road presence. The Q3 is roughly 4.4 meters long, 1.8 meters wide and 1.6 meters tall; compared to its elder sibling Q5 it is just 20 cm shorter and 7 cm narrower.
The Q3 is powered by a 2.0-litre diesel that puts out 177 Bhp of power and 380 Nm of torque. The engine is mated to a Quattro all-wheel-drive system with a 7-speed S-Tronic transmission. The petrol variant of the Q3 is expected to hit the market at a later stage. Also read: Audi Q3 vs BMW X1
"The launch of the Audi Q3 is in line with our top-down strategy for India. The Q3 is immediately recognizable as the youngest member of the Audi Q family," Michael Perschke, Head, Audi India said. He added that the company is confident that Audi Q3 will repeat the success of Audi Q5 and Audi Q7 and further consolidate Audi's position in the luxury SUV segment.
The Audi Q3 (Rs. 26.21 lakh and Rs. 31.49 lakh) directly competes with the BMW X1 which is offered in three variants: the sDrive18i priced at Rs. 22.40 lakh, the sDrive20d priced at Rs. 24.40 lakh and the sDrive20d Exclusive priced at Rs. 30.40 lakh. The X1 has a wider and slightly cheaper price range when compared with the Q3, but once Audi offers the Q3 in petrol version, both the X1 and Q3 will have similar price range.