Audi India is planning to assemble the Q7 and the yet-to-be-launched Q3 SUVs at its Aurangabad facility.
This may result in a price reduction of the locally assembled Q7 and Q3 in the near future. In July 2010, Audi India began assembly of the Q5 SUV at its Aurangabad plant with a production target of 1,500 units per annum. The Q7, however is a direct import attracting full import duties as of now. But soon, the Q7 will also be assembled locally.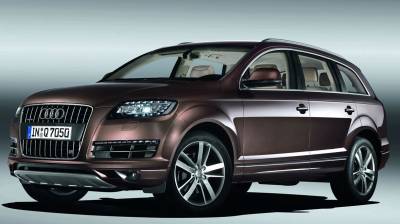 Assembling cars via the Completely-Knocked-Down (CKD) route will reduce the import duty from 60 per cent to 30 per cent. Local assembly of critical parts such as the engine and transmission will further reduce the import duty by 10 per cent. If Audi assembles the Q7 including the engines and transmissions, there are fat chances for the company to reduce its price substantially. In future, more Audi models may be assembled locally for pricing them attractively.
At present, the Audi Q7 is priced in the range of Rs. 55.35 lakh – 66.5 lakh, ex-showroom, Delhi. If the Q7 is assembled locally, the price may drop by a couple of lakhs, and bring down the price range to Rs. 50 lakh – 60 lakh. This will make the Q7 competitively priced when compared with the BMW X5 priced in the range of Rs. 53.80 lakh – 70.50 lakh.
Similarly, the upcoming Audi Q3 which will take on the hot selling BMW X1 is expected to be priced in the range of Rs. 25 lakh – 35 lakh. Making the Q3 available via CKD route, will help Audi to price the Q3 competitively and make the X1 run for its money. At present, the X1 is priced in the range of Rs. 22.40 lakh – 30.40 lakh.
Audi India registered a strong 84 per cent sales growth in the year 2011 by selling 3,003 units last year. In January 2012, the company sold 667 cars, a growth of 39 per cent as against 480 cars sold in January 2011.
The German luxury brand aims to sell 8,000 units in 2012. Audi India will focus on expanding dealerships and introducing new products this year which includes the new Audi TT and the Q3 in late 2012.