Updated: 22/08/12
There are a lot of attractive cars available with automatic transmissions in the market these days. If you're tired of shifting through gears in bumper to bumper city traffic, an automatic just might be the thing you need. Here we take a look at the various automatic sedans available in India under the price Rs. 12 lakhs. Read on!
There are seven midsize sedans under Rs.12 lakh with automatic transmissions in India – Hyundai fluidic Verna, Maruti Suzuki SX4, Skoda Rapid, Honda City, Maruti Suzuki Swift Dzire, Ford Fiesta and the Volkswagen Vento.
[table id=812 /]
*Prices may vary
Maruti Suzuki Dzire AT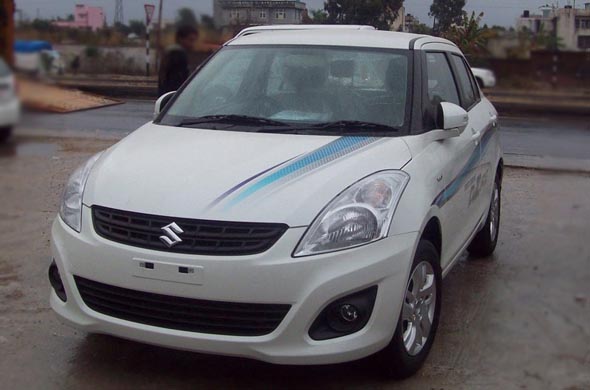 The new Dzire which measures less than four meters, qualifying as small car, comes with a 4-speed automatic gearbox, only on the petrol mid variant VXI. Though the automatic transmission uses a regular torque converter technology (unlike CVT, DSG or dual clutch), it is sufficient to keep pace with the traffic in city driving conditions. The Dzire automatic returns an ARAI-certified mileage of 17.4 kmpl.
Maruti Suzuki SX4 AT
The Maruti Suzuki SX4 is powered by 1.6-litre petrol motor which makes 103 bhp. Fuel efficiency is 12.6 kmpl and we expect the automatic to deliver pretty much the same. The SX4 comes with a 4-speed automatic box – slightly odd as even smaller cars now come with 5-speed automatic boxes. More cogs would also mean better performance and mileage – so it's surprising that Maruti has stuck to a 4-speed.
Volkswagen Vento AT and Skoda Rapid AT
The Volkswagen Vento and Skoda Rapid share the same 1.6-litre petrol motor and 6-speed automatic transmission. Hence, the performance is more or less the same in both cars. The 1.6 liter petrol engine generates 104 bhp of power and is mated to a 6-speed automatic Tiptronic shifter.
The 6-speed gearbox ensures better fuel efficiency and power delivery than the regular torque converter. Fuel efficiency is a claimed 10.5 kmpl and we will believe Volkswagen on this figure because it's an exceptionally low one.
Honda City AT
The Honda City is powered by 1.5-litre i-VTEC petrol engine that puts out 116 bhp of power and returns an ARAI-certified mileage of 15.50 kmpl for the automatic variant. The automatic transmission works smoothly and hence unlike other automatic shifts, it's hard to find feel the gear shifts. The paddles shifters are an absolute treat for enthusiastic drivers.
Honda recently introduced a new City automatic variant in addition to the VAT variant called the S AT that comes in at Rs. 9.10 lakh. It sports features like five spoke alloy wheels, steering mounted audio controls, audio remote, height adjustable driver seat and a front arm rest.
The City's automatic gearbox has the usual D or drive mode and also an S or sports mode. The paddle shifts can be used in either D mode or S mode and there are built in safeguards to prevent you from accidently shifting down at too high rpm.
Mileage is surprisingly good at around 10 – 13 kmpl depending on the traffic and driving styles. This makes the City, more fuel efficient than its rivals.
Hyundai Verna AT
Hyundai is the only manufacturer to offer automatic transmission in both petrol and diesel engine versions of its sedan, the fluidic Verna. The Verna is available with automatic transmission in both the 1.6 SX (O) VTVT petrol and the 1.6 SX (O) CRDi diesel top-end variants. The 1.6-litre VTVT petrol engine puts out 121.36 Bhp of max power while the 1.6-litre CRDi diesel motor with VGT (Variable Geometry Turbo) puts out 126.33 Bhp of peak power. However the diesel variant does cross the Rs.10 lakh mark.
Both the engines are mated to a 4-speed automatic transmission. The Verna petrol automatics shifts are not as smooth as that in the Honda City and acceleration is not as linear either. On the other hand, the Verna diesel automatic offers linear acceleration at city speeds. The mileage of the diesel Verna stands around 11 – 15 kmpl.
Ford Fiesta AT
The Ford Fiesta is powered by a 1499 cc engine that produces 108 Bhp of power and 140 Nm of torque. It has a six-speed automatic transmission. It is probably the best AT out of the lot as gearshifts are very smooth and precise.
The six-speed dual-clutch automatic is a very efficient automatic transmission, which has faster shift timings than even a manual gearbox and lesser power losses. It actually makes the automatic Fiesta a little faster in pick-up without compromising on fuel efficiency compared to its manual counterpart. The Fiesta automatic has a claimed mileage of 16.97 kmpl, which is actually higher than the manual variant's 16.86 kmpl rating.
Price and features
Most automatic cars, at least here in India, have the same equipment list as that of their respective top-end manual versions so the three sedans here are quite loaded. Let's examine them in detail.
Maruti Suzuki Swift Dzire: The Dzire automatic is the cheapest automatic sedan available in the market ar Rs.6.66 lakh. The Dzire however is offered only in the middle variant, VXI which lacks goodies such as the climate control, rear defogger and driver-seat height adjust.
Features offered in the Dzire VXI automatic include power steering with tilt adjust, ABS, EBD, single CD music system with four speakers, power socket, AC, power windows and central locking.
Maruti Suzuki SX4: The SX4 is competitively priced at Rs. 8.65 lakh which is lower than other automatics as the gearbox is not as technologically advanced as those of the Vento or Verna. The Sx4 AT's equipment list is generous but not class-leading.
Features offered include, ABS, EBD, front and rear fog lamps, electric ORVMs, 2 airbags, HVAC with climate control, power steering, power windows, adjustable seats and steering, central locking with remote entry. It also has a single CD music player with iPod dock and controls on the steering wheel. However at this price point you would expect some more features such as parking assists, rain-sensing wipers and perhaps adaptive lights.
Honda City: The City automatic is priced at Rs. 9.09 lakh for the SAT variant, Rs. 9.60 lakh for the V AT variant and Rs. 10.43 lakh for the V AT Sunroof variant. The car sports electrically adjustable mirrors and an integrated audio system with steering mounted audio controls. It does not have a CD player and relies on only USB or Aux-in inputs as external music sources. The car also has remote-operated central locking and cruise control. The sunroof is a welcome option.
Volkswagen Vento and the Skoda Rapid: The Vento automatic retails at a cost of Rs. 9.97 lakh while the Rapid automatic costs Rs. 8.42 lakh. The Vento and Rapid comes with same features. The Vento automatic and the Rapid automatic comes with: ABS, EBD, front and rear fog lamps, 2 airbags, electric ORVMs, HVAC with climate control and rear AC vents, power steering, power windows, adjustable seats and steering, central locking with remote entry, a single CD music player with controls on the steering wheel.
Oddly missing is an iPod dock and parking sensors. Overall not a bad equipment list from the German carmaker, but its high price and low mileage might put off some buyers who are looking for a car that is more than a badge.
Hyundai Verna: The Hyundai Verna 1.6 SX (O) VTVT petrol automatic costs Rs. 9.93 lakh while the 1.6 SX (O) CRDi diesel automatic costs Rs. 11.26 lakh. The automatic variants include features such as dual front airbags, side and curtain airbags, speed sensing door locks, rear disc brakes, impact sensing door unlock, fog lamps, clutch lock system, central locking and immobilizer.
The Verna also has Bluetooth connectivity, electrically foldable outside mirrors, rear view camera, iPod Cable and steering mounted audio controls, rear parking sensors, 2 DIN MP3 player with aux-in and USB, four speakers with tweeters and audio hand remote. Clearly, the Verna is the most feature-rich automatic sedan in its class.
Ford Fiesta: Ford India had launched the Fiesta AT in February 2012 at a price of Rs. 9.13 lakh for the Style variant and Rs. 9.86 lakh for the Titanium Plus variant.The Fiesta Style AT variant gets front dual airbags, fog lamps, music system, ESP and cruise control. The more expensive Titanium Plus variant gets auto AC with voice control, alloy wheels, electrically foldable ORVMs and reverse parking sensors.