On August 3, the Supreme Court of India has directed police forces across the country to step up action against cars that still have sun films, or face action for contempt of court, for not following its directive. This move is a dampener to all those who were hopeful that the ban would be revoked.
The ban on sun films of any visible light transparency came into effect on May 4 in most cities, and on May 19 in some cities. Read: All sun-films are now illegal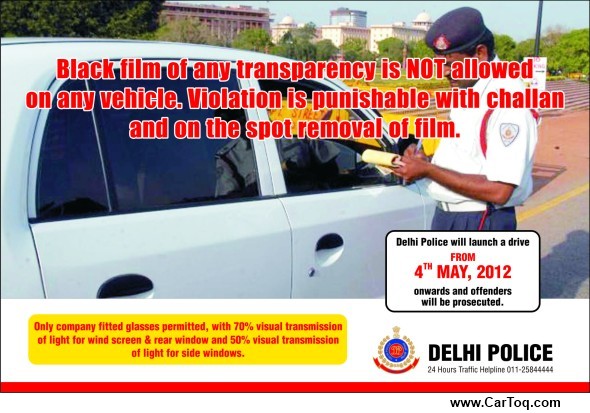 A two-judge Supreme Court bench said that the use of dark films and tinted glasses beyond permissible limits was a violation of the Motor Vehicles Act. This ruling was given on April 27, on the basis of a petition filed by Avishek Goenka, a Kolkata resident, that cars with black films were increasingly being used in crimes.
The court ruled that carmakers can use tinted glasses of not less than 70% transparency on the front and rear windows and not less than 50% transparency on the side windows, but banned the pasting of any kind of material on the glass.
Car sun-film makers such as Garware, Sun Enterprise and others filed petitions seeking a modification of the verdict. One of the arguments used was that black films prevented skin cancer by over exposure to ultra-violet rays. But the court says such an argument is misconceived and misdirected.
The court has further directed the police force to step up the drive against sun-film, saying the ruling has to be implemented in letter and spirit.
The two-judge bench said: "DGPs/commissioners of police are to ensure complete compliance in true letter and substance. At this stage we will not initiate any action on DGPs and other officials, but issue a clear warning that in case of non-compliance the court shall be compelled to initiate appropriate action under the Contempt of Courts Act without any notice."
It further added that the argument on health grounds by sun-film makers was not strong enough, saying: "It cannot be disputed and is a matter of common knowledge that there are a large number of preventive measures that can be taken by a person who needs to protect himself from the ultra-violet rays. Use of creams, sun-shade and other amenities would be beneficial for the individuals intolerable to sun rays.  It does not require change of a permanent character in the motor vehicle, that too, in utter violation of the provisions of the statute."
If you were looking for some relaxation in the law against sun-films, you are going to be disappointed. If you haven't removed your sun-film so far, it's time you did. Also read: How to safely remove sun-film from your car
Source: Deccan Herald