Bentley cars have gained worldwide recognition for their luxurious class and style, often symbolizing a prestigious status. The brand offers a diverse range of car models, including saloons, GTs, sports cars, and SUVs, which are favored by numerous affluent and well-known individuals in India. Here is a compilation of ten prominent Indians who proudly own Bentley cars.
Akshay Kumar
Bentley Flying Spur
Akshay Kumar's impressive car collection boasts a Rolls Royce, Honda CR-V, and a self-driven Bentley Flying Spur. The Bentley Flying Spur, equipped with a W12 twin-turbo engine, delivers a remarkable maximum power of 616 Bhp and a peak torque of 800 Nm.
Also read: 10 DC Design cars & how they look in the REAL world: Maruti Swift to Mahindra XUV500
Shilpa Shetty
Bently Flying Spur
Shilpa Shetty, a renowned Bollywood star, has been known to utilize a black Bentley Flying Spur powered by a W12 engine capable of producing an impressive maximum power of 626 Bhp and a peak torque of 820 Nm. However, there have been no recent sightings of her with the car. Interestingly, Shilpa was recently spotted in another Bentley, specifically the Bentley Flying Spur registered under Raj Kundra's name. Apart from her Bentley collection, Shilpa also possesses a few other luxury vehicles, including a Land Rover Range Rover and a Mercedes-AMG G63.
Aamir Khan
Bentley Flying Spur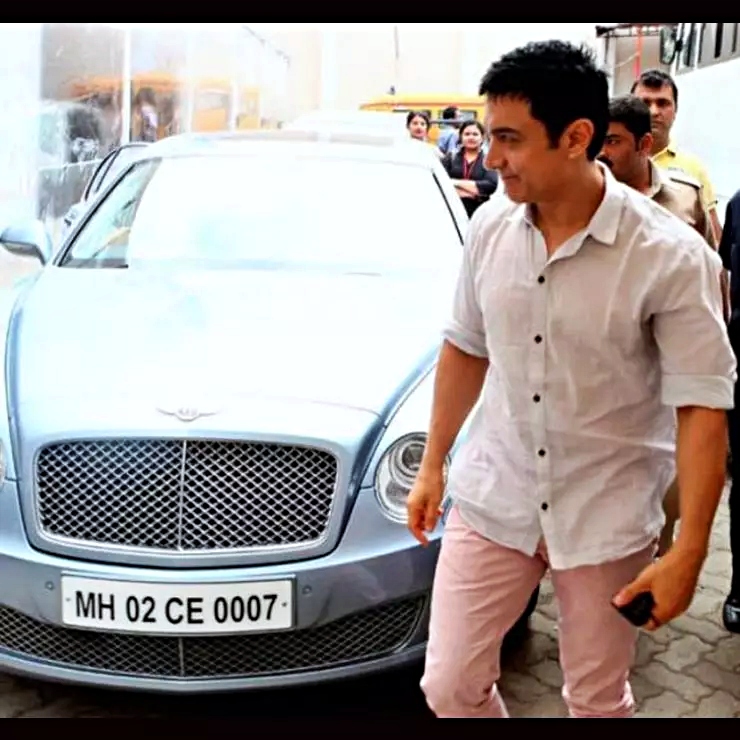 At the time of Aamir's purchase, the Bentley Flying Spur held the distinction of being the fastest four-door sedan in the Indian market. It served as a compelling alternative to the Rolls Royce Phantom. This particular version of the Flying Spur came equipped with either a turbocharged V8 engine or a more powerful W12 engine, providing outputs of 500 and 616 Bhp respectively. The ex-showroom prices for the Bentley Continental Flying Spur ranged from Rs. 3.04 crore to Rs. 3.22 crore.
Abhishek Bachchan
Bentley Continent GT
The Bachchans received a generous gift from politician Amar Singh in the form of a Bentley Continental GT. Abhishek Bachchan is frequently spotted driving this British grand tourer, which boasts a 6.0-liter twin-turbo W12 engine. This powerful engine generates an impressive 552 Bhp at 6,100 rpm and 650 Nm of torque at 1,600-6,100 rpm. The Continental GT is equipped with a 7-speed dual-clutch automatic gearbox and can reach a top speed of 318 km/h.
Jackie Shroff
Bentley Continental GT
Jackie Shroff is often seen cruising in a white Bentley Continental GT, a rare sight in India, but a favorite among the wealthy and famous in the country. The Bentley Continental GT comes with two engine options. One is a 4.0-liter V8 engine that delivers an impressive maximum power of 500 Bhp and 660 Nm of torque. The other engine option is a more powerful version of the same 4.0-liter V8, producing a maximum of 521 Bhp and 680 Nm of torque. Additionally, Bentley offers a 6.0-liter petrol engine with varying power outputs depending on the different variants of the car: 567 Bhp – 700 Nm and 626 Bhp – 820 Nm.
Riteish Deshmukh
Bentley Continental GT
Riteish was spotted with this luxurious model for the first time at Anil Ambani's annual bash in 2013. It was later revealed that the celebrity received this model shortly before his marriage. The first one, without a doubt, was the remarkable Continental GT, which stood out in its own class. The Bentley Continental Flying Spur is not merely a supercar due to its high-speed capabilities; it also delivers remarkably consistent performance, showcasing unrestrained luxury and glamour.
Also read: Upcoming 2022 Maruti Suzuki Vitara Brezza rendered