Updated: 23/04/2012
With sky rocketing petrol prices, premium hatchback buyers have shifted their focus to diesel engines for lower running costs. If you are a potential diesel small car buyer and are confused about which car to choose, this article is meant for you.
We have chosen the following cars (top-end variants) for comparison here: Fiat Grande Punto 90 HP Emotion Pk, Ford Figo 1.4 Duratorq Diesel Titanium, Hyundai i20 1.4 Asta CRDi (O), Maruti Swift ZDI, Renault Pulse RxZ, Nissan Micra Diesel XV Premium, Skoda Fabia Elegance 1.2 TDI, Tata Vista ZX Quadrajet and the Volkswagen Polo 1.2 TDI Highline.
The cars have been compared based on affordability, features, fuel efficiency, performance, comfort, service and maintenance. Take a look.
Most affordable car: Ford Figo Titanium
The Figo diesel Titanium priced at Rs. 5.82 lakh is the most affordable car in the premium diesel hatchback segment. The other cars in order from the least expensive to most expensive are: Tata Vista ZX Quadrajet priced at Rs. 6.23 lakh, Renault Pulse diesel RxZ priced at Rs. 6.25 lakh, Nissan Micra diesel XV premium priced at Rs. 6.29 lakh and Maruti Suzuki Swift ZDI priced at Rs. 6.37 lakh.
If you move further up the price ladder you can buy the Skoda Fabia Elegance priced at Rs. 6.93 lakh, Volkswagen Polo 1.2 TDI Highline priced at Rs. 7.15 lakh and the Fiat Grande Punto 90 HP Emotion Pk at Rs.7.15 lakh,. The Hyundai i20 1.4 Asta CRDi (O) priced at Rs. 7.45 lakh is the most expensive car in our compilation. Also read: Most fuel efficient petrol small cars 
Most feature-rich car: Hyundai i20 Asta (O)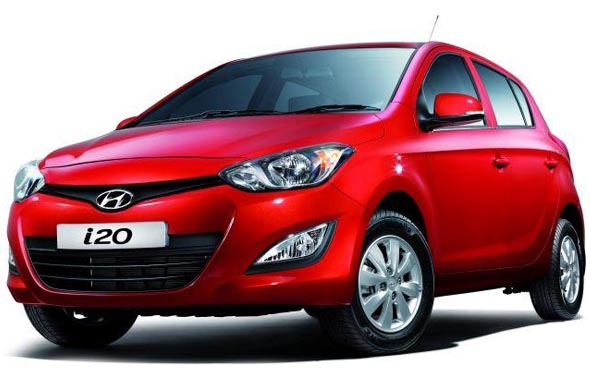 Premium hatchbacks are not just about performance and mileage, but also about features. Among the eight premium diesel hatchbacks, the new i20 has the most number of features and also carries the most premium price tag.
With the launch of the face lifted i20 in March 2012, Hyundai has added more creature comforts to the car, such as a smart key with push button start, auto headlights, rain sensing wipers, rear camera with display in cabin mirror, rear disc brakes, driver seat armrest and electric folding and heated wing mirrors.
Other features of the new i20 which were also found on the old i20 include six airbags, tilt and telescopic steering, CD/MP3 music system, aux-in & USB audio inputs, 12 V power outlet, 4 speakers & 2 front tweeters, digital clock, steering mounted audio controls, Bluetooth connectivity, turn indicators on outside mirrors, alloy wheels, leather wrapped steering wheel and gear knob.
The Swift ZDI lacks many features offered in the i20 such as rear disc brakes, push button start, auto headlights, rain sensing wipers, rear camera and side airbags. The Renault Pulse RxZ and Nissan Micra XV Premium do not offer Bluetooth connectivity and driver seat height adjust although push button start features is available. The diesel variants though claim a premium price, lacks ABS with EBD and offer passenger airbag as an optional feature only.
The Punto 90 HP Emotion Pack comes with Bluetooth connectivity but lacks a USB port and aux-in port. Similarly the Fabia Elegance comes with an under seat rear AC vent and driver seat height adjusts, but lacks USB port. The Vista ZX has most of the features of the i20 and gets Blue 5 (5 phones can be paired via Bluetooth). But its instrument cluster does not display information such as distance to empty, outside temperature and engine running time. The Figo Titanium lacks features such as rear power windows, steering mounted audio controls and tilt steering though it is the least expensive top-end diesel hatchback available. Also read: Most fuel efficient automatic cars in India
Most fuel efficient cars: Renault Pulse RxZ and Nissan Micra XV Premium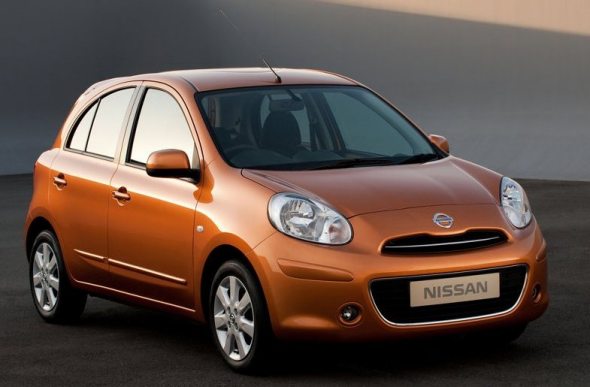 The following fuel efficiency figures are based on ARAI certification and actual fuel efficiency may vary. The Micra and Pulse lead in the fuel efficiency race with a mileage of 23.08 kmpl. The Swift ZDI is close on its tail with a mileage of 22.9 kmpl while the Tata Vista gets a similar 22.3 kmpl. The Volkswagen Polo with a mileage of 22 kmpl too is pretty close. Next comes the i20 with mileage of 21.9 kmpl followed by the Skoda Fabia with a mileage of 20.9 kmpl and the Ford Figo with a mileage of 20 kmpl. The Fiat Punto with a mileage of 19 kmpl is the least fuel efficient car in our list.
In real world conditions, the Micra and the Vista are known to offer better mileage as against the Swift, Figo and i20. The Punto, Fabia and Polo offer mileage slightly lower than the above mentioned cars. Also read: Question of the day – which is the best diesel small car in terms of maintenance and mileage?
Best performance car: Fiat Punto 90 hp Emotion Pk
The Fiat Punto 90 drives better and also handles better than the i20 and the Swift. The i20 and the Swift are at par with each other, though the Swift' steering gives a tad more feedback at high speeds than the i20.
The Fabia and Polo have solid ride quality but engine performance and handling is not as good as the Swift. The Figo is a brilliant handler, but its engine puts out a modest 68 bhp with which, you cannot actually exploit the Figo's handling characteristics fully. The Vista and Micra have adequate mid range punch which is enough to tackle highways, though handling is average in both the cars.
Most comfortable hatchback: Indica Vista ZX Quadrajet
The Vista has the largest interior space than all others. The legroom for rear passengers in Vista is great and can easily accommodate three adults abreast. The i20 has large interior space as well, but the rear seat is sculpted to accommodate two passengers comfortably while the third passenger has to sit on the hump. The rear passenger legroom is lesser than the Vista.
Nissan Micra too, has spacious interiors though its rear seat is positioned slightly lower compromising on under thigh support. Next in line is the Figo, followed by the Fabia and the Polo. The Punto and Swift have commendable front passenger legroom and headroom, but have tight rear passenger legroom. With regard to boot space, the Fabia leads with 315 litres and next comes the i20 with 295 litres and the Figo with 284 litres. The Polo and Punto have 280 litres of luggage space. The Micra and Pulse have 251 litres each, the Tata Vista has 232 litres and the Maruti Swift has 210 litres, which is the least among the premium hatchbacks.
Best car in terms of service and maintenance: Maruti Suzuki Swift ZDI and Hyundai i20 Asta (O)
Maruti Suzuki leads all others when it comes to service and maintenance and hence, the Swift is a clear winner. The Hyundai too, offers competent service network reliability and i20 too, comes a close second. Next comes the Tata/Fiat, has large service network, but the service reliability is not as consistent as Maruti or Hyundai. Hence, Tata Vista and Fiat Punto stand third.
Ford India may not have a service network as wide as Tata, but offers quality service, followed by others such as Skoda (Fabia), Nissan (Micra), Renault (Pulse) and Volkswagen (Polo). If you are in a metro, any of the eight premium hatchbacks will have a dealership/service center within 20 km. However, if you are in a tier II or tier III region, it is better to go for Maruti, Hyundai and Tata (in the same order).
Our top three picks
The Hyundai i20 Asta (O) though is priced at a premium, offers loads of features, has good looks and better performance than most of the hatchbacks making it our first choice. The Maruti Suzuki Swift ZDi is our second choice for it is an attractive overall package and has already set a bench mark in the premium hatchback segment. Though the Swift diesel has a long waiting period, it continues to appeals to buyers, thanks to its sporty looks, better handling characteristics, Maruti's reliable service network and better value for money than the i20.
The Ford Figo diesel Titanium is our third choice, for it offers excellent value for money when compared with i20 and Swift, has a reliable engine with consistent mileage, though it misses a few features when compared to the Swift and the i20.