If you are planning to buy your first car and have a budget of between Rs. 2 lakh – Rs. 4.5 lakh, here are the best options for you.
After reading through queries posted by our community, CarToq came to the conclusion that first car buyers (for a family of three) usually look for interior space, price, running costs, maintenance costs and resale value.
One member of the CarToq Community asked an interesting question: Which is the best car for a family of three and which is the best small family car within five lakh. CarToq picks the top five small cars that can best suit a small family and a first car buyer's needs.
Maruti Suzuki Alto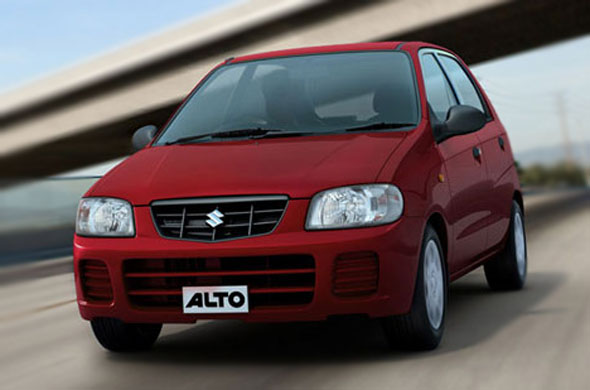 The Alto is the largest selling car with average sales of 25,000 units per month. The Alto can make four average sized passengers seat comfortably on the inside. The boot space is just adequate. But what makes the car so appealing is its low price and reliability.
The Alto is powered by a 796 cc, three cylinder petrol motor that makes 46.3 Bhp of power and 62 Nm of torque and returns a claimed mileage of 19.7 Kmpl. The Alto K10 is powered by a 1-litre engine that puts out 66 Bhp of power. The car is also offered in CNG for the running cost conscious buyer. Also read: Highest selling cars in India over the last 6 months!
At Rs.2.91 lakh (ex-showroom, Delhi), the Alto LXI (top-end variant) comes with power steering, fabric seats, remote fuel lid opener and integrated rear seat headrests.  If you do not need the power steering, you can opt for the Alto LX which costs Rs. 2.72 lakh and the non-AC base variant, Alto Std that costs Rs. 2.40 lakh. Being a Maruti Suzuki, the Alto has low maintenance cost and has good resale value as well.
So, if you are under tight budget and looking for a basic yet proven small car with decent interiors, go for the Alto.
Hyundai Eon
The Eon is a stylish option for an entry-level small car buyer. It has a bold front face and imposing road stance. The rear looks a bit odd due to the over-sized bumper, but otherwise, it is quite a good looker. The Eon offers more space because it is taller and wider than the Alto. What makes the Eon, a tempting buy is its interior quality. Despite having a budget price, the Eon has impressive plastics and precise fit and finish.
The Eon is powered by a 814 cc, three cylinder petrol engine that puts out 56 Bhp of power and returns a claimed mileage of 21.1 Kmpl. The Eon's engine is bit coarse when revved hard, but for city traffic, it performs its duty without any complaint. The Eon is also offered in LPG for those who like to bring down the running costs by a fraction. Also read: Why the Hyundai Eon is more value for money than the Maruti Suzuki Alto K10!
The Eon comes in D-Lite, D-Lite+, Era+, Magna+ and Sportz. The Eon LPG is offered only in D-Lite+, Era+ and Magna+ trims. The Eon is offered in the price range of Rs. 2.74 lakh – Rs. 3.80 lakh. The Eon has reasonable maintenance costs, but its resale value is yet to be known.
Tata Nano
The Nano has a short wheelbase, but its cabin space is one of the best among small cars. The Nano feels big on the inside for it has surplus legroom, headroom and adequate shoulder room for four adults. The impractical luggage space of 80 litres is also difficult to access due to the lack of tailgate.
The Nano is powered by a 623 cc, 2-cylinder petrol motor that makes 37.4 Bhp of power and 51 Nm of torque. The engine is mated to a 4-speed manual gear box and has an ARAI-certified mileage of 25 kmpl. The Nano's engine is quite responsive in city driving conditions but feels outright under-powered and strained in highway speeds.
The Nano is offered in three variants, Std (Rs. 1.43 lakh), CX (Rs. 1.73 lakh) and LX (Rs. 2 lakh). The top-end variant comes with features such as AC with heater, front & rear fog lamps, front power windows, electronic trip meter, cup holders, door map pockets, full wheel caps, roof spoiler, and central locking. The CX variant doesn't have fog lamps and central locking while the Std variant doesn't get AC. Read more: Community speaks: Is the Nano a more practical car than the Alto?
The maintenance costs of Nano are quite low, but due to the fire incidents and the 'unsafe image' associated with the car, Nano has low resale value. So, if you are buying the Nano, be prepared to keep it for a finite time before selling it to avoid monetary loss.
Hyundai Santro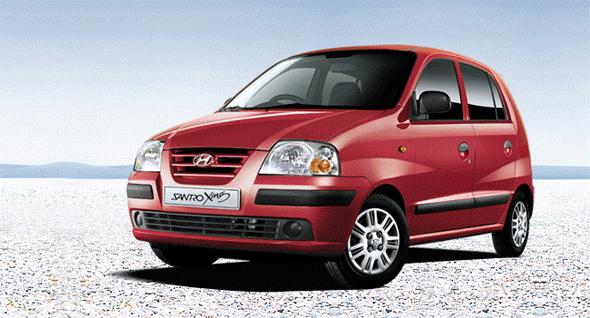 The Santro is a proven small car with good build quality. It is spacious for four and even a fifth passenger can sit occasionally. The tall boy design of the Santro offers plenty of headroom and hence, tall passengers won't complain. The boot space of 218 litres is useful for weekend trips and occasional long trips. Read more: Community Speaks: Maruti Suzuki Wagon R vs Hyundai Santro
The Santro is powered by a 1,086 cc petrol engine that puts out 62 Bhp of power and returns a claimed mileage of 16.7 Kmpl. For running-cost conscious buyers, the Santro comes in LPG as well.
The Santro is offered in three variants: Non AC, GL Plus and GLS. The LPG is offered in the GL Plus and GLS variants. The Santro is priced in the range of Rs. 2.89 lakh – Rs. 4.06 lakh.
The Santro has low maintenance costs and can hold its value even after years of usage. Therefore, if you can adjust with the old school looks, there aren't many reasons to ignore a Santro when it comes to first car shopping.
Maruti Suzuki Wagon R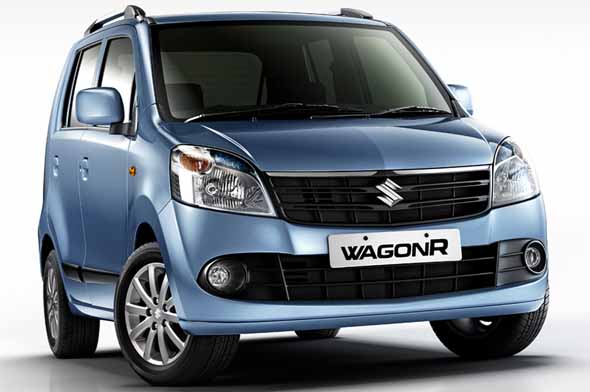 The Wagon R is among the top three largest selling cars in India. No wonder, people prefers the car's practical shape (boxy dimension) that makes it easy to drive in narrow lanes and parking in tight spaces without breaking a sweat. The Wagon R has spacious cabin with enormous headroom, adequate legroom and shoulder room for four passengers. Wagon R is a smart choice for elders can easily get in and out of the car, thanks to the high-positioned seats.
The Wagon R is powered by the 1-litre K-Series engine that produces 67 Bhp of maximum power and returns an ARAI-certified mileage of 18.9 Kmpl. The car is available in LPG and CNG options that reduce the running costs.
The Wagon R is available in four variants, LX, LXI, VXI and VXI with ABS. The LPG and CNG variants are offered only in the LXI variant. The Wagon R is priced in the range of Rs. 3.47 lakh – Rs. 4.34 lakh. Also read:
The Wagon R is easy to maintain and spare parts are also cheap. Resale value is good given that the model has been selling for more than a decade that makes a strong case for itself. Hence, if you need a practical small car, the Wagon R is for you.