If you're planning to buy your very first petrol small car, you are probably confused with the plethora of choices the car market offers today. We at CarToq often come across questions about which petrol small car would make an ideal first car. In this article we have listed out the most practical and value for money cars you can buy on a budget of under Rs. 6 lakh.
Members of the CarToq community have had several questions when buying their first cars, like Antony Robert  Rajiv F who had narrowed his choice down to the Figo and wanted to know more about it. Another member Yajas was confused between the Swift and the i20. While yet another member Teon was confused between three cars that are on our list.
As a first time car buyer your major concerns will likely be mileage, basic comforts and most importantly budget. Taking all that into account we've listed our top ten favorites when it comes to first cars. These are also the highest-selling petrol hatchbacks in the country, take a look.
Tata Nano
Price: Rs. 1.40 lakh to Rs. 1.96 lakh
Mileage: 24 kmpl
Now the Tata Nano may not have much aspirational value for those of us who have owned other cars but if you are simply looking for a four wheeler which helps transport you and your family from point A to point B, the Nano does it pretty well.
Why buy?
The present Nano powered by a 624 cc, twin cylinder petrol motor makes a humble 37.5 bhp of power and 51 Nm of torque. But what is impressive is its mileage, it has claimed mileage of 24 kmpl! Also, don't be fooled by its compact dimensions this little critter is rather spacious on the inside and can seat four passengers more comfortably than cars that cost significantly more. See our 2012 Tata Nano: Video review for more information.
It also has a powerful AC and a small turning radius of 4 meters, making it easy to drive in crowded cities.
The Negatives
The only downsides to the Nano are the sound of the rear mounted engine, lack of boot space and safety features. These issues make it strictly a city rover that feels out of its natural habitat and runs out of steam on open highways.
Hyundai Eon
Price: Rs. 2.74 lakh- Rs. 3.76 lakh
Mileage: 21 kmpl
The next car on our list is the Hyundai Eon. This new kid on the block from Hyundai is the car that your neighbors will envy.
Why Buy?
The Eon looks ages ahead of its competition, it feels polished and even the interiors don't remind you that you were on a tight budget when you bought it. It has a three-cylinder, 814 cc, petrol engine that gives you 55 bhp of power and 75 Nm of torque.
But its engine isn't what helped it make it to our list; it was its features! Hyundai has given the Eon features like a driver airbag, a gear shift indicator, remote tail gate release, remote fuel lid opener, an AC, tilt steering, music system with two front door speakers, power windows, aux-in port and a USB port. Also see our Hyundai Eon video review!
On the practicality front the Eon gives you a 215 litre boot and its interior is more spacious than the Alto and has great fit and finish for this segment.
The Negatives
What might be a spoiler for you is the fact that the Eon's gear shift is not so smooth and vibrates a lot. Another disappointing thing is the way it handles. It fails to inspire confidence and doesn't feel as planted and composed as its rival, the Maruti Alto.
Hyundai Santro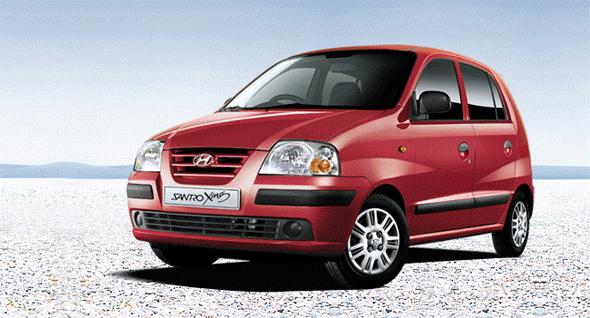 Price: Rs. 2.89 lakh to Rs.3.80 lakh
Mileage: 17 kmpl
The Hyundai Santro has been around for a long time, yet it manages to sell in good numbers every month. It is a no frills entry level small car that delivers just the right features.
Why Buy?
The Hyundai Santro has a 1086 cc engine that makes 62 bhp of power and 96 Nm of torque. It is small, peppy and easy to drive around town. It handles well and doesn't mind being pushed around a bit, though the engine may get a little loud. It has decent space and like the Wagon R its tall boy design helps it accommodate passengers of all shapes and sizes.
It is easy to service thanks to Hyundai's service network and isn't too hard on the pocket either. It has basic features like AC, power steering and power windows and Hyundai also offers a basic music system. It has a decent 218 litre boot which is a little larger than the Swift's which is a premium hatch back and costs much more.
The Negatives
In today's competitive market the Santro falls terribly short when it comes to features as it offers next to none. The car looks a bit dated and the ride is bouncy at the rear.
Maruti Suzuki Alto K10
Price: Rs. 3.14 lakh to Rs. 3.24 lakh
Mileage: 20 kmpl
Speaking of the Alto, there is little we can say to stress on the popularity of this vehicle. Right from the original Alto standard to the K10, this car has been selling like hot cakes and for good reason.
Why Buy?
The Alto with the new 1-litre K-Series engine gives you 67 bhp of power and 90Nm of torque. It has excellent pick-up and let's you vroom away from one stop light to another reasonably fast. It comes with decent kit too, electronic power-steering and AC is standard while power windows are offered only on the VXi variant. Overall the Alto K10 with Maruti's service network and attractive pricing makes for a great first car to own. Read our Maruti Suzuki Alto K10 VXi road test for more insights.
The Negatives
The problem with Alto K10 is the lack of space. The seats are cramped, under thigh support isn't too great and if you have even one tall person in the car it becomes quite uncomfortable. This isn't the ideal car if you travel with all four passengers on board but otherwise it will even cruise on the highway without much of a fuss.
Tata Indica eV2 petrol
Price: Rs. 3.23 lakh to Rs. 4.04 lakh
Mileage: 17 kmpl
The Indica has been around in our market for quite some while; here we take a look at why it makes a good first car in its eV2 avatar.
Why Buy?
The Indica comes with an 1193 cc, 4 cylinder engine that makes 65 bhp of power and 100 Nm of torque. It is big on space and can even accommodate three in the back. Other plusses of the eV2 are its 220 liter boot, AC, power windows and music system with USB and Aux-in compatibility. It is easy to maintain and service too is easy on the pocket.
The Negatives
The engine doesn't feel all that refined and the Indica has garnered the image of a cab over the years, which is not something every one can live with. Also read: 6 reasons that make the Tata Indica ev2 a good car for its features
Maruti Suzuki Wagon R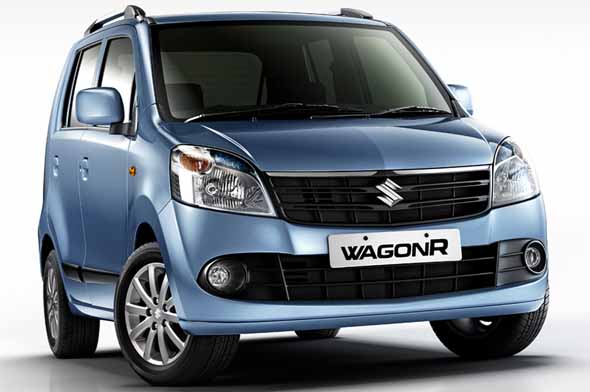 Price: Rs. 3.47 lakh to Rs. 4.34 lakh
Mileage: 19 kmpl
Maruti's 'Blue Eyed Boy' still has a lot of fans, thanks to its sheer practicality and the amount of space it offers at its price point.
Why Buy?
The Wagon R with its tall-boy design makes space for even those who are taller or broader than the average Indian. There is plenty of headroom, legroom and it is comfortable for four people, and has a 180-litre boot.
The seats are flexible and you can always make more space for luggage when you need it. The Wagon R has a 998 cc engine that makes 67 Bhp of power and 90 Nm of torque. It gives a claimed mileage of 18.9 kmpl. With features like electric ORVM's, under seat storage space, push out cup holders, aux-in, AC etc it makes for a good first car. Also read: Owner Review: Maruti WagonR
The Negatives
There isn't much to complain about but at high speeds thanks to its boxy shape the Wagon R is susceptible to cross winds and there is a little body roll on sharp turns. Another small irritant is the lack of a day night mirror which means you get blinded driving at night if the car behind you is driving on high beam.
Hyundai i10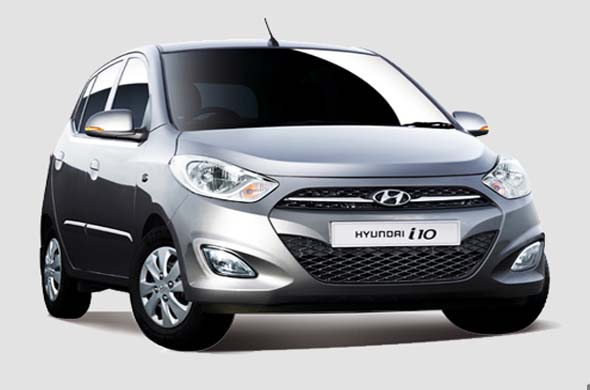 Price: Rs. 3.65 lakh to Rs. 6.11 lakh
Mileage: 20 kmpl
The Hyundai i10 is one of the better looking cars in the segment, its compact and practical. With 8 petrol variants, ranging from a 1.1 litre engine to a 1.2 litre engine and a host of convenience features like Bluetooth connectivity it is a step above many cars around its price point.
Why Buy?
Inside space is decent, it offers good all round visibility and that is good if you are a new driver. It is easy to handle and can see you through long highway trips as well. It has an effective AC a claimed mileage of 20 kmpl. Read more: Hyundai i10 Sportz 1.2L Kappa2 road test
The Negatives
Where the i10 loses out is pricing. It starts at Rs. 3.65 lakh but that is for the base variant and you end up shelling out quite a bit as you move up the variant ladder. Also since it is narrow, space in the rear seat is enough only for two, with a third person being a bit of a squeeze.
Ford Figo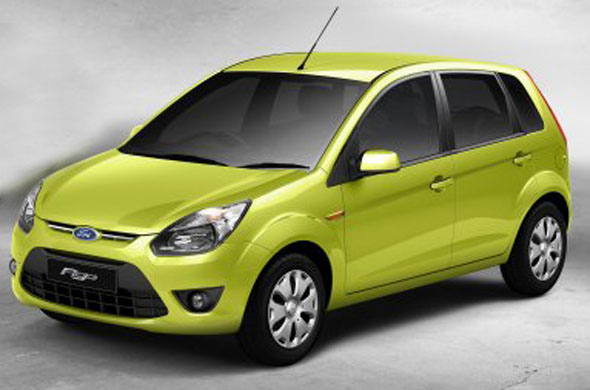 Price: Rs. 4.11 lakh to Rs. 4.87 lakh
Mileage: 16 kmpl
The Ford Figo is at the higher end of the price spectrum in our list but it also offers much more in terms of features and overall driving experience.
Why Buy?
The Figo has a 1196 cc, 4 cylinder engine that makes 70 bhp of power and 102 Nm of torque. It is spacious and comfortable even on bad roads. It is a fun car to drive and comes equipped with features like ABS, EBD, Music System, AC, tilt steering, tachometer, rear defogger and a 284 litre boot. It is also one of the few good looking cars you can opt for and stands out on the road. You can also read User experiences: Ford Figo, a year after launch.
The Negatives
People have often complained about the Figo's ground clearance, which is just 168 mm. This means you will scrape your cars under belly on bad roads if it is fully loaded.
Maruti Suzuki Ritz
Price: Rs. 4.16 lakh to Rs.5.16 lakh
Mileage: 18 kmpl
The Ritz is not the good looker of this lot but its is definitely a very practical and value for money car. It is a lot like its popular sibling the Swift, in most respects.
Why Buy?
The Ritz has the Swift's 1197 cc, 4 cylinder engine that makes 84 bhp of power and 113 Nm of torque, it is not only a fun to drive small car but its also has a mileage of 18 kmpl. The Maruti Ritz is sporty and its engine is quite rev-happy. It's also very refined and one hardly feels the vibrations of the engine. The suspension on the Ritz though is quite stiff so it does pitch on uneven surfaces.  But this suspension setup makes handling a lot better. It is also spacious and comfortable on the inside.
The Negatives
The Ritz has a design that may not appeal to all; its interiors too feel dull and dated. It is cost effective and practical but doesn't have much of a road presence.
Maruti Suzuki Swift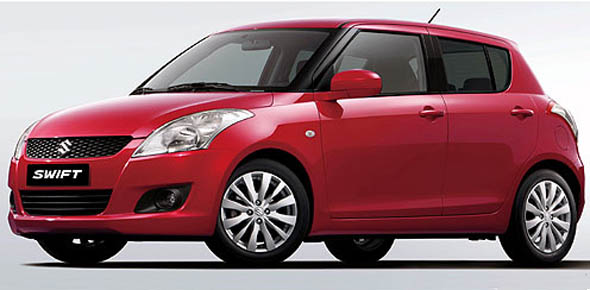 Price: Rs.4.44 lakh to Rs.5.68 lakh
Mileage: 18 kmpl
The Maruti Swift is complete driver's car, it is in fact the most involving and fun to drive car in its segment. With its refreshed looks and interiors it has only become more lucrative. It's practicality, mileage and service network make it an ideal first car.
Why Buy?
The Swift's interiors are well put together and controls fall to hand easily, the seats are comfortable and give you a good driving position. It is feature loaded and comes with steering audio controls, integrated audio system with Aux-in and USB, two airbags, ABS, alloy wheels, front and rear fog lamps and electrically adjustable side view mirrors. It has a 1197 cc 4 cylinder engine that makes 86 bhp of power and 114 Nm of torque. The Swift's suspension is slightly on the stiffer side which gives it great handling without compromising too much on comfort. Also read: Maruti Swift diesel road test and review
The Negatives
The negatives of the Swift include lack of rear seat legroom, lack of boot space (210 litres, which is small for a premium hatch) and the fact that the rear seats offer only single folding.