If you have just learned to drive and are looking for a hatchback as your first car, there are plenty of choices. However, considering you are a first time driver there are some things you need to factor in while making a choice.
Factors to consider
Here are some of the things you need to consider when picking a car. The car you choose should not be expensive to maintain, as it's quite likely you may knock or break a bumper, fender or headlamp in your initial ownership period. The car should be reliable and not leave you stranded – it should be easy to fix anywhere and not chalk up huge maintenance costs. The car should have good all-round visibility, making it easy to drive and park. It should have a light clutch, easy steering, and easy gearshift, so that you can focus on driving and not get hassled with the controls.
The choice of fuel as a first-time car buyer is irrelevant. You could choose either a petrol or a diesel, although a petrol engine is preferable, as it would need less maintenance and won't suffer from issues like "turbo-lag" which will require you to alter your driving style.
Here we suggest nine hatchbacks you can look at in three budget ranges, based on ex-showroom prices (On-road prices can be up to 15%-20% more than the ex-showroom price).
Below Rs. 3 lakh
Maruti Alto 800
Price range: Rs. 2.44 lakh – Rs 3.56 lakh
The Maruti Alto is almost a default choice. The new Alto 800 has a bit more interior space, a slightly taller driving position and good all-round visibility. It comes with a 796 cc engine that puts out 47.5 bhp of power and 69 Nm of torque with a five-speed manual transmission. It is one of the most fuel efficient cars around, with a claimed mileage of 22 kmpl and easily gives up to 18 kmpl with the AC in city conditions. It also comes with a CNG option if fuel bills are a concern. Also read: Maruti Alto 800 road test and review
Tata Nano
Price range: Rs. 1.45 lakh – Rs. 2.01 lakh
If you are on a very tight budget, but just must have a new car, then the Tata Nano is a good choice. The Nano is a good beginners car because it is mechanically very simple, has good all-round visibility and really compact, making it easy to park and maneuver in tight spaces. Of course, the steering is a little hard because it lacks power steering. It comes with a 2-cylinder, 624 cc rear-mounted petrol engine that puts out 37 bhp of power and 51 Nm of torque. It lacks boot space and is best as a city car only. Also see:  Tata Nano video review
Rs. 3 lakh – Rs. 4 lakh
Hyundai Eon
Price range: Rs. 2.75 lakh – Rs. 3.75 lakh
If you want a slightly more robust car, with a bit more design flair than the Maruti Alto 800, you could pick a Hyundai Eon. The Eon is more powerful than the Maruti Alto 800, putting out 55 bhp of power and 75 Nm of torque from its 814 cc, three cylinder engine. The car is fairly easy to drive, with decent all round visibility and more space because of its tall-boy design. The downsides are a slightly vague gearshift, but otherwise a decent car, with claimed fuel efficiency of 21 kmpl. Also read: Maruti Alto 800 vs Hyundai Eon
Chevrolet Beat
Price range: Rs. 3.8 lakh – Rs. 5.8 lakh (includes diesel)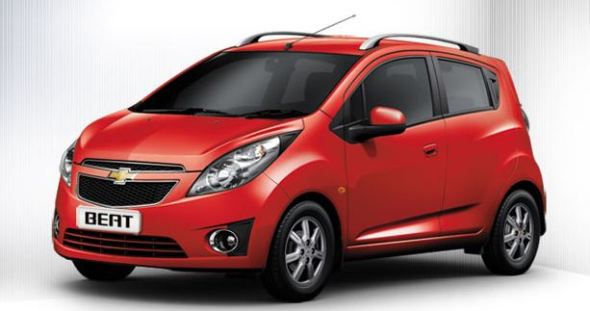 The Chevrolet Beat is a pretty versatile car with funky styling. The petrol Beat is ideal for first-time buyers, especially those who want a bit of style with their car. The diesel Beat would suit those who expect to drive a lot and want to save on running costs, although it's a bit quirky to drive for first-timers, and has slight issues with all-round visibility. The petrol Beat is powered by a 1.2 litre petrol engine putting out 80 bhp of power. The diesel Beat comes with a 1-litre diesel engine that puts out 58 bhp of power. The best part of picking up a Beat is that it comes with Chevrolet's 3-year maintenance package, which helps you keep your maintenance costs in check for three years. Also read: Pros and cons of Chevrolet Beat
Maruti Wagon-R
Price range: Rs. 3.5 lakh – Rs. 4.37 lakh
The Maruti Wagon-R is a safe bet for beginner. It has good interior space and is easy to maintain, with parts being quite inexpensive. The car comes with a 1 litre petrol engine putting out 67 bhp of power and 90 Nm of torque. It is fairly fuel efficient with a claimed 19 kmpl. It has decent luggage space and good all-round visibility. The boxy styling may not be to everyone's liking but it is a really practical car. It is fairly easy to drive with a light clutch, easy gearshift and light electronic power steering. The top-end variant also offers ABS and airbag as an option. Also read: Buyers' checklist for used Maruti Wagon-R
Rs. 4 lakh – Rs. 5 lakh
Hyundai i10
Price range: Rs. 3.65 lakh – Rs. 5.38 lakh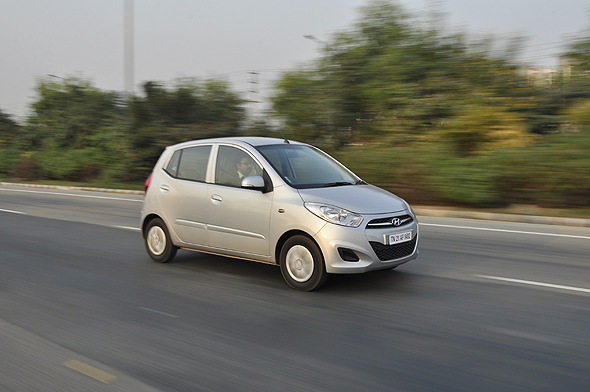 If you are looking at a more premium car as your first car, a safe choice is the Hyundai i10. It's not that cheap to buy, but it is a practical and virtually trouble free car that is easy to drive for a beginner. The Hyundai i10 comes with either a 1.1 litre petrol engine or a 1.2 litre petrol engine. For a beginner, we would recommend the 1.1 litre, as it is easier on the pocket in terms of fuel economy as well as provides a sedate drive. (An alternate choice would be the Hyundai Santro if you want to save some cash). The i10 has plush interiors, a decent amount of space and good all-round visibility, with very easy to operate control.  It also includes an automatic variant priced at about Rs. 5.4 lakh, if you want the convenience of one, as well as an LPG variant for lower running costs. Also read: Automatic hatchback comparison – i10, Brio, A-Star
Honda Brio
Price range: Rs. 4.06 lakh – Rs. 5.99 lakh
If you want some style and character, with a very reliable and peppy car that's also incredibly easy to drive, take a look at the Honda Brio. It doesn't come cheap, but in the long term it's a car that will stay satisfied with just routine maintenance and very little else. It also has two automatic variants to choose from. The Brio is powered by a 1.2 petrol engine that puts out 86 bhp of power – one of the most powerful in its segment. Also see: Honda Brio automatic video review
Maruti Ritz
Price range: Rs. 4.2 lakh – Rs. 6.26 lakh
In the premium range of your budget, a safe bet is the Maruti Ritz, because of the Maruti service network backing and low cost of maintenance. The Ritz just got a facelift and it comes in both petrol and diesel variants. The petrol Ritz has a 1.2 litre engine putting out 84 bhp of power while the diesel Ritz has a 1.3 litre engine putting out 74 bhp of power. Both variants are fairly easy to drive thanks to good visibility with its tall boy design and a light steering and gearshift. The cost of purchase is rather high though. Also read: New Maruti Ritz launched
Ford Figo
Price range: Rs. 3.82 lakh – Rs. 5.95 lakh (includes diesel)
One of the most value-for-money cars you can get under Rs. 5 lakh for most variants (especially petrol), but yet is actually a premium hatchback at hatchback prices is the Ford Figo. It comes in both petrol and diesel and is one of the most spacious cars you will get at this price. The Figo has a large glass area and good all-round visibility. The top-end variants come with Bluetooth, ABS and airbags. The diesel is powered by a 1.4 litre diesel engine putting out 68 bhp of power and gives a city mileage of between 16-18 kmpl, with up to 22 kmpl on the highway. As far as diesel cars go, this is a good choice if you are on a budget. Maintenance costs have come down considerably for the Figo now. Also read: Five best small cars for heavy city usage