Lately, social media has evolved into a platform for individuals to express their perspectives and opinions. People frequently create online videos to share their endorsements or demonstrate their backing for specific individuals. Recently, in Noida, a group of young men who identify themselves as fans of a Big Boss reality show contestant, Elvish Yadav, organized a car rally on the expressway. The video quickly gained traction on the internet, prompting law enforcement to take action against the offenders. Not only were they conducting a rally, but they were also engaging in stunts and recording videos for social media.
The video has been shared by UP Tak on their YouTube channel. The footage depicts a fleet of black SUVs and sedans obstructing the path of other vehicles while conducting the rally. The rally was reportedly held in honor of Elvish Yadav, who has attained celebrity status following his participation in a reality show. All the participating cars are black in color, with a majority of them being SUVs such as the Mahindra Scorpio and Hyundai Creta. Scorpio N SUVs can also be seen in the video.
Also read: 10 DC Design cars & how they look in the REAL world: Maruti Swift to Mahindra XUV500
The video quickly went viral across various social media platforms, catching the attention of the police department. The group not only inconvenienced other road users by blocking the expressway but also performed reckless stunts. Several individuals can be observed standing through the sunroofs of the SUVs, recording videos for their personal social media accounts. It is estimated that more than a dozen vehicles participated in the rally.
Once the video gained widespread attention on social media, the police took action and identified three vehicles from the rally. They have currently apprehended a black Hyundai Verna and two Mahindra Scorpio vehicles, also known as Scorpio Classic. Reports indicate that law enforcement is actively seeking other vehicles that participated in the rally. Elvish Yadav's banners are affixed to the windshields of these traced vehicles.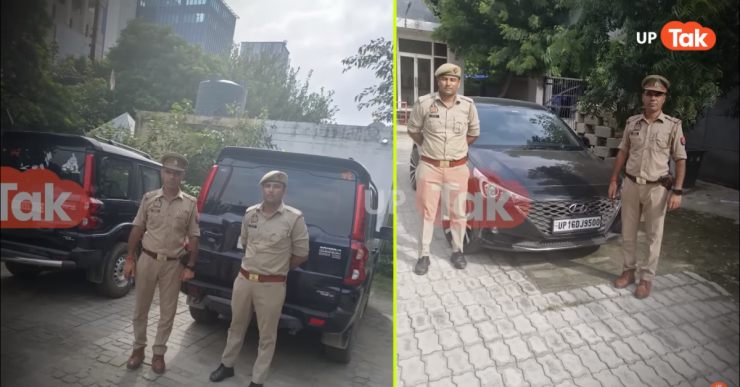 The vehicles identified by the police have been impounded, and fines have been issued for their reckless behavior on the road. As we have previously mentioned in our earlier articles, public roads are not intended for the performance of stunts. Even if they had secured prior permissions, this does not grant them the right to execute stunts on public roads. We have reiterated multiple times that sunroofs on SUVs or sedans are not designed for individuals to protrude from. Their purpose is to facilitate improved airflow at higher speeds without the need to roll down the windows. Attempting such stunts could result in loss of control, potentially ejecting a person from the vehicle. Following this, vehicles trailing behind may not have adequate time to brake promptly, leading to severe injuries or fatalities. UP Police has taken strict action against some social media influencers and in the past and this act by Elvish Yadav's fans does not look like an exception.
Also read: Upcoming 2022 Maruti Suzuki Vitara Brezza rendered