Salman Khan, one of the biggest stars in Bollywood over the years, has been known for his short temper. The actor has been the subject of numerous incidents in B-Town, and he is also known for his power and political connections. Recently, a video from a while ago showing the actor enraged at his fans has resurfaced online. The video shows the actor stopping his car in the middle of the road and running toward the people surrounding his car.
The video of Salman Khan in extreme anger has been uploaded on YouTube by CDS Bollywood Tweets. It's a short one-minute video that shows Salman Khan in his old Mercedes Benz GL-350, followed by numerous bikers. The video also shows the actor being followed by his security personnel in other cars behind him along with bikers on the road. It can be noted that Salman gets irritated by the actions of his fans and suddenly asks his driver to stop the car in the middle of the road.
Also read: Modified Royal Enfield Thunderbird 500 motorcycle from Eimor Customs look beautiful
Salman is then seen coming out of the SUV in extreme anger and running towards the bikers who stopped right in front of his car. Soon after this, a number of his fans swarm him, and then his security team takes over. His personal security guards then clear the ruckus, and Salman once again takes the seat in his SUV. The "Dabangg" actor, as mentioned over the years, has maintained a reputation for being super short-tempered and has been a part of numerous controversies because of it.
As for the car in the video, the SUV seen is the previous generation GL-350 CDI, which launched in India back in 2013 at a starting price of Rs 77 lakh. The model was Salman Khan's choice of wheels for a long time, and he was seen regularly in it. The GL-350 CDI was powered by a V6, 3-liter diesel engine putting out 258 bhp of power at 3600 rpm (34 bhp more than its predecessor) and 619 Nm of torque at 1600-2400 rpm. Mercedes claimed that the GL-350 could hit a top speed of 220 kmph and do a 0-100 kmph time of 7.9 seconds. It came with a 7-speed (G-tronic Plus) automatic transmission.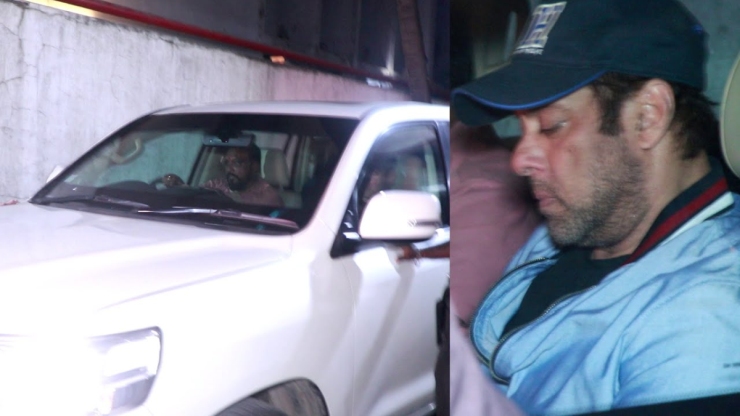 Salman Khan then changed this SUV for a Range Rover Vogue, and he later swapped that for a newer shape model. He opted for the Autobiography long-wheelbase variant of the previous generation Range Rover, which at the time was priced at Rs. 1.87 crores, ex-showroom. The British luxury SUV came powered by a 3.0-liter V6 diesel engine that generates a maximum of 254 Bhp at 4,000 rpm and a peak torque of 600 Nm at 2,250 rpm.
Following the Range Rover Autobiography, amid the phase where he received numerous death threats, the actor swapped his Range Rover for a bulletproof Toyota Land Cruiser. The actor was seen in this white Toyota Land Cruiser a number of times. He recently also took delivery of a bulletproof Nissan Patrol finished in white as well. The latest video of him traveling on the streets of Mumbai has also surfaced online.
Famous Indians and Their First Cars