Kartik Aaryan, a young and popular actor in Bollywood, possesses an impressive collection of expensive cars in his garage, much like many other actors and actresses in the industry. He frequently takes the wheel himself, and his cars have been spotted on the road numerous times. In addition to his luxurious cars, the actor also owns a couple of motorcycles. Below is a comprehensive list of the cars and motorcycles owned by Kartik Aaryan in his garage.
Mini Cooper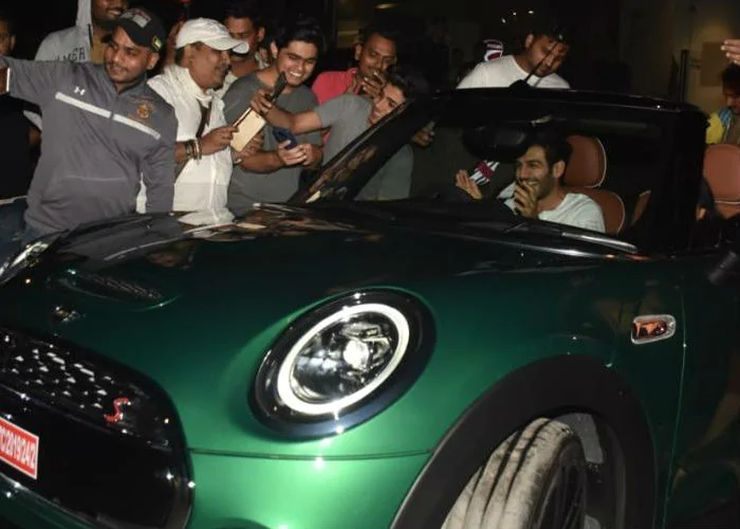 Kartik Aaryan purchased a Green Mini Cooper S convertible hatchback in 2020, which he gifted to his mother. The Mini Cooper S convertible is an affordable hot hatchback with a convertible roof, widely available for sale in India. This hatchback is equipped with a 2.0-liter turbocharged petrol engine that produces an impressive 189 Bhp and 280 Nm of peak torque. The car comes with a 7-speed automatic gearbox.
Also read: 10 DC Design cars & how they look in the REAL world: Maruti Swift to Mahindra XUV500
Lamborghini Urus
In 2021, Kartik Aaryan made a significant purchase by acquiring a Lamborghini Urus SUV. Among Bollywood celebrities, his Urus SUV stands out as one of the most expensive, as he paid an additional Rs 50 lakh to bypass the three-month waiting period for this vehicle. To avoid the wait, Kartik Aaryan had the Urus airlifted from Sant'Agata Bolognese, Italy, the birthplace of Lamborghini. The SUV was purchased in a sleek black shade. The Urus holds the distinction of being the fastest-selling Lamborghini in India and across the globe. Its power stems from a twin-turbo V8 petrol engine, delivering an impressive output of 641 Bhp and 850 Nm of peak torque.
McLaren GT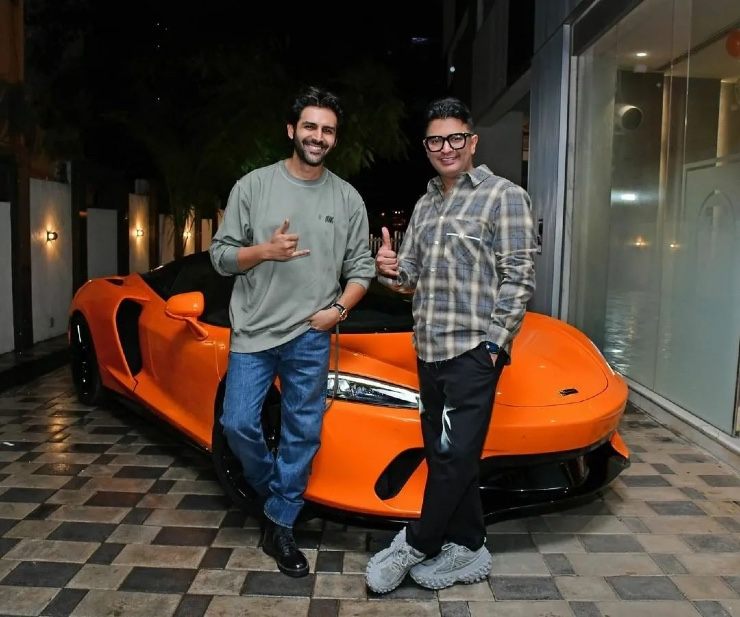 In the past year, Kartik Aaryan's film "Bhool Bhulaiya 2" was released in theaters and achieved impressive success in terms of box office collections. Following the movie's triumph, the actor received a remarkable gift—a brand new McLaren GT sports car. This lavish present came from Bhushan Kumar, the owner of T-Series and producer of the film. Although the McLaren GT is an entry-level car in the McLaren lineup, it is by no means inexpensive. With a starting price of Rs 3.72 crore (ex-showroom), it exudes opulence. Under the hood, the car boasts a powerful 4.0-liter twin-turbocharged V8 petrol engine, coupled with a 7-speed dual-clutch transmission. This 4.0-liter V8 engine generates an impressive output of 611 Bhp and 630 Nm of peak torque. Accelerating from 0 to 100 kmph in just 3.2 seconds, the McLaren GT showcases exceptional speed, with a top speed electronically limited to 326 kmph. Notably, Kartik's McLaren GT became the first GT model sold in India.
BMW 5-Series
The BMW 5-Series holds a special place in Kartik Aaryan's heart, as it was his very first luxury car. It had always been his dream to own a BMW since his school days. As a significant milestone in his career, the actor purchased this car to commemorate his achievements.
Royal Enfield Classic
He owns a Classic Royal Enfield motorcycle in a striking red color. The actor acquired this bike in 2021, and numerous pictures and videos of him riding it can be found online.
Royal Enfield Hunter 350
Following the acquisition of the Classic 350, Kartik Aaryan purchased another Royal Enfield motorcycle last year. This time, he opted for the newly launched Hunter 350 in the elegant Dapper Grey shade. The actor has been frequently seen riding this motorcycle on various occasions. Both of Kartik's Royal Enfield motorcycles in his garage are equipped with a 349-cc, single-cylinder engine that produces 20.4 Ps of power and 27 Nm of peak torque.
Ducati Scrambler 1100
This is one of the latest additions to Kartik Aaryan's garage. It is the actor's first expensive motorcycle in his collection. The Ducati Scrambler 1100 is equipped with a 1,079cc, liquid-cooled, L-Twin engine that produces a maximum power of 85 Bhp and 88 Nm of peak torque.
Also read: Upcoming 2022 Maruti Suzuki Vitara Brezza rendered