With the increased competition from the recently launched Vitara Brezza, it appears that Ford has made a big move to realign its stars. The EcoSport has reportedly received a price cut of about Rs 30,000 for the base petrol version, and almost a lakh for the base diesel. So the prices for the petrol variants now are between Rs 6.68 lakh to Rs 9.4 lakh. The EcoSport diesel range is now priced between Rs 7.28 lakh and Rs 9.6 lakh. Vitara Brezza (only diesel variants) is priced between Rs. 6.99 lakh and 9.68 lakh. All prices are ex-showroom, New Delhi.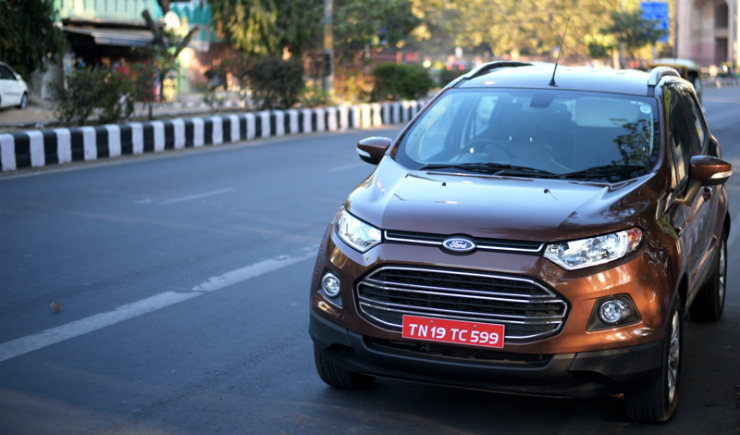 Engine options remain unchanged: a base 1.5-liter petrol, a 1-liter turbocharged petrol and 1.5-liter diesel that makes 99 bhp and 205 Nm torque. The Vitara Brezza on the other hand is available only with a 1.3-liter (Fiat-sourced) diesel unit, which makes 89 hp and 200 Nm.
Why the EcoSport makes more sense now:
More options
As mentioned above, the Ford EcoSport can be bought with a petrol, turbocharged petrol, or a diesel engine. There's also a 6-speed dual clutch automatic transmission on the base petrol, hence making the EcoSport cater to a wider audience.
Diesel more competitive: makes more power and torque
The 1.5-liter diesel engines (most relevant here since the competition — Maruti Suzukj Vitara Brezza and TUV300 — is diesel only) makes 99 hp and 205 Nm and returns 22.27 kmpl. With the price cut, there's a difference of just Rs 20,000 between the Brezza and the EcoSport.
Six airbags on top-end
The base versions of the EcoSport might be scantily featured (in terms of safety; read more below) but the top-spec variant (prices of which have been dropped, too) features a total of six airbags.
What works in the Brezza's favour:
Driver airbag standard, safety option available at a small premium
What works in Maruti's favour is the fact that, apart from the competitive pricing, the Brezza comes with a driver airbag is standard. To spec it better, one can also choose the optional safety pack (comprises dual airbags, ABS, and seatbelt pretensioners) at a very affordable Rs 13,000.
More fuel efficient
Drawing power from a smaller engine (and likely to be hauling fewer kilos), the Vitara Brezza is more fuel efficient, too. Well, the claimed fuel efficiency figure of 24.3 kmpl suggests to.
Feature rich
The top-end version of the Vitara Brezza comes with features like an Apple CarPlay-ready SmartPlay touchscreen infotainment system, projector headlamps, and cruise control. None of the competitors offer that.
Read more: Ford EcoSport Review
Want to see your photo feature about that exciting road trip published on Cartoq? Share your details here