Yoshinori Noritake, chief engineer, Toyota, gives some insights into the designing of the Etios
The Toyota Etios was first conceived in 2006, when Toyota Kirloskar Motors decided that it had to get into the highly competitive sedan space in India. The company had two choices: Adapt an existing product from the Toyota range abroad or develop a new car from the ground up. The company chose the latter.
The company grouped together a team, headed by Yoshinori Noritake, chief engineer – product planning, Toyota Motor Corporation, who's based in Japan to study the Indian market, and collect consumer feedback on what Indians look for in a sedan. Read our Toyota Etios test drive and review
The team travelled to many cities in the country to study the market. What they found, was what went on the drawing board for the Etios. Toyota has built tremendous brand equity in the country.
"We found that people associated Toyota cars as status symbols and found them to be of high quality. But consumers also said the cars were too highly priced, so we used that feedback in our design approach."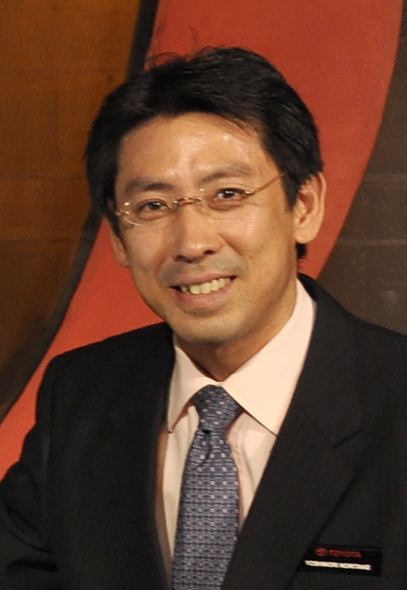 The other demands were – a car wide enough to comfortably seat five, has to give good mileage, and yet should be quick. And of course, the boot. The boot had to fit half the house as Indians seldom travel light.
Says Noritake, "We made many trips to and from Japan, were the car was being designed. To keep costs low, we took a different approach. We asked suppliers to give us the best quality material at the cheapest rate possible and took those prototypes to the drawing board, instead of first putting up a sketch and asking suppliers to create components based on those models."
This approach helped Toyota keep costs down, while also building its supplier base and achieving 70 percent localization of parts in the Etios. Noritake also says that the Etios was designed fully on a sedan platform and not starting with a hatchback platform and adding a boot. Related: Toyota Etios resource
The results of all that feedback can be seen in the final product – the Etios. It has a huge boot, with a capacity of 595 litres, that can comfortable hold three large suitcases. It can comfortably seat five, as the rear seat does not have any contours in the centre which would otherwise make it uncomfortable for the centre passenger. The floor is also almost flat, with the transmission tunnel not intruding into cabin space. And then there are 7 bottle holders in the car, which can each hold a 1 litre bottle. If that's not all, the glove box has 13 litres of storage space that can hold another five water bottles, and it is chilled – so you have cold water for those long journeys.
There are more innovations.
Says Noritake, "We also tested the car in many rough road conditions. I remember personally driving the car in Himachal in spring when the roads were terrible, and at one point a large rock hit the underbody. That's when we decided to go for a full underbody protection for the car."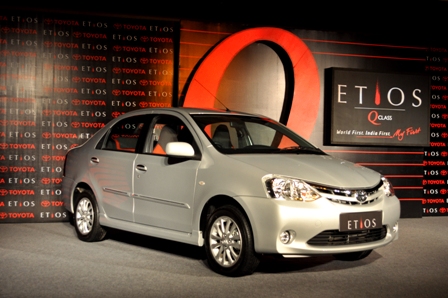 The car is also equipped with chip resistant paint on the underside, to prevent stone damage and rusting, and decent ground clearance of 170 mm.
As for the engine, Toyota deliberately shifted the tuning towards delivering more low-end torque (132 NM at 3,000 rpm) and has larger gear ratios in and shorter gearing for quick acceleration in the city, without compromising on mileage. The Toyota Etios gives an ARAI certified mileage of 17.6 kmpl, a feat that Toyota has achieved by also keeping the weight of the car down (kerb weight 930 kg).
Other simple strengthening techniques have been used to add rigidity, like a ribbed roof that not only adds strength to the monocoque body, it can also support an overloaded roof rack.
The car finally took shape in January 2010, when it was displayed at the Auto Expo in New Delhi. The same year, the car also won the Good Design Award 2010 in Japan for its numerous innovations. Bookings for the Etios are already open, with the car clocking 3,077 bookings in the first two days. Deliveries will start on January 1, 2011.
We caught up with Yoshiro Noritake just after the Etios regional launch. Here's more on the innovations that went in to the car.
Watch the video:
Toyota Etios sedan technical specifications:
Specifications
Etios J
Etios G
Etios V
Etios VX
Price
Rs. 4.96 lakh
Rs. 5.46 – Rs. 5.96 lakh
Rs. 6.41 lakh
Rs. 6.86 lakh
Engine
MPFI 4-cylinder, DOHC, 16-Valve
Size
1,496 cc
Fuel
Petrol
Power
90 PS @ 5,600 rpm
Torque
132 NM @ 3,000 rpm
Transmission:
5-speed manual
Length
4265 mm
Width
1695 mm
Wheelbase
2550 mm
Ground clearance
170 mm
Fuel capacity
45 litres
Turning radius
4.9 m
Boot space
595 litres
Kerb weight
900 kg
915 kg
930 kg
930 kg
Grille
Matte black
Chrome
Chrome
Chrome
Body color bumpers
No
Yes
Yes
Yes
Fog lamps
No
No
Yes
Yes
Intermittent wiper
No
Yes
Yes
Yes
Side skirt
No
No
No
Yes
Tyres
175/65 R14
175/65 R14
185/60 R15
185/60 R15
Alloy wheels
No
No
Yes
Yes
Roof antenna
No
No
Yes
Yes
AC with heater + filter
Yes
Yes
Yes
Yes
Power windows
No
Yes
Yes
Yes
Electric power steering
No
Yes
Yes
Yes
Central locking
No
Yes
Yes
Yes
Cooled glove box
Yes
Yes
Yes
Yes
12 V power outlet
No
Yes
Yes
Yes
Rear defogger
No
No
Yes
Yes
Tilt steering
No
Yes
Yes
Yes
Tachometer
No
No
Yes
Yes
Audio System
No
No
CD
DVD
Speakers
No
4
4
4
Steering audio buttons
No
No
No
Yes
Upholstery
Black fabric
Black fabric
Black & grey
Black & red
Leather steering wheel
No
No
No
Yes
Airbags
No
Optional
Dual
Dual
ABS
No
Optional
Yes
Yes
EBD
No
Optional
Yes
Yes
Immobilizer
Yes
Yes
Yes
Yes
Keyless entry
No
Yes
Yes
Yes
Door warning
Yes
Yes
Yes
Yes
Seatbelt warning
No
Optional
Yes
Yes
Remote boot opener
Yes
Yes
Yes
Yes
Remote fuel lid opener
Yes
Yes
Yes
Yes
Photos and video by Avneesh Kumar.