What are some of the best budget cars, or value for money cars in India? Let's look at the compact sedans Maruti Suzuki Dzire and Hyundai Aura to see what attracts budget-conscious buyers to them.
In this article, we will discuss
What a budget-conscious buyer looks for in a car
Maruti Suzuki Dzire vs Hyundai Aura – a comprehensive analysis of their variants, features, affordability, and fuel efficiency
How to pick the right car for you
Maruti is known for its affordable cars across segments, which a budget-conscious buyer appreciates. Besides, its wide service network helps to bring down overall maintenance costs for its cars. Hyundai, on the other hand, has been a reliable name in India for its cars.
Also read: 10 DC Design cars & how they look in the REAL world: Maruti Swift to Mahindra XUV500
What a Budget-conscious Buyer Looks for in a Car
A budget-conscious buyer should look for these in a car:
Affordability – a car should be affordable, and have low maintenance costs
Fuel efficiency – The car shouldn't guzzle fuel
Safety features – Essential safety features are a must in a car
Brand perception – Is the brand of the car known for its wide service network, after sales service, etc.
Resale value – The car should fetch good resale rates
For the budget-conscious buyer, affordability doesn't only refer to the upfront price of the car. It also involves ongoing expenses such as fuel efficiency, maintenance, and insurance.
They look for a car that is economical in both city and highway mileage, has essential safety features like ABS and airbags, and offers basic conveniences such as power steering and windows.
Reliability and cost-effective performance without unnecessary luxury make a perfect blend for this buyer persona.
Why Maruti Suzuki Dzire and Hyundai Aura are Popular
Maruti Suzuki Dzire and Hyundai Aura are popular choices among budget-conscious buyers owing to their combination of affordability, reliability, and efficiency. Both brands have earned a reputation for producing vehicles that provide value for money.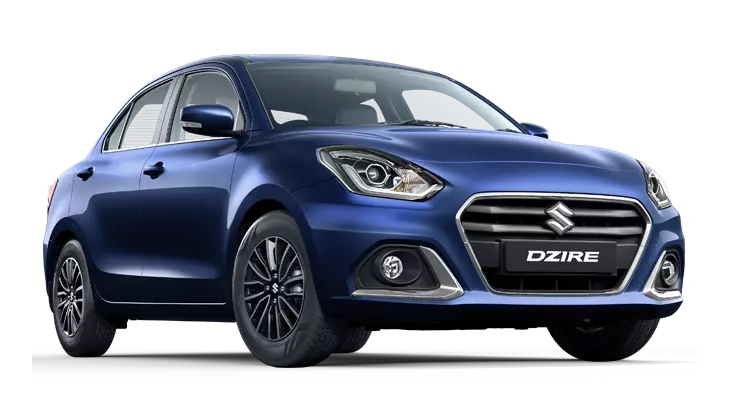 Maruti Suzuki Dzire is celebrated for its impressive mileage, robust build, and a wide service network that ensures low maintenance costs. Available in different variants, it caters to different budget needs without compromising essential features.
Hyundai Aura, on the other hand, provides a balance between style and functionality. It offers more airbags even in lower variants and some additional features in the higher models, which appeal to those looking for extra comfort within a budget.
Both are affordable car options in India, and offer variants with essential safety measures and conveniences that resonate well with the economical buyer.
Furthermore, their efficient fuel consumption and consistent performance have reinforced their popularity among budget-conscious customers, as evidenced by reviews and feedback from automotive sites like teambhp.com and autocarindia.com.
Maruti Suzuki Dzire and Hyundai Aura Variants Shortlist in Rs 6-8 Lakh Range
For Maruti Suzuki Dzire, we have:
| | |
| --- | --- |
| Variant | Price (INR) as on 10 August 2023 |
| LXI | ₹ 644,000 |
| VXI | ₹ 737,000 |
| VXI AT | ₹ 792,000 |
For Hyundai Aura, we have: 
| | |
| --- | --- |
| Variant | Price (INR) as on 10 August 2023 |
| E | ₹ 633,000 |
| S | ₹ 718,000 |
| SX | ₹ 795,000 |
Maruti Suzuki Dzire LXI
This variant is the most affordable in the Dzire line-up and offers essential features like ABS, airbags, power steering, and excellent city mileage, making it a suitable choice for budget-conscious buyers. We have also compared the Dzire with Aura and Tata Tigor for budget-conscious buyers.
Maruti Suzuki Dzire VXI
Offering the same fuel efficiency as LXI with additional conveniences like power windows and USB ports, this variant adds comfort without a significant price hike, aligning with budget constraints.
Maruti Suzuki Dzire VXI AT
With an AMT option, this variant caters to those seeking automated transmission convenience within a budget, although with slightly reduced mileage.
Hyundai Aura E
The entry-level variant of Aura is the cheapest variant on our list. It offers good safety features with four airbags and essential conveniences but lacking power windows at the back. In our comparison, it is a budget-friendly choice as the most affordable car in this segment. If you're a tech-savvy gadget lover, you can read our comparison of the Aura with Maruti Suzuki Baleno.
Hyundai Aura S
This variant offers more conveniences and the same safety features as the base model, suitable for those willing to pay slightly more for added comfort.
Hyundai Aura SX
This top variant comes with additional features like an LCD touchscreen and alloy wheels, making it a luxurious option within the budget segment. If you're a performance enthusiast, you can read our comparison of the Aura with Honda Amaze.
Our Pick for the Best Variant among Maruti Suzuki Dzire and Hyundai Aura for Budget-conscious Buyers
The Maruti Suzuki Dzire LXI emerges as the best budget compact sedan variant on our list for the budget-conscious buyer. Priced at INR 644,000, it offers an impressive city mileage of 23.26 kmpl with essential safety features like ABS and two airbags.
The inclusion of power steering and front power windows adds to the convenience, making it an excellent blend of efficiency and affordability. While it lacks some comfort features found in higher variants, the LXI model provides everything a budget-conscious buyer typically seeks.
The robust build and reliable performance of Maruti Suzuki, combined with an extensive service network, makes the Dzire LXI a practical and economical choice as a car that fits within your budget.
The Top 3 Choices
Maruti Suzuki Dzire LXI
Hyundai Aura S
Maruti Suzuki Dzire VXI
| | | | | | | |
| --- | --- | --- | --- | --- | --- | --- |
| Variant | ABS | Airbags | City Mileage (kmpl) | Fuel Type | Power Steering | Power Windows (Back & Front) |
| Dzire LXI | Yes | 2 | 23.26 | Petrol | Yes | Yes |
| Aura S | Yes | 4 | 14 | Petrol | Yes | Yes |
| Dzire VXI | Yes | 2 | 23.26 | Petrol | Yes | Yes |
How to Pick the Right Car for You
Dzire LXI

leads with the best mileage and essential features at a great price. 

Aura S

comes next with added airbags and features, suitable for those wanting more comfort within budget constraints. 

Lastly,

Dzire VXI

offers similar advantages to the LXI model but with some added comforts.
The three variants above fit your wallet, and offer the best balance between price, safety, fuel efficiency, and convenience. They summarize the attractiveness of value-for-money, reliable performance, and essential conveniences that make them ideal choices for the budget-conscious buyer.
If you're interested in reading more such face-to-face comparisons of popular car variants, head over to our Buying Advice section.
Also read: Upcoming 2022 Maruti Suzuki Vitara Brezza rendered