Today, we take a look at the Kia Seltos, which recently got a facelift, and find out which of its variants offer the most value for money.
In this guide, we will share
What a value for money buyer looks for in a car
Kia Seltos – an in-depth look at the mid-size SUV, its variants, their prices as well as features
How to pick the right car for you
Kia Seltos has been among the best-selling models since its launch in 2019, and as mentioned earlier, just received a facelift. The newly facelifted Seltos has already created a buzz in the market.
What a Value-Conscious buyer looks for in a car
Here's what a value-conscious buyer looks for in a car:
Features vs price – do the features the car has justify its price?
Fuel efficiency and maintenance costs – is the car fuel efficient, and is it easy to maintain?
Comfort and convenience – what comfort and convenience features does the car have?
A value-conscious buyer typically seeks a vehicle that offers a balance between cost, utility, and running expenses. In their search for the best value for money cars, while the initial purchase price is an essential factor, considerations such as fuel efficiency and maintenance costs are also pivotal.
The buyer would appreciate essential safety features, a comfortable driving experience, and moderate conveniences without extraneous luxury features that might elevate the price. The aesthetics of the car, although less significant, are also considered when looking for value for money car options.
Also read: 10 DC Design cars & how they look in the REAL world: Maruti Swift to Mahindra XUV500
Why Kia Seltos is Popular
Kia Seltos has become a popular choice for value-conscious buyers due to its array of features offered at a competitive price.
The brand's reputation for reliability, combined with Seltos's impressive fuel efficiency, particularly in the diesel variants, reduces the long-term running costs. The model offers essential safety features like ABS and airbags even in its base variants, thus not compromising on safety.
Additionally, the presence of convenience features like power windows, touchscreen, and rear AC vents, along with aesthetic exteriors, gives the new Kia Seltos an edge over its competitors in the same price range.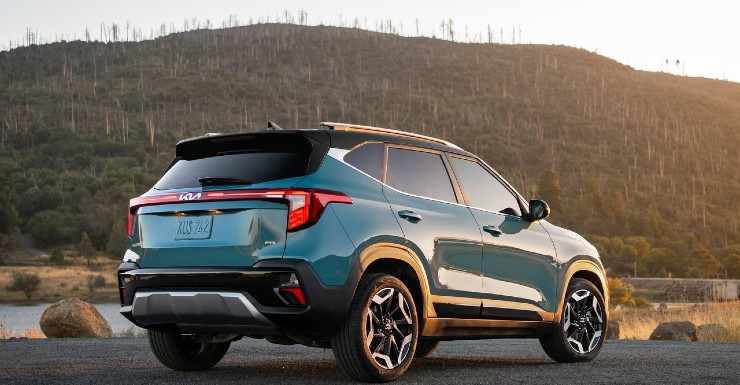 New Kia Seltos Variants Shortlist in Rs 13-16 Lakh
| | |
| --- | --- |
| Variant | Price (INR) as on 27 July 2023 |
| HTK Diesel iMT | ₹ 13,69,000 |
| HTX | ₹ 14,90,000 |
| HTK Plus Diesel iMT | ₹ 15,29,000 |
| HTX IVT | ₹ 15,90,000 |
Kia Seltos HTK Diesel iMT
The Kia Seltos HTK Diesel iMT, being the least expensive, is an attractive option for value-conscious buyers. Its diesel engine ensures higher fuel efficiency, and it ticks all the boxes for essential safety and convenience features. You can also read our comparison of the Seltos with Hyundai Creta for budget-conscious buyers.
Kia Seltos HTX
The Kia Seltos HTX, although slightly pricier, offers alloy wheels, which contribute to better handling and ride comfort. The diesel engine maintains excellent fuel efficiency.
Kia Seltos HTK Plus Diesel iMT
The Kia Seltos HTK Plus Diesel iMT has similar features to the HTX variant but includes a larger touchscreen, enhancing convenience and comfort without a substantial increase in price. If you're a performance enthusiast, you can check out how the Seltos fares against the Volkswagen Taigun.
Kia Seltos HTX IVT
Although the most expensive, the Kia Seltos HTX IVT provides automatic transmission, offering a smoother and easier driving experience. However, the price jump might not align with a value-conscious buyer's preferences.
Our Pick for the Best Kia Seltos Variant for Value-Conscious buyers
The Kia Seltos HTK Diesel iMT emerges as the best option for a value-conscious car buyer. Despite being the least expensive variant, it does not compromise on essential features. This makes it the most value for money car in the mid-size SUV segment on our list.
Its diesel engine assures superior fuel efficiency, while safety is addressed with ABS and six airbags. Comfort isn't ignored either, with power windows, rear AC vents, and a decently-sized LCD touchscreen. Thus, it presents a well-rounded package that offers value for your money.
The Top 3 choices
Kia Seltos HTK Diesel iMT
Kia Seltos HTX
Kia Seltos HTK Plus Diesel iMT
| | | | |
| --- | --- | --- | --- |
| Attributes | HTK Diesel iMT | HTX | HTK Plus Diesel iMT |
| ABS | Yes | Yes | Yes |
| Airbags (number) | 6 | 6 | 6 |
| Fuel Type | Diesel | Diesel | Diesel |
| City Mileage (kmpl) | 20.8 | 20.8 | 20.8 |
| Power Steering | Yes | Yes | Yes |
| Touchscreen Size | 8 | 8 | 10.25 |
| Wheel Type | Steel | Alloy | Alloy |
How to Pick the Right Car for You?
While all three choices offer a similar range of features, the Kia Seltos HTK Diesel iMT stands out for its combination of affordability and functionality.
The HTX variant introduces alloy wheels, offering better performance and aesthetics.
Finally, the HTK Plus Diesel iMT is an option for those who prefer having a larger touchscreen.
These three variants represent the best balance of cost, functionality, and convenience, making them the top choices for the value-conscious buyer.
If you're interested in reading more such guides for popular car variants, head over to our Buying Advice section.
Also read: Upcoming 2022 Maruti Suzuki Vitara Brezza rendered