Today, let's look at the mid-size sedan Skoda Slavia – one of the high-performance car models in India – and its powerful variants.
In this guide, we will discuss
What a performance enthusiast should look for in a car
Skoda Slavia – an expert guide to its performance, style and features
How to pick the right variant for you
The Slavia is based on the Volkswagen group's MQB A0 IN platform and shares its foundation with the Kushaq and the Volkswagen Taigun. The Slavia has the longest wheelbase in the segment, and is also the widest and tallest among its competitors.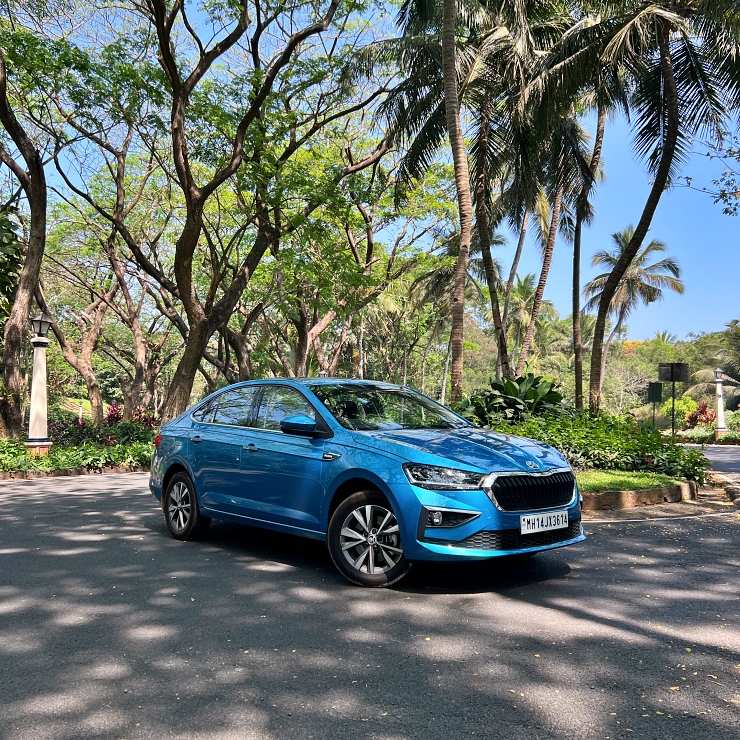 What a Performance Enthusiast looks for in a car
Here's what to look for in a car as a performance enthusiast:
Also read: 10 DC Design cars & how they look in the REAL world: Maruti Swift to Mahindra XUV500
Acceleration and Speed – How quickly a car accelerates, what is its top speed
Power – How it pulls weight, how is its high speed stability, does it feel strained while going up the hills, or with AC on
Agility – How it behaves while turning at speeds
Driving Experience/Handling – Is the gearbox smooth and responsive, how is its steering/braking performance
A performance enthusiast primarily seeks dynamic handling, robust engine power, and quick acceleration in a car. The responsiveness of the engine, high-speed stability, power delivery, and a sturdy grip on the road form the key attributes they look for in the best performance cars.
The availability of features such as advanced automatic transmissions, reduced turbo lag, and minimal vibration and harshness further enhance the driving experience.
In addition, they appreciate a car with remarkable agility and a high-quality audio system to make their ride thrilling yet comfortable.
Why Skoda Slavia is Popular
Skoda Slavia has gained popularity among performance enthusiasts due to its engaging drive experience and powerful performance. It is equipped with a potent TSI engine, renowned for its outstanding power output and torque.
The Skoda Slavia's idling RPM is set at 900-1,000 (higher than the usual 700-800 RPM) to prevent the engine from stalling, and also to cut down on vibrations inside the cabin.
The Slavia stands out for its exceptional agility, high-speed stability, and linear power delivery, offering an immersive drive experience. The FWD drive type provides excellent traction control and stability during high-speed maneuvers.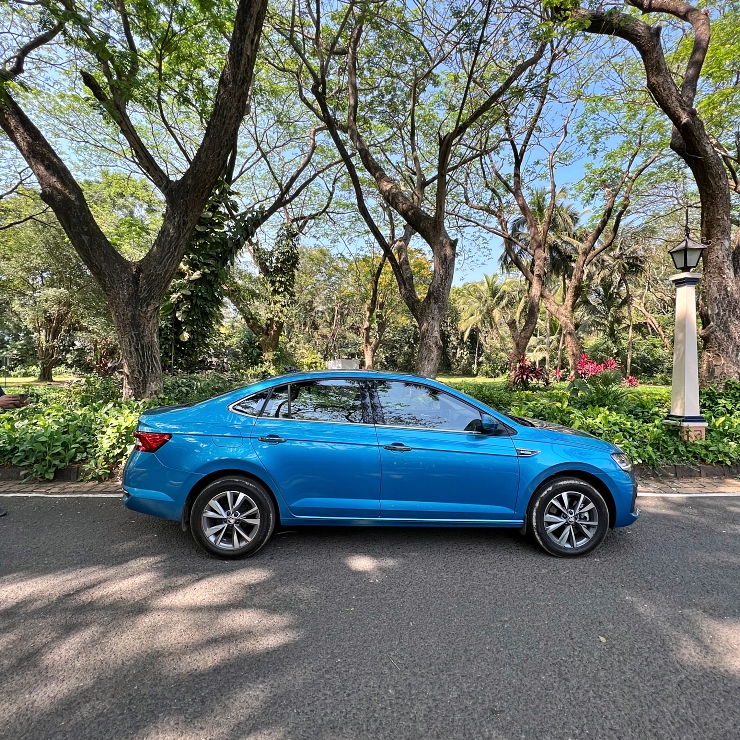 Features such as a 6-speed transmission, light clutch for manual variants, and low turbo lag contribute to an effortless and seamless drive. Although it lacks rear disc brakes, the Slavia's braking performance is quite commendable.
Besides performance, Skoda Slavia does not compromise on features and gadgets, including a high-quality audio system, thus ensuring a thrilling and enjoyable ride.
Skoda Slavia Variants Shortlist in Rs 14-15 Lakh Range
| | |
| --- | --- |
| Variant | Price (INR) as on 27 July 2023 |
| 1.0 TSI Style Non-Sunroof | ₹ 1,430,000 |
| 1.0 TSI Ambition AT | ₹ 1,449,000 |
| 1.0 TSI Style | ₹ 1,480,000 |
| 1.5 TSI Ambition | ₹ 1,494,000 |
Skoda Slavia 1.0 TSI Style Non-Sunroof
The 1.0 TSI Style Non-Sunroof variant, the most affordable, offers excellent agility, stable high-speed dynamics, and linear power delivery, making it a great option for performance enthusiasts. However, the absence of an automatic transmission and rain-sensing wipers might be a dealbreaker for some. You can check out how the Slavia fares against the Honda City in terms of performance.
Skoda Slavia 1.0 TSI Ambition AT
The 1.0 TSI Ambition AT, albeit slightly pricier, comes with an automatic transmission, making it appealing for those who prefer an easy and relaxed driving experience. It's slightly faster than the 'Style Non-Sunroof' variant, boasting a 5.4s acceleration from 0-60 km/h. We also have our comparison of the cheapest variants of Slavia and Hyundai Venue N Line for performance enthusiasts.
Skoda Slavia 1.0 TSI Style
The 1.0 TSI Style is a step up in terms of convenience features, offering rain-sensing wipers and a wireless charging system in addition to the performance attributes seen in the previous variants. It retains the same performance as the 1.0 TSI Style Non-Sunroof, providing a balanced mix of performance and features.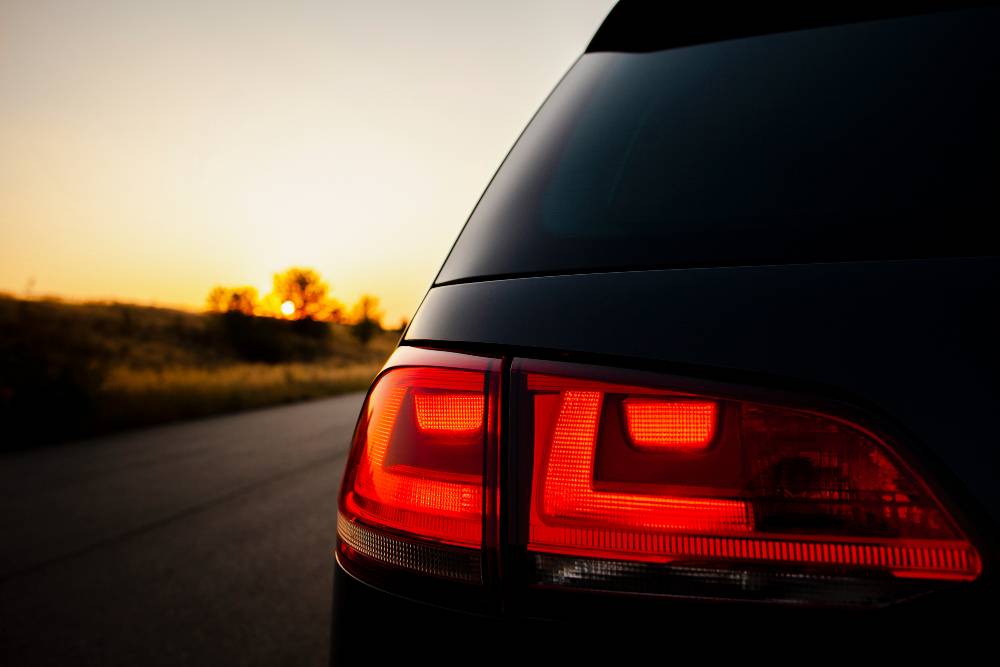 Skoda Slavia 1.5 TSI Ambition
Lastly, the 1.5 TSI Ambition is the most expensive, but it boasts a larger engine with increased power (147.51 BHP) and torque (250 Nm). This variant's engine is quick responsive, providing a thrilling ride for performance enthusiasts. You can also read our three-way performance comparison of Skoda Slavia, Hyundai Verna and Volkswagen Virtus.
Our Pick for the Best Skoda Slavia Variant for Performance Enthusiasts
The Skoda Slavia 1.5 TSI Ambition stands out as the top choice for a performance enthusiast. It houses a powerful 1.5 TSI engine, which offers an impressive power output of 147.51 BHP and a high torque of 250 Nm.
This variant guarantees quick engine responsiveness, essential for performance enthusiasts seeking an immediate and dynamic driving response. Additionally, it retains the high-speed stability, agile handling, and linear power delivery seen in the other variants, providing an exhilarating and immersive drive experience.
Moreover, the 1.5 TSI Ambition also impresses with its suite of features. With advanced driver assistance systems like lane keeping assist and ESC, a performance enthusiast can experience not only a thrilling but also a safe ride.
It also offers aesthetic features like body-colored bumpers and door handles, glossy paint & finish quality, and alloy wheels, enhancing its overall appeal.
The Top 3 choices
The top three Skoda Slavia variants for a performance enthusiast would be the 1.5 TSI Ambition, followed by the 1.0 TSI Style and then the 1.0 TSI Ambition AT.
Here's the attributes comparison for the top 3 choices:
| | | | | | |
| --- | --- | --- | --- | --- | --- |
| Variants | # of cylinders | Engine power (BHP) | Transmission | Rain sensing wiper | Wireless charging |
| 1.5 TSI Ambition | 4 | 147.51 | Manual | No | No |
| 1.0 TSI Style | 3 | 113.98 | Manual | Yes | Yes |
| 1.0 TSI Ambition AT | 3 | 113.98 | Automatic | No | No |
How to Pick the Right Car for You?
Skoda Slavia 1.5 TSI Ambition comes with a larger engine, providing more power and torque. It stands out with its quick engine responsiveness and enhanced power delivery.
Skoda Slavia 1.0 TSI Style offers a balance between performance and comfort features. It retains excellent performance metrics and adds convenience with rain-sensing wipers and a wireless charging system.
The automatic transmission in Skoda Slavia 1.0 TSI Ambition AT ensures a relaxed drive, making it a top choice for those who want a blend of performance and ease of driving.
These variants cater to a performance enthusiast's need for power, handling, and driving experience. Each provides unique offerings that add value, ensuring a thrilling and satisfying ride.
If you're interested in reading more such guides for popular car variants, head over to our Buying Advice section.
Also read: Upcoming 2022 Maruti Suzuki Vitara Brezza rendered