Are you looking for a micro SUV that fits within your budget? Let us take a look at Tata Punch, and find out which variants will appeal to a budget-conscious buyer.
In this article, we will discuss
What a budget-conscious buyer looks for in a car
Tata Punch – a comprehensive analysis of its variants, features, affordability, and fuel efficiency
How to pick the right car for you
The Tata Punch is aggressively priced to attract those who aspire for an SUV, but are limited by their budget. Besides, the Punch has been designed to live up to its micro-SUV classification.
Also read: 10 DC Design cars & how they look in the REAL world: Maruti Swift to Mahindra XUV500
What a Budget-conscious Buyer Looks for in a Car
A budget-conscious buyer should look for these in a car:
Affordability – a car should be affordable, and have low maintenance costs
Fuel efficiency – The car shouldn't guzzle fuel
Safety features – Essential safety features are a must in a car
Brand perception – Is the brand of the car known for its wide service network, after sales service, etc.
Resale value – The car should fetch good resale rates
For the budget-conscious buyer, value for money in a car is paramount. When looking for the best budget cars, they seek a balance between affordability and features. Safety isn't compromised, and fuel efficiency is a top priority, given the recurring costs associated with fuel.
They also value basic comfort and convenience features that make daily commuting hassle-free. While luxury amenities might be enticing, the practicality of essential features, coupled with a competitive price point, is what attracts the budget-conscious consumer.
Why Tata Punch is Popular
Tata Punch has rapidly become a favorite amongst budget-conscious buyers. Firstly, Tata offers reliability and has a reputation for constructing solid vehicles.
The Punch, in particular, boasts impressive safety features even in its base variants, aligning with Tata's commitment to prioritize safety. Fuel efficiency is another strong suit of the Punch, making it economical in the long run.
Furthermore, the vehicle doesn't skimp on essential features, ensuring a comfortable ride. Its modern design, combined with the brand trust of Tata, only accentuates its value proposition in its price segment.
Tata Punch Variants Shortlist in Rs 8-10 Lakh Range
| | |
| --- | --- |
| Variant | Price (INR) as on 18 August 2023 |
| Creative | ₹ 852,000 |
| Creative AMT | ₹ 912,000 |
| Accomplished AMT | ₹ 830,000 |
| Accomplished AMT Dazzle | ₹ 868,000 |
Tata Punch Creative
Priced at INR 852,000, this variant is the cheapest on our list, and offers excellent value. With features like LCD touchscreen, power steering, alloy wheels, and rear AC vents, it provides a blend of comfort and style. Its overall mileage of 20.09 kmpl also stands out, making it a very fuel-efficient option. You can read our comparison of the Punch with Tata Nexon and Altroz for tech-savvy buyers.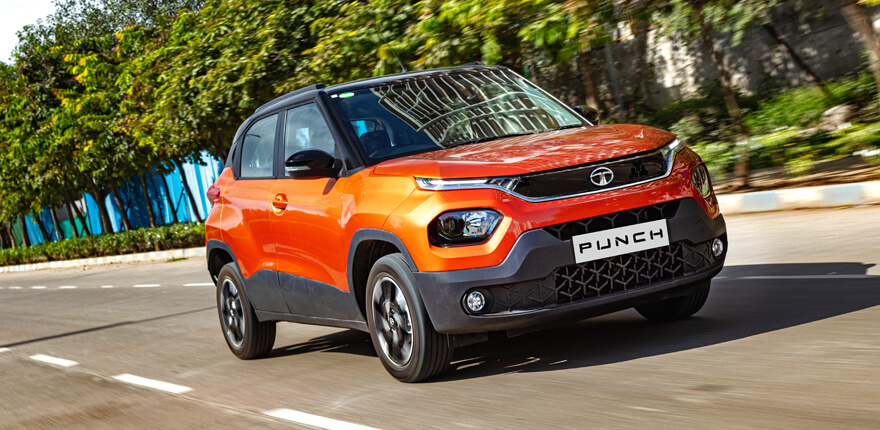 Tata Punch Creative AMT
For those who prefer automatic transmission, this variant, at INR 912,000, is ideal. It retains all the features of the Creative variant but offers the convenience of an AMT.
Tata Punch Accomplished AMT
This variant is priced at INR 830,000 and offers the perks of an AMT, making city driving more relaxed. It's slightly more affordable than the Creative variant but compromises with steel wheels. We also have our comparison of the Punch with Hyundai Exter for safety-conscious buyers.
Tata Punch Accomplished AMT Dazzle
At INR 868,000, this variant strikes a balance between the Creative and Accomplished AMT. It has the advantage of alloy wheels over the latter, adding a touch of elegance.
Our Pick for the Best Tata Punch Variant for Budget-conscious Buyers
The Tata Punch Creative emerges as the top pick for the budget-conscious buyer. Priced reasonably at INR 852,000, it is the most affordable car variant on our list in the micro SUV segment. It offers a commendable fuel efficiency of 20.09 kmpl, making it an economical choice in the long run.
The presence of safety features such as ABS and two airbags, combined with essential comfort features like the LCD touchscreen and rear AC vents, offers a wholesome package.
The alloy wheels are the icing on the cake, enhancing the vehicle's aesthetics without breaking the bank. In essence, the Tata Punch Creative variant promises both functionality and flair within a budget.
The Top 3 Choices
Tata Punch Creative
Tata Punch Creative AMT
Tata Punch Accomplished AMT Dazzle
| | | | |
| --- | --- | --- | --- |
| Attributes | Tata Punch Creative | Tata Punch Creative AMT | Tata Punch Accomplished AMT Dazzle |
| ABS | Yes | Yes | Yes |
| Airbags | 2 | 2 | 2 |
| City Mileage (kmpl) | 20.09 | 18.8 | 18.8 |
| Power Steering | Yes | Yes | Yes |
| Power Windows | Yes | Yes | Yes |
| Touchscreen | LCD | LCD | LCD |
| Wheel Type | Alloy | Alloy | Alloy |
How to Pick the Right Car for You
The

Creative

variant leads in fuel economy. If you're looking for the most fuel efficient variant, this is the right choice for you.

The

Creative AMT

brings the convenience of automatic transmission.

The

Accomplished AMT Dazzle

offers a touch of luxury with larger alloy wheels at a slightly higher price.
In summary, all three chosen variants ensure safety and efficiency. Each variant has unique attributes, making them enticing for the budget-conscious buyer.
If you're interested in reading more such guides to popular car variants, head over to our Buying Advice section.
Also read: Upcoming 2022 Maruti Suzuki Vitara Brezza rendered