Budget is the driving force behind many a car buyer's choice of a vehicle. Not everyone can afford, or may want to spend on luxuries. Let us look at the compact SUV Maruti Suzuki Brezza, and see what a budget-conscious buyer will find appealing in the car.
In this article, we will discuss
What a budget-conscious buyer looks for in a car
Maruti Suzuki Brezza – an comprehensive analysis of its variants that will appeal to budget buyers
How to pick the right car for you
Maruti has been catering to a large section of buyers who want affordable cars options in India. Besides, its after-sales service network is wide, and its models fetch a good resale value, which the budget-conscious buyer appreciates.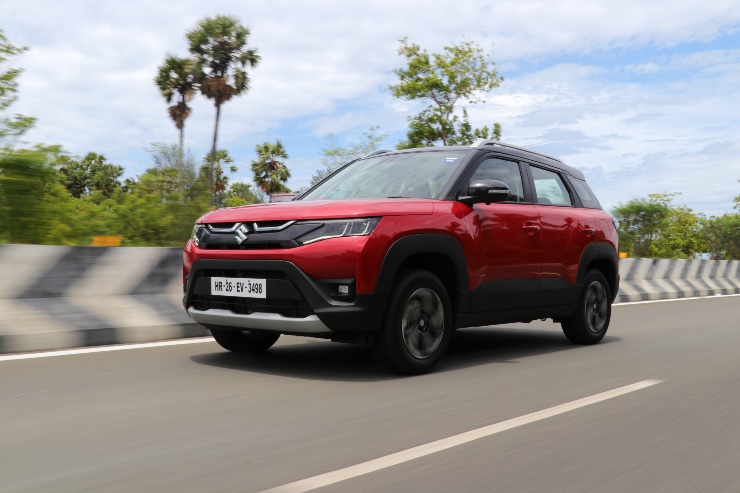 What a Budget-conscious buyer looks for in a car
A budget-conscious buyer should look for these in a car:
Affordability – a car should be affordable, and have low maintenance costs
Fuel efficiency – The car shouldn't guzzle fuel
Safety features – Essential safety features are a must in a car
Brand perception – Is the brand of the car known for its wide service network, after sales service, etc.
Resale value – The car should fetch good resale rates
A budget-conscious buyer seeks a vehicle that offers maximum value at a reasonable cost. Initial affordability, fuel efficiency, low maintenance costs, and decent resale value are primary considerations in the best budget cars.
Essential safety and convenience features, decent performance, and moderate aesthetic appeal are also sought. The perfect car for a budget-conscious buyer would tick all these boxes without inflating the price with unnecessary frills.
Also read: 10 DC Design cars & how they look in the REAL world: Maruti Swift to Mahindra XUV500
Why Maruti Suzuki Brezza is Popular
Maruti Suzuki Brezza, with its competitive pricing and efficient petrol engine, provides substantial value for money for budget-conscious buyers.
Its impressive fuel economy significantly reduces running costs. With essential safety features such as ABS and airbags standard across all variants, Brezza ensures a secure drive. Maruti's robust service network and low-cost maintenance further add to the car's cost-effectiveness.
Its user-friendly conveniences and appealing design also cater to the aesthetic and comfort preferences of budget buyers, making it a comprehensive package in an affordable range.
Maruti Suzuki Brezza Variants Shortlist in Rs 9-12 Lakh Range
| | |
| --- | --- |
| Variant | Price (INR) as on 2 August 2023 |
| Vxi | ₹ 9,64,000 |
| Zxi | ₹ 11,04,000 |
| Vxi AT | ₹ 11,14,000 |
| Zxi DT | ₹ 11,21,000 |
Maruti Suzuki Brezza Vxi
The Maruti Suzuki Brezza Vxi, the cheapest variant on our list, offers a solid combination of features. Its ABS, two airbags, and petrol engine with 20.15 kmpl mileage make it an ideal choice for a budget-conscious buyer. We also have our guide to the best Maruti Brezza variants for first-time car buyers.
Maruti Suzuki Brezza Zxi
The Maruti Suzuki Brezza Zxi offers similar attributes to the Vxi variant but slightly less city mileage. Given the slight hike in cost, a budget buyer may consider it based on other factors like brand preference or resale value. You can check out the base variant comparison of Brezza and Kia Sonet for the budget-conscious.
Maruti Suzuki Brezza Vxi AT
The Maruti Suzuki Brezza Vxi AT adds automatic transmission to the mix. This feature offers added driving ease, but with a substantial price increase, it may not fit comfortably within a tight budget.
Maruti Suzuki Brezza Zxi DT
The Maruti Suzuki Brezza Zxi DT brings rear AC vents and alloy wheels, slightly enhancing comfort and aesthetic appeal, but at an even higher price. If you're a long-distance road trip lover, you can read our comparison of the Brezza with Honda Amaze.
Our Pick for the Best Maruti Suzuki Brezza variant for Budget-conscious buyers
Considering the balance between cost and feature offerings, the Maruti Suzuki Brezza Vxi comes forward as the best variant for a budget-conscious buyer. It is the most affordable car in the compact SUV segment on this list.
Despite being the most affordable, it offers an impressive city mileage of 20.15 kmpl, which will lead to substantial savings in the long run. It is equipped with ABS and two airbags, ensuring the safety of the occupants.
Power steering, power windows, and a 7-inch LCD touchscreen provide an enjoyable driving experience. It delivers on all the key aspects that a budget-conscious buyer would prioritize, making it the top choice.
The Top 3 choices
Maruti Suzuki Brezza Vxi
Maruti Suzuki Brezza Zxi
Maruti Suzuki Brezza Vxi AT
| | | | |
| --- | --- | --- | --- |
| Attributes | Vxi | Zxi | Vxi AT |
| ABS | Yes | Yes | Yes |
| Airbags (number) | 2 | 2 | 2 |
| Fuel Type | Petrol | Petrol | Petrol |
| City Mileage (kmpl) | 20.15 | 19.89 | 19.89 |
| Power Steering | Yes | Yes | Yes |
| Transmission – Auto Type | None | None | Torque Converter |
| Wheel Type | Steel | Steel | Alloy |
How to Pick the Right Car for You
The Maruti Suzuki Brezza Vxi stands out for its balance of cost and performance. It meets all the requirements without you having to break the bank.
The Zxi variant, while slightly less fuel-efficient, offers a similar feature set at a higher price, appealing to those who value the additional aesthetic appeal of the Zxi badge.
The Vxi AT offers the ease of automatic transmission, valuable to those who regularly commute in heavy traffic.
These three variants will fit within your budget, and with their different strengths, all offer excellent value to budget-conscious buyers. Moreover, they align affordability with essential features and respectable performance.
If you're interested in reading more such guides to popular car variants, head over to our Buying Advice section.
Also read: Upcoming 2022 Maruti Suzuki Vitara Brezza rendered