As a family man, you consider only the best family cars in India when deciding on which one to buy. Today, let's look at the Toyota Innova Crysta, and find out what makes it a family-friendly car model in India.
In this article, we will share
What family-focused buyers look for in a car

Toyota Innova Crysta – a detailed analysis of its features, space, and safety

How to pick the right variant for you
Also read: 10 DC Design cars & how they look in the REAL world: Maruti Swift to Mahindra XUV500
What a Family-focused car buyer looks for in a car
Here's what a family-focused buyer should look for in car:
Safety – A car must have essential safety features, and a good safety rating

Space and comfort – The car must have ample space to accommodate all family members, and must include convenience features like rear AC vents

Ride and handling – The car's ride and handling need to be good
A family-focused car buyer prioritizes safety, space, and comfort. They seek vehicles with top-notch safety features, ample boot capacity for luggage, and spacious interiors to ensure the comfort of all passengers. 
Reliable handling and stable high-speed driving are crucial for long family trips. Added conveniences, such as rear AC vents and rear parking sensors, enhance the driving experience in top family cars. 
High-tech features, including touchscreen navigation and Bluetooth connectivity, align with the evolving tech-savvy family needs. The buyer also values well-designed ergonomics and low vibrations for a smooth ride.
Why Toyota Innova Crysta is Popular
The Toyota Innova Crysta has become synonymous with family travel. Its reputation for durability and reliability makes it a trusted choice for many. The spacious interior comfortably accommodates large families, and the well-thought-out design ensures passenger comfort.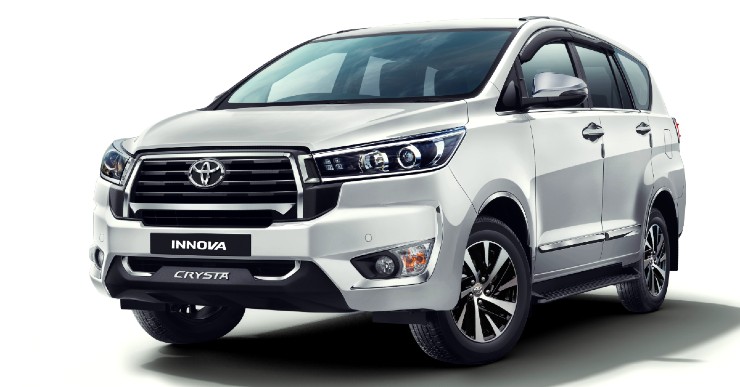 Its safety features, like multiple airbags and ABS, instill confidence in family drivers. The powerful engine combined with stable handling makes highway driving effortless, while the advanced infotainment system keeps everyone entertained. 
Furthermore, the ergonomic design ensures driver comfort during long journeys, while features like rear AC vents and parking sensors add to its family-friendly appeal.
Toyota Innova Crysta Variants
| | |
| --- | --- |
| Variant | Price (INR) as on 20 September 2023 |
| 2.4 GX 8 STR | ₹19,99,900 |
| 2.4 VX 7 STR | ₹23,79,000 |
| 2.4 VX 8 STR | ₹23,84,000 |
| 2.4 ZX 7 STR | ₹25,43,000 |
Toyota Innova Crysta 2.4 GX 8 STR
This variant offers the essential features a family would desire, at a competitive price point. With safety elements such as ABS and three airbags, families can travel with peace of mind. The 300-liter boot capacity ensures sufficient space for luggage, while the spacious interiors ensure comfort for eight passengers.
Toyota Innova Crysta 2.4 VX 7 STR & 2.4 VX 8 STR
These two variants, with a slight price difference, offer the same benefits. They are perfect for families looking for a touch of luxury without escalating the budget drastically. The seating configurations cater to families of different sizes.
Toyota Innova Crysta 2.4 ZX 7 STR
Priced at the higher end, this variant boasts seven airbags, ensuring superior safety. While it provides the same level of comfort and space as the other variants, the added safety feature makes it stand out. We have also compared the Innova Crysta with Hyundai Alcazar, and Kia Carens for family-focused car buyers.
Our Pick for the Best Toyota Innova Crysta variant for Family-focused car buyers
The Toyota Innova Crysta 2.4 ZX 7 STR emerges as the best choice for family-focused car buyers. While it comes at a premium, the extra investment translates into enhanced safety with seven airbags, which is unmatched by the other variants. 
Safety is a paramount consideration for families, especially those with young children. Besides, the ZX variant doesn't compromise on any other essential feature. From spacious interiors to ample boot capacity and rear AC vents, it covers all needs of a family on the move. 
The stable handling ensures comfort on long drives, and the well-designed ergonomics make every journey a pleasant experience. In short, it is the right car on this list for a family man.
The Top 3 choices
Toyota Innova Crysta 2.4 ZX 7 STR
Toyota Innova Crysta 2.4 VX 8 STR
Toyota Innova Crysta 2.4 GX 8 STR
| | | | |
| --- | --- | --- | --- |
| Attributes | 2.4 ZX 7 STR | 2.4 VX 8 STR | 2.4 GX 8 STR |
| ABS | Yes | Yes | Yes |
| Airbags (number) | 7 | 3 | 3 |
| Boot capacity (liters) | 300 | 300 | 300 |
| GNCAP Rating | 5 | 5 | 5 |
| Rear AC vents | Yes | Yes | Yes |
| Rear Parking Sensors | Yes | Yes | Yes |
How to Pick the Right Variant for You
The

2.4 ZX 7 STR

stands out with seven airbags. 

The

2.4 VX 8 STR

and

2.4 GX 8 STR

are closely matched, offering ample space and essential safety features. 
In summary, Toyota Innova Crysta ensures families travel with comfort and peace, and these three variants particularly stand out in meeting family-centric needs.
If you're interested in reading more such guides to popular car variants, head over to our Buying Advice section.
Also read: Upcoming 2022 Maruti Suzuki Vitara Brezza rendered