Honda has launched a "CNG-ready" variant of the Honda City (the V variant), priced at Rs. 9.03 lakh ex-showroom Delhi, not including the cost of the CNG kit. This kit is Rs. 51,000 extra and is to be fitted at the Honda dealership, taking the ex-showroom price to about Rs. 9.55 lakh (not including fitment charges).
Honda has taken this step at introducing a CNG-ready City as it does not have a diesel engine in its portfolio yet, and is eager to cater to buyers who are clearly affected by the high running costs of petrol cars. The CNG-ready City has a modified rear suspension to take the extra weight of the CNG cylinder, while the engine has been "optimized" for CNG. The CNG kit is a sequential kit provided by BRC for the Honda City. Also see: Honda City CNG launched
However, at that price point, the Honda City V CNG is clearly in the middle of a whole bunch of diesel sedans such as the Volkswagen Vento Highline priced at Rs. 9.9 lakh, Skoda Rapid Elegance at Rs. 9.7 lakh, Hyundai Verna 1.6 CRDi SX priced at Rs. 9.8 lakh. It also competes with cars like the Nissan Sunny and Renault Scala, whose top-end diesels are priced at Rs. 9 lakh and Rs. 9.6 lakh respectively.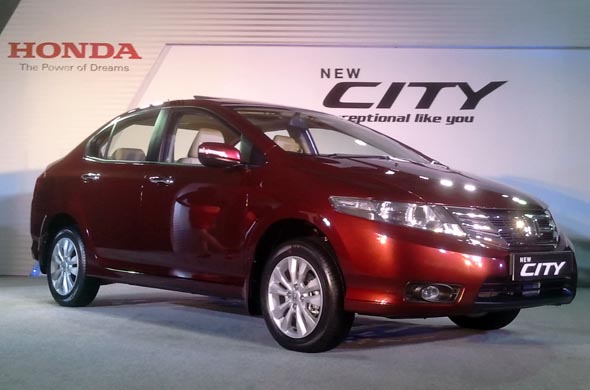 So what advantage or disadvantage does the City CNG have over its diesel-powered competition?
Advantages of Honda City CNG
There are a number of buyers who have been Honda loyalists – and the reason for the Honda City continuing to sell an average of nearly 2,400 cars a month despite the lack of a diesel engine in its portfolio. The largest selling car in the segment, the Hyundai Verna, sells an average of 5,000 units a month, twice that of the City because it has both petrol and diesel models. Brands like the Volkswagen Vento, despite having both petrol and diesel models, sell only 1950 cars a month (six-month average). The Honda brand and the car's build quality, driving dynamics, refined engine and fuel-efficiency are clear positives for buyers. Also see: Honda City road test and video review
By allowing CNG fitment through its dealers, another advantage buyers get is that the car's warranty remains intact – a problem many had faced till now if they considered converting their Honda City cars to CNG.
Now with a CNG option, the only negative the City really had, that of high running costs for buyers who drove considerable distances of over 1500 km a month, especially in the city are taken care of. The City will bring running costs to as low as that of a diesel car, considering mileage on CNG is likely to be about 17-18 km per Kg, compared to about 12 kmpl for petrol. CNG costs about Rs. 40, while petrol costs an average of Rs. 72 a litre, while diesel is at Rs. 49 on average.
The benefit of a CNG car is that it is dual-fuel. When you go out of town to places where there is no CNG infrastructure, you can always run the car on petrol – of course, your running costs would go up. Also read: CNG vs petrol vs diesel vs LPG, which fuel works for you?
Disadvantages of Honda City CNG
The biggest disadvantage of the CNG-variant of the Honda City is that it compromises on boot space quite a bit. The regular petrol Honda City has 506 litres of boot space, but with a CNG cylinder fitted, boot space comes down to about 280 litres – as much as a large hatchback offers. While for most this won't be an issue, you really can't carry too much luggage in the car, other than a couple of medium-sized bags.
The other disadvantage is that the sales of the Honda City CNG-ready variant is limited to about 35 towns in India where CNG is available. For those who live outside these places, buying a Honda City and running it on petrol is still a costly affair.
The third disadvantage is for enthusiast buyers who love the sporty driving feel that the Honda City offers – there is about 15% power loss on the CNG variant, bringing it at a par with cars like the Maruti SX4 petrol or Nissan Sunny petrol in terms of power characteristics. Also read: Pros and Cons of installing CNG in a Honda City automatic
Our take on the City CNG
Honda should have offered the CNG-ready City in lower trim variants as well instead of just the top-end V trim, as this makes the car fairly expensive, with on-road prices crossing Rs. 10.5 lakh. Buyers who are on a budget of Rs. 8 lakh to Rs. 9 lakh still have other diesel choices to turn to (and enjoy the benefits of added space) rather than fork out so much for a CNG-powered car. That said, buyers who don't like the characteristics of a diesel car (turbo lag, increased NVH levels in some), will be happy buying a CNG-powered car, as it is as refined as the petrol variant, and they can enjoy full warranty benefits from Honda – although on the pricing front, it's not really value for money. If you are a person who drives over 1500 km a month and need some luggage space, a diesel car still makes more sense. Also read: Is diesel still the most attractive fuel?
Share your thoughts on the Honda City V CNG variant. Does this car appeal to you?