The Indian hatchback market is maturing. Any car maker looking for significant volume has to have a hatchback. The financial year 2010-2011 has seen good growth among hatchbacks in the country.
It's no surprise that companies such as Honda and Toyota are keenly eyeing the hatchback space in India after having first introduced sedans. Honda will soon be launching the Brio, while Toyota planned to launch the Etios Liva, which has now been postponed to next year due to production constraints. Honda's premium hatchback, the Jazz, however, has not won much favor with customers and sales have dropped 35 percent year on year.
Among hatchbacks in India, Maruti Suzuki is the most dominant player followed by Hyundai and then Tata. Maruti's Alto is the country's and the world's largest selling hatchback, at 346,840 cars being sold in India last year, a growth of 47 percent. The second-largest selling hatchback in the country is again from Maruti – the Wagon R. However, the Wagon R has close competition from the Hyundai i10, which is just behind it, though the i10 hasn't grown as much percentage wise.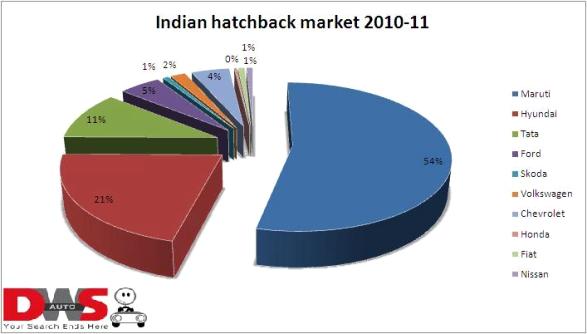 Tata's Indica is floundering, with sales having dropped 16 percent despite introduction of the Vista. It looks like quality issues and maintenance are beginning to turn buyers away to other brands. The Ford Figo, which was introduced at the beginning of last year, has zoomed up the sales charts at 78,116 units, closing in on the Indica. Tata's Nano, which was expected to be the people's car, has had a roller-coaster year finally closing with an annual sales of 70,000 odd cars, clearly short of the expected sales of over 100,000 cars a year.
Among premium hatchbacks, the Maruti Swift dominates at more than 140,800 units being sold last year. The Hyundai i20 though has seen good sales last year and is in the number two spot among premium hatchbacks, with a growth of 104 percent. Despite a late entry last year, the Volkswagen Polo has sold over 28,000 units, taking it to the third spot among premium hatchbacks, ahead of its cousin the Skoda Fabia.
Cars which are anyway reaching end of life have clearly shown a decline in annual sales, such as the Maruti 800, Hyundai Santro and Chevrolet U-Va. The Chevrolet Spark also saw a decline in sales, but that was probably due to cannibalization from the Chevrolet Beat.
In terms of overall market share, Maruti dominates with 54 percent of the market, Hyundai follows with 21 percent and Tata is the third with 11 percent of the market. In the next financial year, expect Honda and Toyota too to join the charts.
Annual sales 2010-11: Hatchbacks
| | | |
| --- | --- | --- |
| Car | Units sold | Growth % |
| Maruti Alto | 346840 | 47.50% |
| Maruti Wagon R | 163019 | 12.50% |
| Hyundai i10 | 161860 | 8.50% |
| Maruti Swift | 140867 | 21.30% |
| Tata Indica | 95810 | -16.30% |
| Hyundai i20 | 86126 | 104.40% |
| Hyundai Santro | 82971 | -3.80% |
| Ford Figo | 78116 | 967.70% |
| Tata Nano | 70432 | 132.10% |
| Maruti Ritz | 68749 | 9% |
| Maruti Estilo | 52188 | 25.40% |
| Maruti A Star | 36894 | 14.60% |
| Chevrolet Spark | 34602 | -18.20% |
| Chevrolet Beat | 34028 | 169.80% |
| Volkswagen Polo | 28904 | NA |
| Maruti 800 | 26485 | -19.80% |
| Fiat Punto | 12752 | -4.20% |
| Nissan Micra | 12274 | NA |
| Skoda Fabia | 11078 | 69.40% |
| Honda Jazz | 4862 | -35.50% |
| Chevrolet Aveo U-Va | 3432 | -34.70% |
| Hyundai Getz | 62 | -99% |
Source: Autocar, Industry data