Here's a bit of nostalgia for all you car fans out there. Indian cinema has quite a variety of cars that have been featured in many Bollywood movies. Some cars are integral parts of song sequences. Some cars are integral to the movie itself. And some cars are, well, just featured for the sake of being great eye candy for movie goers.
Here's a compilation of cars in used in Hindi movies, starting with some real classics. Enjoy this compilation of videos and photos, and let us know your favorites among them.
Chalti ka Naam Gaadi (1958)

Car: Ford Model A
http://www.youtube.com/watch?v=M04C8q7HR3M
This legendary Kishore Kumar movie has the mention of a car in its title itself. And the iconic car used in the movie is a (1928) Ford Model A. The Ford Model A was powered by a 3.3-litre, four-cylinder petrol engine with a three-speed manual transmission, with a maximum power of 40 bhp.
Kashmir ki Kali (1964)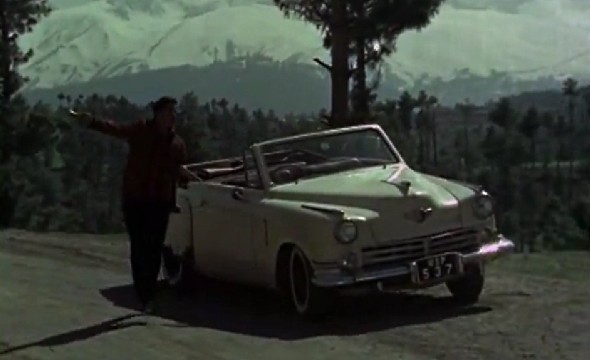 Car: 1948 Studebaker Commander Convertible
http://www.youtube.com/watch?v=xcNwVpjNp7w
This movie starring Sharmila Tagore and Shammi Kapoor also had this gleaming ivory 1948 Studebaker Commander Convertible as an integral part of the movie. The car was immortalized in the song "Kahin na kahin" in the movie. The Studebaker Commander (1948 model) was a five-seater, two-door convertible with a rag top, and powered by a 3700 cc, six-cylinder in-line petrol engine that put out 94 bhp of power.
Aradhana (1969)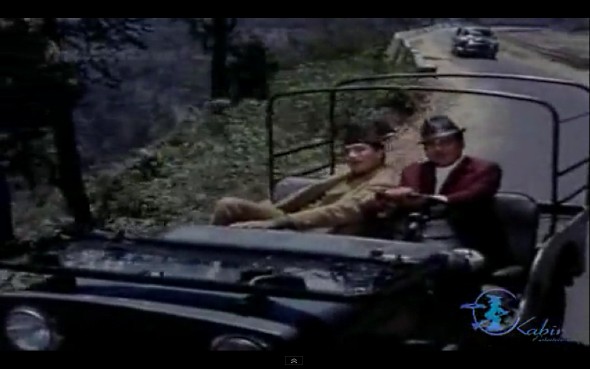 Car: 1964 Willys CJ3B left-hand drive
http://www.youtube.com/watch?v=Td48pofXWJY
The iconic song, "mera sapno ki rani", featuring Rajesh Khanna and Sharmila Tagore in the movie Aradhana. The Willys "Jeep" CJ3B was a left-hand drive variant, featuring a three-speed gearbox and four-wheel drive with high and low ratios. It was powered by a 2.2 litre, four-cylinder "Hurricane" petrol engine that put out 75 bhp of power. It was also made in India by Mahindra.
Jewel Thief (1967)
Car: 1955 Chevrolet Bel Air
http://www.youtube.com/watch?v=G5OXj62qJUQ
Chevrolet had a very early presence in India and its cars were used in many Bollywood movies. The Impala for instance was a favorite among baddies. In the 1967 film, Jewel Thief, starring Dev Anand and Tanuja, the song "Ye dil na hota bechara" shows another classic Chevrolet, the 1955 Bel Air convertible model. The car was powered by a 4.3-litre, 8-cylinder (V8) engine that put out 162 bhp of power – a really powerful car for the time.
Haathi Mere Saathi (1971)
Car: 1958 Chevrolet Impala
The song "chal chal mera haathi" from this movie shows, Rajesh Khanna, using his tame elephants to give Tanuja a helping hand when her 1958 Chevrolet Impala convertible breaks down. The Chevrolet Impala was powered by 3.9 litre, six-cylinder engine with a three-speed manual transmission. Impala's were a hot favorite among imported cars in India and continued to be imported well into the 1970's (remember the rocket-fin shaped rear?)
While these classic movies featured some real classic cars, modern Bollywood movies too continue to have cars play an integral part in some of their songs and as key features of a movie's script. Here are some of the more recent movies with cars playing a key part:
Dil Chahta Hai (2001)
Car: Mercedes Benz 300 SL
http://www.youtube.com/watch?v=z_TfqqmTewI
Three friends, Aamir Khan, Saif Ali Khan and Akshay Khanna, embark on a road trip to Goa in an open top Mercedes Benz 300 SL convertible. This car is an integral part of this movie and conjures up happy images of open-top motoring. The car is powered by a six-cylinder, 3-litre petrol engine that puts out 228 bhp of power.
Road (2002)
Car: Tata Safari
(Use still from Road)
The film features a Tata Safari in which Vivek Oberoi and Antara Mali elope, but also pick up a hitch-hiker Manoj Bajpai. The Safari at that time was the 2-litre variant with a 90-bhp turbocharged engine and 5-speed manual transmission. It has since evolved into the 2.2 litre Dicor variant at present with a 140 bhp engine, while briefly also using a 3-litre diesel engine for a few years.
Taarzan – the wonder car (2004)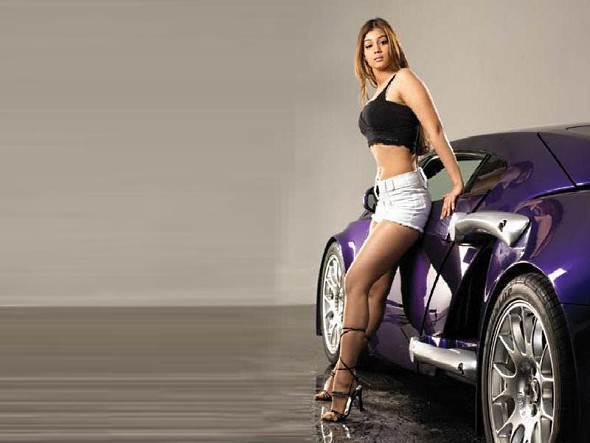 Car: Dilip Chhabria design, based on Toyota MR2
The movie, Tarzan-the Wonder Car, featuring Ayesha Takia didn't do too well at the Box Office. But the car used showed off the skills of car customizer Dilip Chhabria, who completely remodeled a Toyota MR2 as Tarzan, the centerpiece of the movie. The MR2 was powered by a 2.2-litre petrol engine with a 5-speed manual transmission that put out 130 bhp of power.
Three Idiots (2009)
Car: Volvo XC90
In the movie Three Idiots, Madhavan, Sharman Joshi and Omi Vaidya embark on a search for Aamir Khan in a red Volvo XC90. The XC90 is featured during the song ""Behti hawa sa tha woh" as they are driving to Leh. The Volvo XC90 is currently available in India. It is priced at Rs. 46 lakh and is powered by a 2.4 litre, 189 bhp diesel engine. It is also available with a 3.2 litre petrol engine. The SUV features an on-demand 4×4 system.
Aisha (2010)
Car: 2010 Volkswagen Beetle
http://www.youtube.com/watch?v=ReWXQt-Tb1U
The recent movie Aisha, starring Sonam Kapoor, had her driving a yellow 2010 Volkswagen Beetle. This is the new Beetle based on the VW Golf platform. It has a 5-cylinder, 2.5-litre engine that puts out 150 bhp of power and has a five-speed manual transmission. It also has a six-speed automatic option.
Zindagi Na Milegi Dobara (2011)
Car: 1949 Buick Super Convertible
In the song "khaabon ki parindey" in the movie Zindagi Na Milegi Dobara, Hrithik Roshan, Farhan Akhtar and Abey Deol, take a road trip through Spain. The car they are travelling in is a 1949 Buick Super Convertible with an 8-cylinder, 4-litre petrol engine that put out 120 bhp of power with a two-speed automatic gearbox.