The Indian car market is going to see a spike in sales as the festive season rolls in and car manufacturers are all set to cash in on the festive rush. Here we take a look at the cars that will be launched this festive season and when they are expected to launch.
Tata Manza Club Class
Expected launch: October 13
Expected price: Rs.6 lakh to Rs.8.20 lakh
(Photo courtesy:  Team BHP)
The upcoming Manza Club Class gets cosmetic changes along with some new features. The base model is expected to get an engine change as well. This will be a 74 bhp Quadrajet engine for the LS variant replacing the present 89 Bhp engine.
The new features expected on the Manza Club Class include touch screen multimedia navigation, automatic climate control, Italian leather upholstery, different coloured roof (like the Vista), and new 8 spoke alloy wheels. The base LS will get fresh chrome inserts and a new engine, the LX will also get fresh chrome inserts along with electric HVAC. Read more: Tata Manza Club Class to launch on October 3
Ford Figo
Expected launch: October 15
Expected price: Rs.3.80 lakh to Rs.6 lakh
Ford will launch the face-lifted Figo small car on October 15. The Front of the new Figo sports a hexagonal front grille and air dam similar to the Fiesta Sedan. The front bumper and headlamp have been refreshed as well. It will also sport a new reflector design with the indicators at the bottom of the headlamp casing unlike the older design.
There will be no changes to the engine of the Figo and the changes will be purely cosmetic. Read more: Ford Figo Facelift spotted without camouflage!
Maruti Alto 800
Expected launch: October 16
Expected price: Rs.2 lakh to Rs.3 lakh
The Maruti Alto 800 will be launched on October 16 and will be the cheapest car from Maruti's stables. It is expected to be priced between Rs. 2 to Rs. 3 lakh. Such a price for a Maruti Suzuki car could rope in high sales numbers.
The new Maruti Alto 800 has an all-new look with a bit more space inside. You can read more about it here: New Maruti Alto 800 launch on Oct 16; initial reviews are in!
It will be powered by an 800cc, F8D engine (also used in the current Alto Standard). However the engine will make 3 bhp more power than the present Alto which makes 44 bhp of power. It will also have better torque and has an ARAI certified mileage of 22 kmpl.
Safari Storme
Expected launch: October 17
Expected price: Rs. 9 lakh to Rs. 12 lakh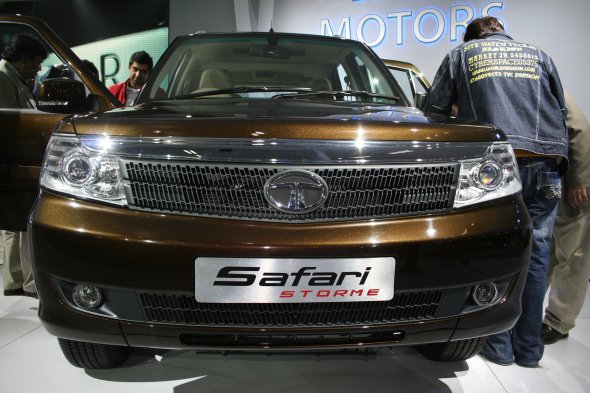 Tata Motors will launch the much awaited Safari Storme on October 17. The Safari Storme retains the overall body shape of the present Safari but gets some drastic changes on the front and the rear. You can read more about it here: Tata Safari Storme launch on October 17!
It is also powered by the same 2.2-litre DiCOR motor that powers the present model but puts out 140 bhp of power and 320 Nm of torque. It uses the Tata Aria's hydro formed body-on-ladder chassis which will give it a better ride quality and handling than the current model.
Mahindra Rexton
Expected Launch: October 17
Expected price: Rs.20 lakh
Mahindra will launch the Ssangyong Rexton SUV on October 17. The Rexton is a luxury seven-seater that is powered by a 2.7 litre diesel engine that makes 180 bhp of power and more than 400 Nm of torque. The Rexton will compete with the Chevrolet Captiva, Toyota Fortuner and Ford Endeavour. When launched, expect the Rexton to be priced at about Rs. 20 lakh. Also read: Mahindra Rexton launch on October 17
Honda Brio AT
Expected launch: October 18
Expected price: Rs.5.60 lakh-5.90 lakh
Honda will launch the Brio AT on October 18 and CarToq has already previewed this vehicle! The Honda Brio automatic will come in two variants – the S AT (Option) and the V AT, a mid-variant and a top-end variant. It features a five-speed automatic transmission mated to the tried-and-tested 1.2 litre petrol engine that puts out 86 bhp of power in the Honda Brio. Also read: Honda Brio automatic first drive impressions
Chevrolet Sail
Expected launch: October 25
Expected price: Rs.4 lakh to Rs.6 lakh
Chevrolet will replace the U-Va hatchback with the Sail and plonk in GM's version of Fiat's 1.3-litre Multijet engine. This engine also powers premium hatchbacks like the Fiat Punto, Maruti Suzuki Swift and the Tata Vista. The Sail is expected to be priced in the Rs. 4 lakh to Rs. 6 lakh range. Also read: Spacious Chevrolet Sail U-Va launch on October 25, 2012!
Mahindra Reva NXR
Expected launch: November
Expected price: Rs.5 lakh
The Mahindra Reva NXR is going to be a practical electric car. It will feature a longer driving range and can seat four people comfortably. It is likely to be priced at about Rs. 5 lakh. Also read: 9 most awaited car launches in India!
It will have lower running costs than the older Reva model and will feature an electric motor along with rechargeable Lithium ion batteries. It will have a range of up to 120km in normal city running conditions and with a running cost of nearly 1/10th of a petrol car it is lucrative. Its compact size, AC and light weight will make it comfortable and easy to handle for daily use. Also read: Upcoming cheap diesel cars for India in 2013!
It will also sport a mobile app to check on the car's charging status, switch on the AC remotely before you reach the car and even unlock some reserve power using your phone.
Chevrolet Enjoy
Expected launch: December 2012
Expected price: Rs. 6.50 lakh – 8.50 lakh
Chevrolet will launch the Enjoy in December 2012. The Enjoy will be the newest entrant in the compact MPV segment and will face the popular Maruti Suzuki Ertiga, making it a launch to watch out for. Also read: Can Chevrolet's upcoming Enjoy MPV take on the upcoming Maruti Suzuki Ertiga?
It will sport a 1.4-litre petrol motor that puts out 96 bhp of power and 128 Nm of torque. The Enjoy diesel will likely be powered by a 1.3-litre XSDE motor which is GM's version of the Fiat 1.3-litre Multijet engine. The specifications and ARAI-certified mileage of this engine are yet to be announced. You can read more about it here: Chevrolet Enjoy MPV caught testing, launch may happen soon!