If you are a person with fine tastes and wants only high-quality things, then it's most likely that you would also want your car to have high quality interiors. CarToq looks at cars across segments that offer the best interior quality in terms of fit and finish, premium image and functionality.
Interior quality is one criteria that can make or break a deal when buying a car. If you are driving a car or travelling in it, you will be spending the most time inside the car, and what you are surrounded with matters a lot – be it soft touch plastic panels, leather upholstery, flush fitting carpets, even panel gaps and a general sense of airiness and a premium feel in the car. Also read: Cars with best ride quality
So which are the cars that offer this? We pick one from each segment.
Hatchbacks
Hyundai i10
Among hatchbacks, most of the cars are built to a cost, which means one of the compromise areas is in the kind of plastics used. So it's tough to get a premium, high-quality finish among hatchbacks. However, there are two cars that come close to offering a good all-round package when it comes to interior quality. This includes the Honda Brio and the Hyundai i10. The quality of the plastics is good on the Brio and the i10. Panel gaps are also even all around. However, in the Brio, there are some edges around the dashboard especially near the glove box that don't quite feel premium enough. The i10 with its beige and grey color combination and neatly integrated stereo and dash-mounted gear all look quite classy. It just sneaks past the others in this segment.
Premium hatchbacks
Skoda Fabia
Among premium hatchbacks you have quite a line of cars vying for classy interior quality, from the popular Maruti Swift and Hyundai i20 to the Fiat Punto, Skoda Fabia and Volkswagen Polo. The Toyota Liva does not quite make it to the list, while the Tata Vista is also quite good with its new soft-touch dashboard. But some fit issues persist. Overall, when you look at interior quality, color tones and fit and finish, the Skoda Fabia probably has the best interior in this segment.
Entry-level sedans
Maruti Dzire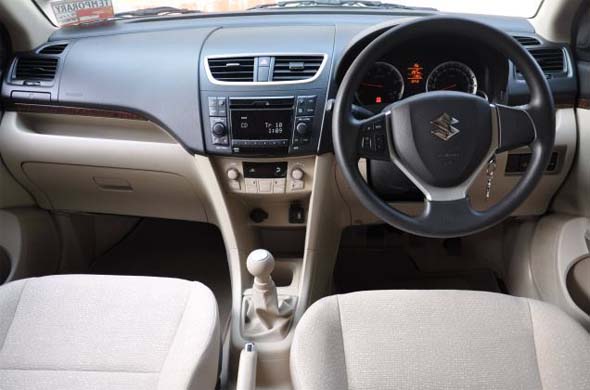 Among entry-level sedans you have five cars in contention, including the Tata Manza, Maruti Dzire, Toyota Etios, Ford Classic and Mahindra Verito. At first glance the Tata Manza looks really classy, but when you travel in it, you do find some bits that mar the overall experience, such as ill-fitting beadings and exposed seat mounts. The dashboard is quite classy. The Mahindra Verito is simple, but some panel gaps exist and the plastics feel hard to the touch quite like the Toyota Etios as well. The Maruti Dzire with its beige and grey dual tone interior and even panel gaps, actually feels quite premium here. Overall, it sneaks past the others on interior quality.
Mid-size sedans
Hyundai Verna
Among mid-size sedans it becomes quite difficult to pick just one with good interiors. You have cars like the Skoda Rapid, Hyundai Verna, Volkswagen Vento, Fiat Linea and Honda City sporting good interiors, while the other cars in the segment are of average fit and finish. At first glance, the Skoda Rapid seems quite classy with its very straightforward interior design. But when you take a look at the detailing in the Hyundai Verna, it feels richer than the Rapid. The top-end Verna features leather upholstery, fake wood trim and there's good fit and finish right through. Also read: Most value-for-money sedans under Rs. 10 lakh
Premium sedans
Skoda Laura
The premium sedan segment is where buyers are even more concerned with interior quality and an  overall  plush feel. The Toyota Corolla Altis is a popular car in this segment and has very functional, well put-together interiors. The Chevrolet Cruze has a dark interior, with a sporty feel to it. And then there's the Skoda Laura. The top-end L&K edition as well as the Elegance trim of the Laura has interiors that feel like they belong to a more expensive car. There's a nice mix of beige and grey, along with high-quality faux wood inserts in the L&K or brushed aluminium in the Elegance that make the car look quite luxurious.
Premium luxury sedans
Skoda Superb
When you look at the premium luxury sedans, priced between Rs. 18 lakh and Rs. 25 lakh, this is a segment which sees many chauffeur driven cars. Here, more than ever, interior quality and the feeling of luxury matter. The Toyota Camry has high-quality interiors and good fit and finish, but it is a little staid in its design and layout. Then there's the Honda Accord, with good fit, but still not enough of a luxury feel. The Volkswagen Passat with its grey plastic does not feel that great. The only car that feels like it is from a segment above here is the Skoda Superb, with plush leather upholstery, neat wood finish, soft touch panels and good carpeting and sound damping. Panel gaps are even and plastics feel high quality.
While most of the cars all have functional, good quality interiors, these were the cars CarToq experts thought were the best in their respective segments. Share your thoughts on this with the CarToq community.