Sometimes a diesel car at the price of a petrol car is just too tempting for many buyers. However, does it make sense to pick the diesel, when you can get more features in an equivalent petrol car? In this comparison we look at one of those dilemmas faced by many buyers.
The low-end Chevrolet Beat diesel LS is priced at Rs. 4.90 lakh, ex-showroom Delhi, while the top-end Ford Figo Titanium petrol is priced at Rs. 5.01 lakh ex-showroom Delhi. How do you choose between these two based on your needs? Here's a comparison. Also read: Ford Figo diesel vs Chevrolet Beat diesel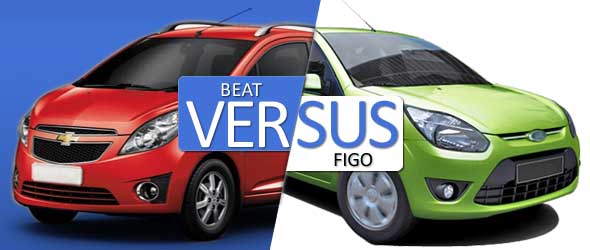 Advantages of the Chevrolet Beat
The Chevrolet Beat diesel is powered by a 1-litre, three-cylinder diesel engine putting out 58 bhp of power and 150 Nm of torque with a five-speed manual transmission. The USP of this engine is not about performance, but about mileage. It gives great claimed fuel economy of over 24 kmpl, while in real-world conditions it gives around 19 kmpl in the city and 23 on the highway.
Buyers looking for great fuel economy should obviously look at the Chevrolet Beat.
The car is compact, can seat four adults, but has hardly any room for luggage. It is best suited as a city runabout for buyers looking at plenty of daily running – for those buyers who do in excess of 1000 km every month.
In terms of features – the car doesn't have much to offer. You get two front power windows, power steering and air-conditioning. All Beats are equipped with a digital tachometer. It also has manual central locking. It does not have power mirrors, music system, or any safety features such as airbags and ABS.
Advantages of the Ford Figo
Buyers who want the most car that their money can buy, but are not really looking at plenty of running should consider the top-end Ford Figo Titanium. This car is one of the most value-for-money premium hatchbacks around – positioned in between regular hatches and premium hatches.
The Ford Figo petrol is powered by a 1.2 litre four-cylinder petrol engine putting out 70 bhp of power and 102 Nm of torque with a five-speed manual transmission. This engine is very refined and smooth – but not one that will really alloy you to play boy racer.
The unique selling point of the Figo is the vast amount of interior space that it offers – 284 litres of boot space, plenty of legroom in the rear seats, comfortable front seats. And in addition to this, it is feature loaded. You get two airbags, ABS, Bluetooth-equipped music system, power mirrors, keyless entry, steering audio controls, rear-wash wipe, etc, besides air-conditioning, power steering and central locking. However, the Figo also has only front two power windows. Also read: New Ford Figo pros and cons
If you are a buyer who does not drive over 500 km a month, but wants a big car that can comfortably carry five people and luggage, as well as comes fully equipped with safety and convenience features, the Figo is better suited to you. But if you drive longer distances a diesel car is better, but you'll have to compromise on features.