Chevrolet is getting busy with its line up of launches. The Chevrolet Sail has already clocked up over 1,000 bookings within a couple of days of launch. It's now getting ready to launch the Chevrolet Enjoy MPV in April. 
The Chevrolet Enjoy is a vehicle that those looking for a seven-seater MPV need to keep on their watch list. The Enjoy will compete with the Maruti Ertiga, and is likely to be price positioned alongside the Chevrolet Tavera, which is targeted at the commercial market. The Ertiga itself has been doing pretty well in sales, clocking over 6,000 each month. General Motors so far does not have a vehicle that has hit those sales numbers – although its popular Chevrolet Beat came close for a while. The new Chevrolet Sail too has hope as it is excellently priced, proving to be better value than even the Maruti Dzire (which sells over 15,000 cars a month). Also read: Chevrolet Enjoy versus Maruti Ertiga
Can the Chevrolet Enjoy be the magic vehicle it needs? Given the shock pricing that GM pulled off with the Chevrolet Sail, it is possible that the company may repeat this strategy with the Enjoy as well, just to rope in the numbers. There are many similar qualities to the Sail – the Enjoy is not outright good-looking, but it is fairly understated and pleasant at the same time, and like the Sail vs Dzire, it too may provide better value than the Ertiga.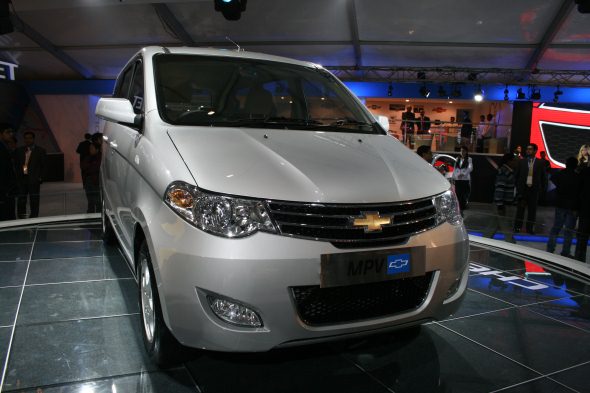 The Chevrolet Enjoy is bigger than the Maruti Ertiga and will hence be a more spacious vehicle. The Enjoy has been spotted testing by many across the country, and GM has started production of the vehicle. The Enjoy is likely to be offered in about six variants – with a petrol engine choice as well, to keep prices low. It will get a 1.4 litre petrol engine that puts out 96 bhp of power and 128 Nm of torque. But the Enjoy to watch out for is the diesel – which will come with an upgraded version of the 1.3 litre XDSE (multi-jet) engine found in the Sail. The motor will likely put out over 90 bhp of power in the Sail.
The Sail is a seven-seater and is expected to come with basic comfort features in all variants, while airbags and ABS would probably be reserved for the mid and top-end variants. To keep its entry pricing low, the base petrol Enjoy may be launched at about Rs. 6 lakh (competing with the Maruti Ertiga), while the top-end diesel may be just under Rs. 9 lakh initially. Also read: Upcoming Chevrolet cars in India
If you are looking for a seven-seater MPV on a tight budget, this is one to consider, as it will likely be cheaper than the Mahindra Xylo and at par or slightly more than the Maruti Ertiga. The official launch is in April.