At CarToq we often come across some rather unique dilemmas faced by our community members – like trying to choose between a compact SUV and a sedan, a hatchback and an MUV, or as in this case a practical MUV like the Maruti Ertiga and a feature-rich sedan like the Hyundai Verna.
CarToq takes a look at how the Maruti Ertiga compares with the Hyundai Verna, especially the diesel variant, and tells you, based on your needs which one you should bet your money on. Also read: Maruti Ertiga vs Nissan Sunny diesel comparison
In this comparison we take into account the top-end Maruti Ertiga ZDI and compare it with the Hyundai Verna 1.6 SX CRDi (the most popular diesel variant).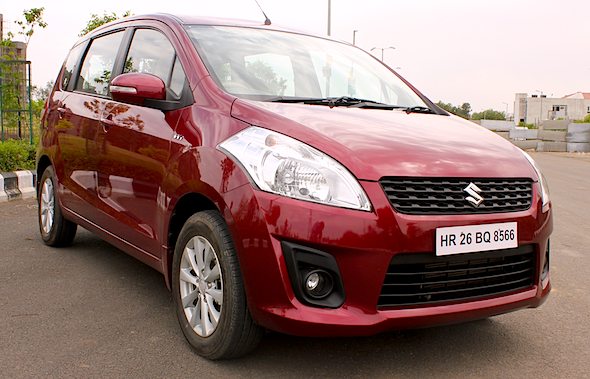 Pricing and value for money: Ertiga
The Maruti Ertiga ZDI is priced at Rs. 8.65 lakh ex-showroom, while the Hyundai Verna 1.6 SX is priced at Rs. 9.80 lakh. The Verna is clearly more expensive, by about a Rs. 1.2 lakh. Even if you take the mid-variant Verna diesel 1.6, it's priced at Rs. 9.35 lakh, the Maruti Ertiga ZDI makes a much better value for money proposition in terms of pricing. The base 1.4 Verna CRDi though is slightly cheaper at Rs. 8.4 lakh, but it doesn't offer too many features.
However, when look at the features offered, the Verna, 1.6 SX, for Rs. 1.2 lakh more offers, a reverse parking camera, all-round disc brakes, automatic climate control, Bluetooth, parking sensors, and power-folding mirrors. Is that worth the extra cash? Not really. Both cars come with alloy wheels, two airbags, ABS, power adjustable mirrors. Ertiga adds dual AC – with vents and blower for the rear row, obviously absent in the Verna. Also read: Maruti Ertiga vs Mahindra Quanto
So therefore, on the value for money front, the Ertiga is clearly better value.
Space and comfort: Ertiga for flexibility
What the Maruti Ertiga offers you over the Verna is space – you get better headroom, legroom and shoulder-room, and of course, two extra seats that you can use at a pinch, unlike the Verna which can't seat more than five. Even if you don't use the last row in the Ertiga, you can fold down the seats and get more boot space almost equal to that of the Verna (Verna has 454 litres of space, Ertiga with third row down offers 430 litres of space).
So if space is what you want, the Ertiga offers more of it, with added flexibility.
Performance and handling: Verna performs better
The Maruti Ertiga comes with a 1.3 litre diesel engine that puts out 90 bhp of power and 200 Nm of torque with a five-speed manual transmission. The Hyundai Verna comes with a 1.6 litre engine that puts out 126 bhp of power and 260 Nm of torque. The Verna also has a six-speed manual transmission, compared to the five-speed on the Ertiga. Also see: Hyundai Verna video review and road test
While the Ertiga is no sprinter, the Verna may have better top-end speed, but it's not a great handler either. High-speed handling in the Verna is not that great, while the Ertiga, being an MPV has a fair bit of body roll. However, in city conditions, the Ertiga and the Verna handle perfectly well, with the Ertiga giving you a little bit of a height advantage and better visibility.
The Hyundai Verna clearly has better performance, but for city drivability, the Ertiga would be better.
Final take: Ertiga for practicality, Verna for image value
The Hyundai Verna is clearly a better looking vehicle, being a sedan, with nicely proportioned cuts and curves all around. The Ertiga is not a great looker, but has a practical side to it, offering more space. It also is cheaper to own. In terms of performance, while the Verna is a better performer, the Ertiga would offer better drivability in the city.
So if it's image and brand value that you are after, with a feature-rich sedan, consider shelling out Rs. 2 lakh more for the Verna. But if you want a practical and versatile vehicle, the Ertiga will do the job just as well. Also read: Maruti Ertiga road test