After launching the C3 hatchback last year and the C3 Aircross midsize SUV a few days ago, Citroen is now gearing up for its next big launch in India – a sedan based on the C3. Like the C3 Aircross, the new Citroen C3 sedan will share its platform with the C3 hatchback and has already been spied on during trial runs on Indian roads. While the new crossover sedan from Citroen is still a few months away from its launch, we have come across a digital rendering that gives us an idea of what it will look like in reality.
A YouTube video from "SRK Designs" shows a possible look of the Citroen C3 crossover sedan from the side profile, which provides an indication of its length, size, and proportions. Compared to the C3 Aircross, the Citroen C3 sedan in this digital rendering has a slightly lowered stance, which is also a possibility when the vehicle is officially launched. Given its positioning as a sedan, Citroen might lower the ground clearance of the car to give it a more planted stance, similar to that of conventional sedans.
Also read: 10 DC Design cars & how they look in the REAL world: Maruti Swift to Mahindra XUV500
Inspired by Citroen C3 hatchback design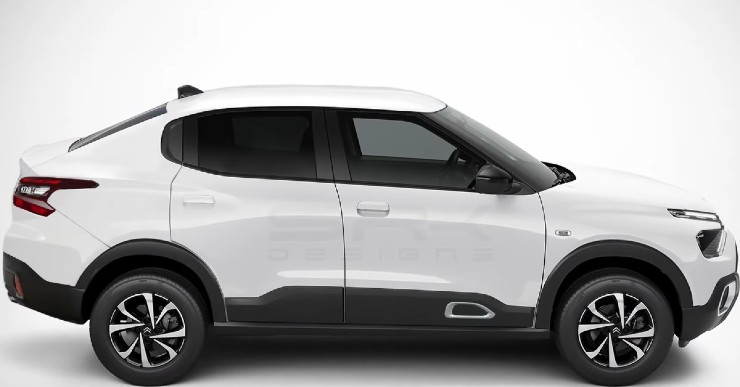 The digital rendering of the side profile of the Citroen C3 sedan also shows that the car retains the design of the C3 hatchback up to the B-pillar, including the front door panel, fender, wheel arch moulding, and front door cladding with characteristic silver elements. However, beyond the B-pillar, the Citroen C3 sedan features an individualistic design with a slightly different rear door.
As expected, the Citroen C3 crossover sedan also features a raked C-pillar and windscreen that flows toward the elongated boot lid, which has a more curved design to accommodate the C-shaped tail lamps. Due to the wheel arch mouldings and body cladding all around, the Citroen C3 sedan appears much more muscular and rugged compared to other midsize sedans like the Honda City, Hyundai Verna, Skoda Slavia, and Volkswagen Virtus.
This digital rendering provides the closest interpretation of the Citroen C3 crossover sedan, which will soon be introduced in the Indian car market. While the exterior design of the C3 sedan will be slightly different from the C3 Aircross, the former will share the interior layout and powertrain with the midsize SUV from Citroen. This means that the Citroen C3 sedan will also come equipped with the 1.2-litre 110 PS three-cylinder turbocharged petrol engine paired with a 6-speed manual gearbox, with a 6-speed torque converter set to join the lineup at a later stage.
Also read: Upcoming 2022 Maruti Suzuki Vitara Brezza rendered