With so many different cars on offer, buyers are often confused especially with the marginal price differences. One such dilemma buyers face is when choosing between the Maruti Suzuki Ritz and its very own sibling the Swift.
We asked the CarToq community which of these two cars they would buy; take a look at what the poll revealed. See the poll: Swift versus Ritz
The Swift managed a wholesome 80 % votes while the Ritz received only 20 % of the total votes cast. Here we try to find out why the CarToq community so strongly believes that the Swift is a better hatchback than the Ritz based on a quick comparison.
Price
The Ritz petrol is cheaper than the Swift petrol by Rs. 12,000 – Rs. 52,000 depending on the variant. The Ritz diesel is cheaper than the Swift by Rs. 35,000 – Rs. 44,000 depending on the variant. The following table would give you a fair idea of how the Ritz' prices stack up against the price of the Swift across variants.
[table id=904 /]
Space and Comfort
The Ritz offers more headroom and luggage space than the Swift. Otherwise, the Swift is more spacious and comfortable than the Ritz because it is slightly wider and offers more legroom for rear seat occupants.
Comfort wise, the Swift is slightly better than the Ritz. This is because, the seats in the Swift are set a bit low while in the Ritz, the seats are set high, a typical trait found in tallboy car designs. Hence at highway rides, the Ritz passengers may feel a bit unsettled especially while cornering and changing lanes quickly.
Looks
The Ritz has an MPV-like cab forward design that doesn't suit its overall compact dimension. Besides, the radically designed tail lamp cluster and the upright boot door with middle region pressed inside, makes it look a bit awkward.
The face-lifted Swift features large headlamps, sporty front bumpers, a side swept taillamp cluster with angular red lights and a unique shaped boot door.The funky design has a wide appeal to the masses, no wonder it sells in huge numbers.
Overall, the Swift looks sporty and is more proportionate when looked from all angles than the Ritz.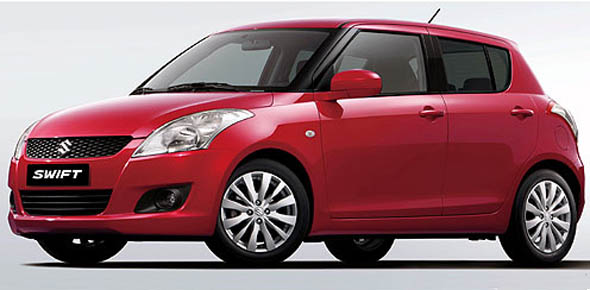 Features
Maruti Suzuki does not offer the Ritz in the ZDI variant unlike the new Swift which comes in ZDI variant that includes safety features such as dual front airbags, ABS and comfort features such as steering wheel mounted illuminated audio controls, driver seat height adjust, seat belt height adjust and automatic climate control.
Hence, for a buyers looking for a fully loaded top-end diesel variant, the Swift, and not the Ritz will be a compelling choice.
So, in terms of looks, comfort and features, the Swift offers more than the Ritz which is a bit more practical and offers slightly more luggage space. Hence, it isn't surprising that the majority of CarToq readers have voted for the Swift.