We asked the CarToq Community which car they would put their money on between the Maruti Suzuki Wagon R and Hyundai Santro Xing. Read on to find out which car got the thumbs up!
The poll was very close indeed with the Wagon R winning by only a small margin. The Wagon R got 58% votes while the Santro got 42% votes. It is evident that both these cars have more or less the same number of admirers. To see the poll click here.
However the Wagon R has more kit and was more recently given a face lift, the Santro on the other hand has been around for quite a while without any major upgrades. Let's compare the two and find out which car is better and where.
Looks
In terms of looks both the Santro and the Wagon R are conventional looking tall boys. The Santro looks dated and simple while the Wagon R in its new 'Blue-eyed Boy' avatar is slightly more contemporary. Looks are subjective and people may have different opinions, but most would agree that the Wagon R looks slightly better.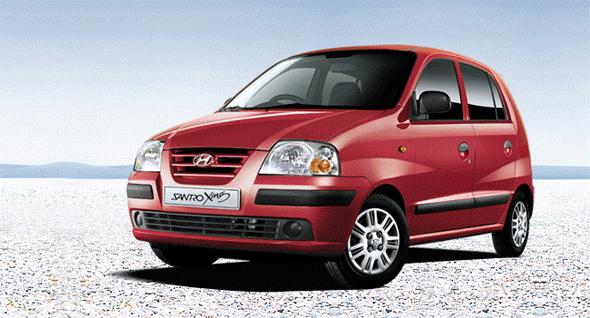 Price
The Wagon R starts at Rs. 3.47 lakh and goes all the way up to Rs. 4.34 lakh. The Santro starts at a much lower Rs. 2.89 lakh and goes up to Rs. 3.80 lakh for the top trim variant. It is clear that the Santro is more affordable, but the Wagon R is still more value for money thanks to its feature list. Let's compare the two in terms of features.
Features
The Santro comes with basic features like AC, power windows, music system, power steering etc. The Wagon R not only offers all those features but also comes equipped with electric outside rear view mirrors, ABS, 2 airbags, under seat storage space, tilt steering etc. So In terms of features the Wagon R is clearly much better.
Performance and handling
The Wagon R has a 998 cc K series engine that produces 67 Bhp of power and 90 Nm of torque. The Santro comes with a 1086 cc engine that produces 63 Bhp of power and 96 Nm of torque. Both the cars are very close in terms of pure power and torque outputs, so there is no clear winner here. However, the Santro is much more fun to drive, it handles better and is easier to chuck around in city traffic. The Wagon R on the other hand is more calm and demure in nature, making it more of a peaceful family car than a hatch you would drive to college.