The signs are worrying. In September 2012, the SUVs/MUVs combined outsold sedans for the third month is a row. That's a big change from June when sedans managed sales of nearly 17,000 units compared with SUV/MUV sales of slightly less than 10,000.
Go back another 3 months, and you'll find sedans outselling SUVs comfortably by 3 units to 1 with only Mahindra Scorpio managing to clock decent numbers—about 4,000 a month.
What has changed the trajectory?
The launch of two well-built cars: Maruti Suzuki Ertiga and Renault Duster.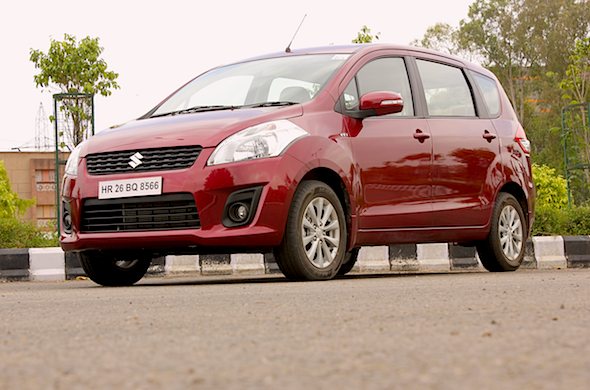 Maruti Suzuki Ertiga starts the slide:  The average monthly sales for sedans for the December 2011 to February 2012 period was 15,693 units, while for SUVs and MPVs it was 5,643 units. Once the Ertiga came in to play in March 2012, the numbers changed. Also read: Maruti Suzuki Ertiga Video Review
In the March 2012 to May 2012 period, sedans sold and average of 17,997 units—a jump of about 15 percent. But SUVs and MPVs took off during this period almost doubling their numbers to 9,895 units.
Sedans priced between Rs.7 lakh to Rs.10 lakh had been selling consistently till March 2012 but once the Maruti Suzuki Ertiga came in the market trend changed. The sedan segment had been selling an average of 15,800 units each month which came down to 15,000 units per month post march.
Renault Duster helps it turn tables: The average monthly sale of SUVs and MPVs was 10,788 units between April 2012 and June 2012. Once the Renault Duster was launched it went up to 14,993 units in the July 2012-September 2012 period. Also read: Renault Duster beats the longest best-selling SUV
The average monthly sale for SUV-MPV for the three months before the Duster's launch was 16,468 units which came down to 13,681 units for the three moths after the Duster was launched.
Duster combined with Ertiga helped swing the balance in favor of SUVs/MPVs.
Segment-wise sales comparison (September)
The Chevrolet Optra Magnum, Fiat Linea, Ford Global Fiesta, Honda City, Hyundai Verna, Maruti Suzuki SX4, Mitsubishi Cedia, Nissan Sunny, Renault Scala, Skoda Rapid and Volkswagen Vento together sold 13,647 units in September.
The Mahindra Scorpio, Maruti Suzuki Ertiga, Nissan Evalia, Renault Duster and Tata Safari together sold 16,255 units in the same period. What is interesting here is; the Duster and Ertiga by themselves sold 11,327 units out of the total SUVs and MPVs sold in September. Also read: Mahindra XUV500: Annihilating the premium sedan segment!
So the combined sale of all 11 sedans was still lesser than the combined sales of 5 SUVs/MPVs. More importantly the combined sales two of them (Duster and Ertiga) was roughly only 3,000 units lesser than the combined sale of 11 sedans.
Overall
In the twelve months, the SUV-MPV sales have shot up three times from 5,949 units to nearly 17,000 units a month. The sedan sales have been stuck at around 13,000. Overall sales—SUV/MPV/sedans—in this price band have grown 40 percent, from about 19,000 to 29,000 units a month. This means all the growth has gone to SUV/MPV.
So while SUV/MPV combined are not annihilating the sedans—as is the case with XUV—its market share is growing rapidly. Sedans have just about managed to hold on, thanks largely to overall growth.
But with more compact SUVs/MPVs on the way and the prospect of stagnating overall sales, life could get even harder for sedans.
Why do you think this shift is taking place?
[poll id=67]