Cops in Lucknow have swooped down on a 23-year old man who was allegedly seen in a video where he was romancing a minor girl on a moving scooter. The incident happened in the Hazratganj area of Lucknow, and the video of the act soon went viral. Here, take a look.
उत्तर प्रदेश की राजधानी लखनऊ के हजरतगंज इलाके में युवक-युवती चलती स्कूटी पर एक दूसरे को गले लगाते हुए किस करते हुए नजर आए। सोशल मीडिया पर वीडियो वायरल हो रहा है।#ViralVideo #Lucknow pic.twitter.com/6XDxGwz97O

— Hindustan UP-Bihar (@HindustanUPBH) January 17, 2023
As the video indicates, a minor girl is seen riding on a Honda Activa automatic scooter facing a man riding the scooter. The minor girl is hugging the man with her legs wrapped around him, and the couple are kissing and enjoying a few romantic moments – all on a moving scooter. Clearly, this is dangerous. Both the man and minor girl in question aren't wearing helmets, which is violation #1. To compound matters, they're riding dangerously. Adding to all this is their public display of affection that has clearly rubbed the authorities off in the wrong way.
A police official from Lucknow had this to say about the incident,
Also read: Modified Royal Enfield Thunderbird 500 motorcycle from Eimor Customs look beautiful
A video came to light yesterday showing a man and a minor girl sitting on a scooter in an inappropriate manner, under Hazratganj police station in Lucknow. A case was filed under IPC sec 294, 279. Driver Vicky Sharma, 23, was detained and his scooter has been seized. Cases of rash driving and obscene acts in public have been imposed against him.

This is not the first time…
This isn't the first time that a couple in India have been seen romancing on a two wheeler. A couple of years ago, a similar incident from Goa went viral and much more recently, a couple was seen romancing atop a moving Bajaj Pulsar motorcycle in Vizag, Andhra Pradesh. Here's the video of that incident.
And a similar incident that happened on the streets of Goa has been saved for posterity with the following picture,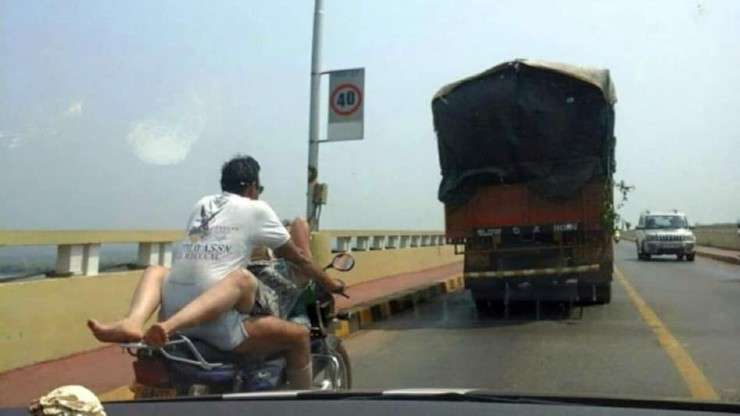 Also read: BSA Motorcycles unveil Gold Star 650: Will Rival Royal Enfield 650 Twins
What can go wrong?
Losing balance while committing such acts on a two wheeler is the biggest risk. And if helmets aren't worn, the riders risk serious head injuries. That's not all. Distracted riding or driving also poses a major risk to other road users as the distracted rider or driver can collide into other vehicles on the road, endangering the safety and well being of other road users.