Hyundai is offering an interest rate of just 5.99% for a loan of Rs 3 lakh if you want to purchase an i10 or a Santro. Is it a good deal? Let's find out.
Sales of petrol powered cars are dwindling post the hike in petrol prices. Car makers are trying various tricks to make their petrol offerings more affordable.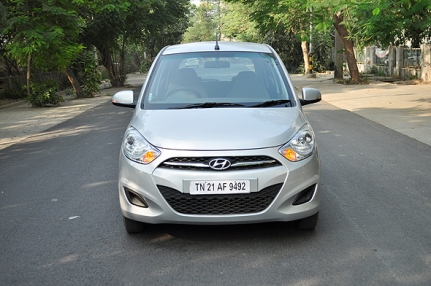 Hyundai is offering an interest rate of only 5.99% for a period of 3 years on a loan amount of Rs. 3 lakh. The interest scheme offer is valid only till 25th July. Earlier Volkswagen offered a similar scheme for their Vento Sedan.
How does the scheme work?
Let's try and understand this scheme with the help of examples.
Scheme on i10: Similarly for the top-end i10 variant (Asta 1.2 AT) a buyer would have had to pay Rs. 16,634 earlier. However with the scheme buyers will have to pay only 5.99% interest, which means the EMI for the i10 comes down to Rs. 15,309.
Scheme on Santro: The Santro's mid-trim variant, the GL would cost a buyer Rs. 3.47 lakh in Delhi for which the loan amount (85%) will be Rs. 2.95 lakh. Usually a buyer would have to pay Rs. 9,713 every month as EMI but under the new scheme a buyer pays only 5.99% interest as against the standard 12 %. Hence your EMI comes down to Rs. 8,939.
How much do buyers save?
Savings for i10: With the new EMI of Rs. 15,309 buyers will save Rs. 1,329 every month. Which over a period of 3 years will amount to a wholesome Rs. 47,700. With such a huge margin for savings the i10 will likely pull a lot of new buyers.
Savings for Santro: With the new EMI of Rs 8,939 buyers will save Rs. 774 every month. Since the loan period is 3 years, buyers will save a good Rs. 27,864 in that period. That makes owning a Santro a whole lot cheaper and will likely help boost sales of this popular small car.
Is there a catch?
There are no hidden costs or outright loopholes in this scheme. However you do lose on other offers. Hyundai offers three schemes for the i10 and Santro: free insurance for 1 year, petrol protection scheme and a free extended warranty.
Those who opt for this loan scheme cannot club it with these three offers. So how much would a buyer gain from the three offers he has to forego? Let's take a look.
Petrol price protection scheme
Value of offer: Rs. 3200
This scheme protects customers from having to face the brunt of ever-rising fuel costs for a period of one year. But customers can avail this scheme only if they drive less than 1000 km every month, or about 30 km daily.
If a customer drives more than 1000 kms every month, he will have to bear the difference in price of fuel on his own. Another clause in the scheme states that if there is a hike of more than Rs. 5 in petrol prices, the scheme will become invalid.
At current fuel prices (64 Rs/litre) and an assumed mileage of 15 kmpl, you spend Rs. 4,266 on fuel for a monthly run of 1000 km. Supposing there is a hike of Rs. 4 in petrol prices, your per month expenditure will rise to Rs. 4,533. If you are covered by Hyundai's price hike protection scheme, you save Rs. 3200 in 12 months.
Extended warranty and free insurance
Value of offers: Rs 3000
One year extended warranty is provided for free to Santro buyers but can be bought from the dealer whenever required. Free insurance too isn't really an offer as you can get free insurance for a new small car even without Hyundai's help.
In summary: The total value of these three offers put together is Rs. 6200 which is still far lower from what a buyer would save with the 5.99% interest scheme.
Another way of looking at it: The actual value of the interest scheme for the i10 is Rs. 37,641, and for Santro is Rs. 21,664.
(Value of the interest scheme – Value of the other three schemes).
The new interest rate offer does look like a good offer for those who were looking for good, entry-level petrol cars. And the i10 and Santro are one of the best entry-level cars around.