With festive season kicking off, we had plenty of offers from automakers. There have been some really big discounts—Fiat Linea T-Jet plus getting a very substantial Rs. 75,000 off; Rs. 55,000 off on the Chevrolet U-VA LTZ that brought down its price to a tantalizing Rs.4.29 lakh; The top-end Honda City came with a discount of Rs. 70,000 bringing its price below Rs. 8 lakh. Wow!
And there were more. We were hoping some automaker would throw in a nice big offer on one of its diesels. And we would just go and give it the deal of month title. That would have been so easy. But that hasn't happened so we must pick a petrol car for now.
And no, it is not one of three mentioned above!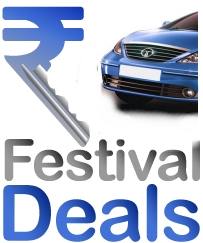 The one we have picked as "THE DEAL OF THE MONTH" for October 2011 is a car that, for now, is the cheapest sedan (sans Tata Indigo) in the country: It is Tata Manza Aqua—which with Rs. 45,000 off can be had for just Rs. 4.94 lakh.
Why Manza? Why not Linea which offers the biggest price cut? Or City for that matter?
The Linea price cut is indeed very deep and makes it a pretty attractive buy. Buts its sales numbers are disappointing indicating almost complete lack of interest from buyers. Only 140 units were sold in September 2011.
Honda City had a great case—particularly since it comes a few months after a major price reduction of Rs. 65,000. We almost gave it to the City—it sells well (around 4,000 units a month) and discount combined with price reduction reduced its price by a massive Rs. 1.35 lakh. But then we realized the offer was valid until October 5 only!
More festival deals

Skoda discounts on Laura and Fabia!

Chevrolet U-VA, Aveo, Beat and Spark discounts

Maruti festival discounts on A-Star, WagonR and more
U-Va too would have been a strong contender had it not been for its dismal sales numbers—only 71 sold in September 2011. Mind you, it's still a great bargain—the top-end fully loaded version coming at just Rs. 4.29 lakh.
That mean Manza had to be crowned. And deservingly so.
Tata Manza sells in good numbers. It is the most spacious car in its segment. And unlike other automakers who reserve their biggest discount for the top-end version, Tata threw up a surprise with heavily discounting its base version.
At Rs. 4.94 lakh, Manza Aqua is the cheapest 'consumer' sedan in the country (leaving Indigo which gets most of its numbers from cab operators).
We are still into just the 13th day of the month. So who knows—there is better deal lurking somewhere round the corner. The question is: can it beat the Manza deal?
What do you say?