Tata is really pulling out all the stops to ensure that it gets its vehicles into your garages. Here's the deal of the week. The slow-selling, but capable crossover, the Tata Aria is offering a Rs. 2.5 lakh discount on the vehicle! With that kind of discount you can buy a Tata Aria and a Tata Nano with the money saved.
Tata is offering a straight cash discount of Rs. 2 lakh on the Tata Aria and an additional exchange bonus of Rs. 50,000 on your old car.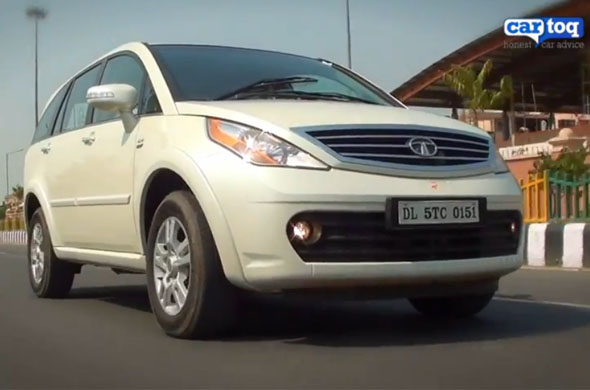 Why such a huge discount and that too on a brand new 2013 Tata Aria? The thing is the Tata Aria has just not been selling at all. Last month sales were down to four units, and that too after it has brought in a lower priced entry-level variant at Rs. 9.95 lakh. The Aria has been hit by the Mahindra XUV500 mainly which continues to sell over 3,500 units. The XUV500's main USP was that it provided as much features and more than the top-end Tata Aria at Rs. 3 lakh less when launched.
This huge discount on the Tata Aria also comes at a time when prices of all SUVs have gone up. The Union Budget has imposed a 3% hike in excise duty on SUVs taking it from 27% to 30%. Prices of the Mahindra XUV500 for instance have gone up by Rs. 30,000 with the top-end W8 all-wheel drive variant now priced at almost Rs. 15 lakh ex-showroom. With this kind of discount, the top-end Tata Aria 4×4 Pride and Mahindra XUV500 all-wheel drive are priced almost identical.
At that price point, which is better value? The Tata Aria and the Mahindra XUV500, both offer the same engine power output from a 2.2 litre diesels – 140 bhp power / 320 Nm torque. The XUV500 has a six-speed manual transmission, while the Tata Aria is five-speed. However, the Tata Aria is much more spacious than the XUV500, with comfortable seating for seven with luggage. Both offer goodies such as GPS navigation, cruise control etc, as well as safety features such as all-round disc brakes, six-airbags and stability program.
Tata has updated the Aria with a minor facelift involving new headlamps and tail-lamps as well. Given that the prices of the XUV500 and the Tata Aria are now equal after the discounts, which one would you pick?